"I will not wait for more to perish": how two nurses in Lao PDR set out to immunise their province's zero-dose kids
When a measles outbreak exposed just how frayed Savannakhet province's immunisation safety net had grown during the COVID-19 pandemic, Nurses Manokra Khamsai and Kaysone Oum got to work mending it.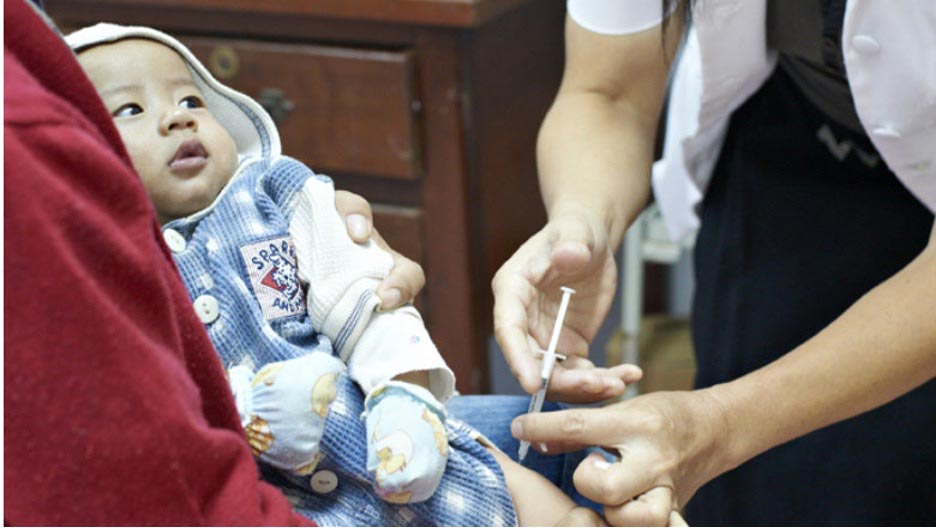 When children in Savannakhet province started falling sick with measles in April this year, nurses Kaysone Oum and Manokra Khamsai knew enough to be very worried.
The measles virus is one of the most infectious pathogens known to humankind, spreading at wildfire pace through unprotected communities, killing sometimes as many as 15% of its victims, and leaving others blind or otherwise disabled.
"I lost one of my children to measles in the recent outbreak. I'm not losing another!"
It's also vaccine-preventable: two doses of the vaccine, given in childhood, are enough to confer lifelong immunity against the disease.
But in the Lao People's Democratic Republic, as in many other countries, routine immunisation had suffered as health systems scrambled to contain COVID-19, and, as a result, Savannakhet's kids were more than usually vulnerable.
"Everything came to a halt following the COVID-19 pandemic," recalls Nurse Manokra. "The health sector and the government concentrated solely on its vaccination, and routine immunisation fell by the wayside."
In July, according to official data, measles had infected 58 people in Savannakhet, and killed four.
But by late July, Kaysone and Manokra had kicked off a counter-offensive. "Measles has claimed lives," Kaysone remembers thinking. "I will not wait for more to perish." This, she adds, is why she became a nurse: "I want to save my community."
The health workers convened sensitisation outreaches, addressing crowds of anxious parents to explain what measles was, and how it could be tackled. The numbers were encouraging: "I am pleased to see the impeccable turnout of parents. Everyone's goal is to ensure their kids grow up healthy, and following the imminent threat caused by the measles outbreak, vaccination is a must-do," says Kaysone.
Then they hit the road, hauling vaccine doses in a cold-box, moving at first on foot or by bike. The logistics, admits Manokra, were "tedious": "fortunately, once we raise the issue with Dr Inpone, we received a vehicle and a motorbike to use, which made the work manageable."
Dr Inpone Maniseng, regional health director, had been keen to offer his support to the enterprising health workers from the outset. "I am aware of the saddening measles outbreak within Savannakhet," he told VaccinesWork, "which is why I have assiduously worked with Nurses Kaysone and Manokra to ensure kids in the region are fully vaccinated."
He agreed with their assessment of the danger: lockdowns had prevented parents from travelling to hospitals for routine immunisation, throwing vaccine schedules into disorder. "It's time to [re-]balance routine immunisation," Dr Inpone says.
For some, it was too late. "I have seen mothers crying due to the loss of their children from measles," Manokra says.
One of them was Chansi Phrasisombath. "I lost one of my children to measles in the recent outbreak. I'm not losing another!" she says. "The medics have sensitised us on the contagious nature of the disease and how these vaccines will help eradicate it because our children's bodies are now immune."
"This is the first vaccination most of the kids are receiving ever," Kaysone notes. "To keep track as we go from door to door, we record everything on paper, which isn't the most reliable solution. When the information is lost, some children miss the follow-up vaccination shots."
To tackle this, Dr Inpone says, "the regional government is coming up with electronic devices that will be issued to health practitioners who offer door-to-door vaccination services. They will be light, portable and can maintain long battery life." He adds, "in addition, having liaised with the regional officials, we will pay the two nurses' wages for their work."
"Many mothers are busy working to put food on the table making it hard for them to follow up on their kids' immunisation schedules. Hence, my colleague Nurse Manokra and I will continue vaccinating the zero-dose children in all the villages in Savannakhet Province," Kaysone promises.