16 June 2020: Overview of the COVID-19 situation in Gavi-supported countries and Gavi's response
Seventy (of 73) Gavi-eligible countries have reported 824,259 confirmed cases and 20,641 deaths. The number of cases is increasing at an average rate of 4% from the previous day.
Asia continues to be the most affected, primarily driven by India, and followed by Pakistan, Bangladesh, Indonesia and Afghanistan. India has reported over 300,000 cases, raising concerns as India begins to reopen more public spaces after a 10-week lockdown. The western state of Maharashtra – the country's most industrialised state – is the worst hit, reporting its third-highest single-day spike of 3,427 new COVID-19 cases.
Cases in the African region are also on the rise, driven by Cameroon, Ghana, Nigeria and Senegal. Nigeria has reported more than 16,000 confirmed cases. All states have reported cases, and Federal Capital Territory, Kano and Lagos are the most affected. Following a sudden spike in deaths in Kano, Nigeria's Minister of Health announced that more than 50% of these unexplained deaths were either directly from COVID-19 or COVID-19-related in people who had pre-existing ailments.
Impact on routine immunisation (RI)
Out of 68 Gavi-supported vaccine introductions projected to take place in 2020, 45 have been impacted due to COVID-19: 39 are confirmed delays, and a further 6 are at risk of delay. About 18 Gavi-eligible countries (including Angola, Bangladesh, Central African Republic, Chad, Democratic Republic of the Congo, Kenya, Nigeria and Pakistan) have reported shipment delays, while approximately 12 countries are reporting stock-outs at central or sub-national level due to COVID-19.
However, UNICEF is now reporting 42 shipments per week, which is almost back to the pre-crisis baseline. The backlog of shipments is also stable, but not reducing either, as approximately 250 shipments are pending. UNICEF is launching a dedicated project to understand the balance of contributory causes to delayed shipments – whether it is country demand slowdown and storage constraints, or shipping and logistics limitations.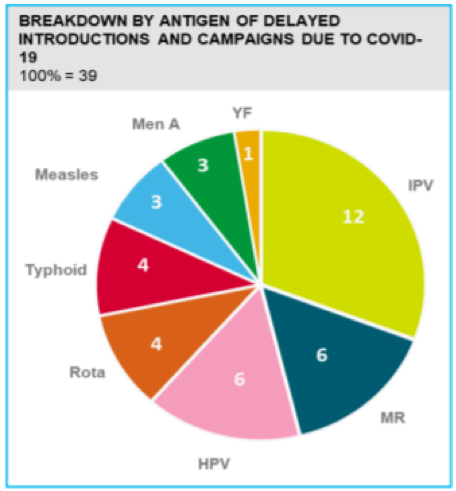 Despite the increasing COVID-19 cases, there are efforts to continue RI with adapted protocols per WHO guidance. However, preliminary results, based on responses from 52 countries to a recent qualitative pulse survey on essential health services conducted by WHO, indicate that of all essential health services in countries, immunisation services are affected the most: 63% of countries reported facility-based RI disruption, and 73% of countries reported disruption for RI outreach. More than 75% of countries noted decreased outpatient volumes as a main cause for disruptions, followed by restricted movements due to lockdown.
Gavi Country Programmes Update on COVID-19 Response
Fifty-one reprogramming applications have been approved so far, of which 36 health system strengthening (HSS) reprogramming applications totalling US$ 72.5 million. On average, countries have reprogrammed 60% of their potential reprogramming ceiling. Fifteen (15) reprogrammings are for partners' engagement framework (PEF) Targeted Country Assistance (TCA) and post-transition engagement (PTE) reprogramming totalling US$ 2.3 million.
Gavi's largest area of support continues to be infection prevention and control (IPC). 
Read the full 16 June 2020 situation report here