Burundi fights back against resurgent poliovirus
Round two of a nearly three-million child polio vaccination campaign was launched in mid-August, amid concerns the paralysing virus could still be spreading silently.
4 September 2023
4 min read
On 17 August, Burundi launched the second round of a house-to-house polio vaccination campaign targeting more than 2.7 million children, in a bid to wipe out the paralysing poliovirus, which this year resurfaced in the country.
The campaign, which saw the first round take place in June, comes after the country's Health Ministry declared an outbreak of circulating poliovirus type 2 for the first time in over three decades, in March this year.
Silent spread
The recent campaign to beat back the virus was sparked by a case of polio paralysis in a four-year-old child from Isale health district. Since then, evidence of silent spread has been turned up by the health establishment.
"Polio made me physically challenged – my parents told me I was one year old, [but] they never knew that it was polio.

– Felix Kagabo
"The study, which was made here in Bujumbura, involved the environmental surveillance of waste water, which confirmed that there was a presence of poliovirus in the waste water," said Dr Armel Nzeyimana, the chief regional doctor for Bujumbura province.
The last poliovirus sewage sampling in Burundi was done on 13 June 2023. A total of 23 detections of poliovirus were confirmed in the country since the Isale case according to Burundi's Ministry of Health. Twenty-one of the detections were from environmental surveillance. Two children were also confirmed to have been infected.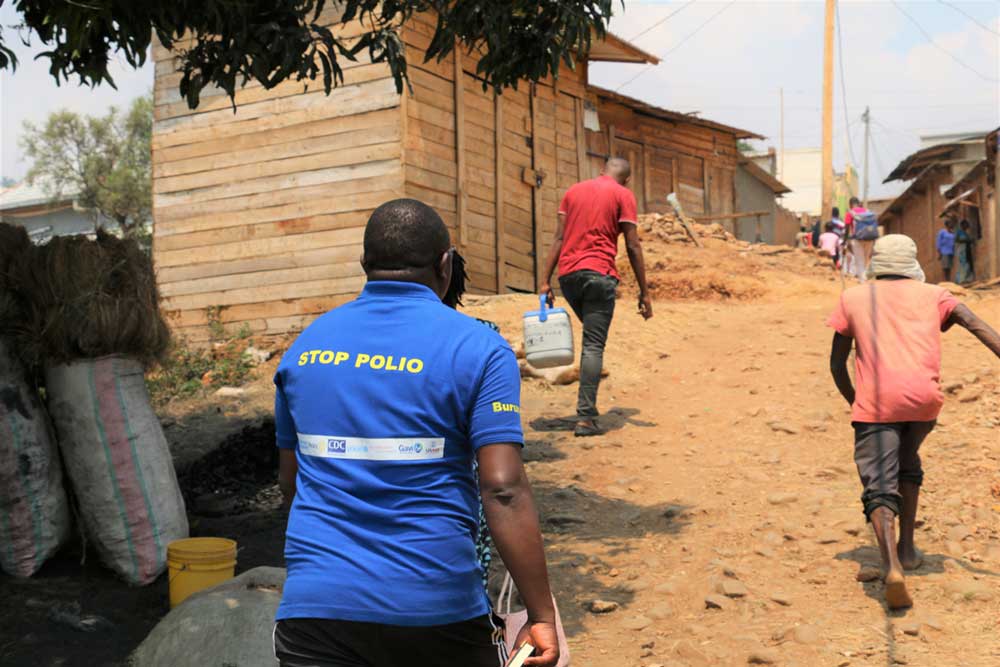 "There are patients also coming from outside Bujumbura to get treated, so we have seen several cases [of acute flaccid paralysis] these last days, but are yet to confirm if it is polio," said Dr Nzeyimana.
According to the Burundi Ministry of Health, the polio vaccination campaign is targeting 2,731,432 children aged zero to seven countrywide.
Dangerous ignorance
The majority of the population in Burundi do not have knowledge about polio and how it is spread, resulting in the fact that health workers have faced challenges in vaccinating children. But Dr Nzeyimana said that after the campaign – which wrapped up on 22 August – there will be a quality assessment that will verify and acknowledge whether all the targeted children were vaccinated.

Have you read?
"We work together with local leaders, religious and community leaders to sensitise citizens to take polio vaccination seriously, and the religious leaders have a significant role in this vaccination campaign, because some families may refuse to vaccinate their children due to their religious beliefs," said Dr Nzeyimana.
A health worker at Saint Kizito, a Bujumbura hospital specialising in the treatment of physically disabled individuals, said that in most cases patients come in for treatment or therapy when it is too late.
"There are patients who are brought here by their parents when they are aged 14 years but when you ask them when the problem started, they tell you it was when the child was four years old," the nurse said.
"I don't want to make the same mistake my parents made"
Felix Kagabo is a 32-year-old father of one child living in Bujumbura, who says that he suffered from polio when he was aged one year.
"Polio made me physically challenged – my parents told me I was one year old, [but] they never knew that it was polio. Initially they thought it was malaria because I was weak, and I had fever," explained Kagabo.
"By the time they took me to the hospital for the general check-up it was too late for me to recover. I now have one child, and I always do my best to make sure my child takes every vaccination necessary to stay healthy, including the polio vaccine. Because I don't want to make the same mistake my parents made," he added.
According to the World Health Organization, poliomyelitis is a highly infectious viral disease that largely affects children under five years of age. It's transmitted via the faecal-oral route, and causes paralysis in approximately one in 200 cases.
Poliovirus cases have decreased by more than 99% since 1988, and experts say total eradication is now in sight.
More from Moses Havyarimana