Nigeria: A different kind of vaccine "store"?
How a makeshift health centre is providing a lifeline to communities in Nigeria.
"It doesn't matter whether it is raining or sunny, I ensure I bring my son to Agugu Primary Healthcare Centre (PHC), to get vaccinated", says Oluwapelumi Afolabi, a hairdresser from Ibadan, in Nigeria's Oyo State. "Today, it is sunny, but the last time I came, it rained heavily and everywhere was flooded. The other women here and I had to squeeze ourselves into this shop." The converted shop she is referring to now serves as a local primary health care centre, the only one in the surrounding area.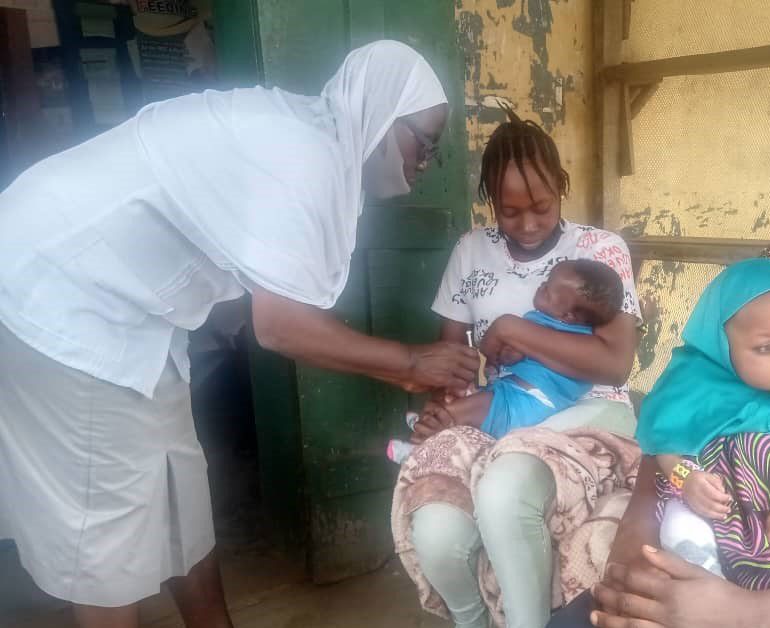 Situated uncomfortably close to the local expressway and drainage system, Agugu PHC is not your typical health centre; essentially a small room previously used to store products, it feels uncomfortably confined and stuffy, says Modupe Lasisi, assistant head nurse of Agugu PHC. Even though it was renovated in 2010 with funding from Gavi and other agencies, it now falls short of what a functioning PHC should look like and is in much need of a makeover, she says. "As a nursing mother, they need a comfortable seat and a well-ventilated environment."
The nursing staff are also a big draw for Afolabi, providing valuable advice about the dangers of not vaccinating.
Despite its limitations and condition, the local community are grateful for this makeshift health centre. Ever since the shop was donated by a local lady, Alice Mogbonjubola Ogunlana, Agugu PHC has become a lifeline. So, even when she needs to shelter from downpours in the cramped shop, Afolabi says she is happy to be there. "Because my child will not be affected or die because of diseases like polio or measles. If this is the price I have to pay to protect my beloved son, I would do it over and over again," she says.
While there are other health centres further afield, for many mothers like Olawale Funmilayo, Agugu PHC is much more convenient. "I prefer coming here because it is the nearest healthcare centre to my house. I don't pay for transportation and I don't pay for the vaccine," she says. "The nurses here are so friendly; they don't judge us and I see them as my own family. They don't favour the rich here. They treat everyone equally."
The nursing staff are also a big draw for Afolabi, providing valuable advice about the dangers of not vaccinating. "I don't want my child to have a disability, just because I didn't want to wait in the sun or rain. I wouldn't be able to forgive myself, if anything happened to him, when I know I could have prevented it," she says. In a single day, sometimes as many as 30 mothers, like Afolabi and Funmilayo, bring their babies in to Agugu PHC for their vaccinations, says Lasisi.
But despite everyone's fondness for Agugu PHC, the one thing they all agree on is the need for this partially dilapidated health centre to receive some investment. "I would be happy if the government would renovate it or build a better one within this community and equip it with the necessary drugs and equipment." On hearing such concerns about the state of repair of this much loved health centre, local leaders have now donated land and building blocks to construct a new one, and are now seeking funding from the government and stakeholders to start building it. In the meantime, the shop is remains open.