Cameroon is dealing with two conflicts amid the pandemic
The war against Boko Haram in Cameroon's northern region and the struggle against armed secessionists in the west have taken a significant toll on vaccine roll-out.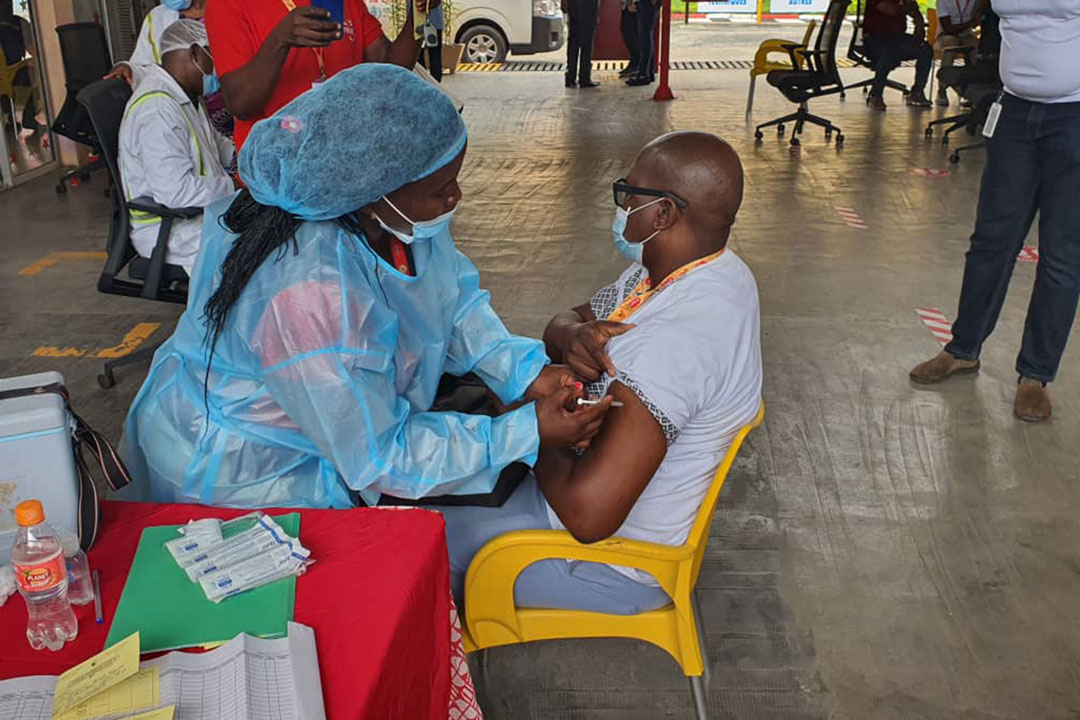 42-year-old Barnabas Anaidjo, who lives in Cameroon's far north, might have shielded himself from COVID-19 after taking a jab, but he remains vulnerable to Boko Haram attacks. 
"COVID-19 is a global phenomenon whereas Boko Haram is just at our doorsteps," says Anaidjo, a teacher in the Boko Haram-prone zone.
"I have lost more than 30 acquaintances to Boko Haram attacks – relatives and friends alike. Soldiers are not exempted. I know no-one is immune to COVID-19, but we are more vulnerable to Boko Haram attacks. We are resigned to our fate," the father of three said.
"Vaccine hesitancy is a very big problem in the South West Region, but we try to address it through continuous sensitisation," says Dr Ebongo Zacheus Nanje, a Public Health Delegate in the region.
The far north region of Cameroon has been hit by Boko Haram insurgencies since 2013, spilling over from northeastern Nigeria. More than 3,000 Cameroonians have so far been killed in Boko Haram attacks while some 250,000 others have been rendered homeless.
Cameroon registered its first case of COVID-19 on March 6, 2020. The country is currently grappling with 84,210 infections while 1,357 coronavirus-related deaths have been reported.
Besides Boko Haram, Cameroon is also dealing with a socio-political conflict in its English-speaking north west and south west Regions.
Tensions between the Francophone-led government and English-speaking secessionist movements reached a new pitch in 2016, after the government imposed French-speaking teachers and lawyers on Anglophone schools and courts.
The conflict has left more than 4,000 dead, hundreds of thousands displaced internally and about 50,000 as refugees in neighbouring Nigeria. 
"It has been very challenging for us in the North West," says Freida Fanda Gelam, a resident of the region. 
"We have lockdown days during which you can't go to work. And then COVID-19 came in and made matters worse. I think that the war is worse [than COVID-19] because with COVID-19, you can manage it, but with the war, there are many things that you can't really prevent. You can be caught in the midst of a crossfire at any time."
Vaccine roll-out
Cameroon launched its national vaccination campaign on April 12, 2021. A day prior, the country had received a batch of 200,000 doses of Chinese-made Sinopharm vaccines. On April 17, Cameroon received more than 391,200 doses of AstraZeneca vaccines through the COVAX Facility – out of the allocated 1,752,000 doses.
"More than 440,000 doses have been administered across the country, with over 350, 000 people receiving at least one dose," says Dr Tchokfe Shalom Ndoula, Permanent Secretary, Expanded Programme on Immunisation (EPI) in Cameroon.
"More than 50% of those vaccinated belong to vulnerable and at-risk groups. However, we still have a long way to go to attain herd immunity," he adds.
Dr Tchokfe is encouraging health workers, people living with co-morbidities such as diabetes and hypertension, and all people aged 50 years and older "to get vaccinated without delay to increase their chances of not getting sick and dying. There is no doubt that the transmission risk can be reduced if about 60% of our population is fully immunised."
Have you read?
Cameroon received their second shipment of COVID-19 vaccines through the COVAX Facility in July, containing 303,000 doses of the single-shot Johnson and Johnson vaccines donated by the US government. On August 8, the country obtained an additional 158,400 doses of J&J vaccines through the AU African Vaccine Acquisition Trust (AVAT).
Roll-out in crisis-hit regions
Vaccine hesitancy is a worrying phenomenon in Cameroon.
With a population of over 25 million, Cameroon aims to vaccinate 5.4 million people against COVID-19 by the end of 2021 and 15 million in 2022 in order to attain the threshold vaccination coverage that confers herd immunity. Existing data indicates Cameroon's daily COVID-19 vaccination roll-out averages 1,035 doses. 
"Communication through various media and organisations is being carried out to reduce vaccine hesitancy. More and more people are freely visiting the various vaccination sites on a daily basis to get their dose. The EPI is also intensifying vaccination activities to further improve vaccine uptake," Dr Tchokfe says.
The situation in the north west and south west regions, which represent about 20% of the country in terms of size and population, looks different. 
"Vaccine hesitancy is a very big problem in the South West Region, but we try to address it through continuous sensitisation," says Dr Ebongo Zacheus Nanje, a Public Health Delegate in the region.
He says that the services of local NGOs and community health workers are regularly sought given that "very bad roads and inadequate bridges, as well as insecurity, hamper vaccination in 80% of the region. Ghost towns only compound the problem as no one dares to venture out to the vaccination centres [during ghost town days]."
A similar problem is encountered in the north west.
"Reporting is a big problem because of electricity and internet blackouts in the region," says Dr Cornelius Chebo, Chief of the North West Regional COVID-19 Incident Command Centre.
He goes on, "To overcome these difficulties, we extended the working week to include Saturday and Sunday, use media houses, especially radio, to sensitise and mobilise, and carry out sensitisation campaigns at churches and other gatherings."
He adds that community health workers who have a better mastery of the terrain help overcome the problem of "high insecurity that has made penetration into the hinterland very difficult and expensive as transportation costs have more than quadrupled in some areas."
Health officials in Cameroon's north use community engagement to break the walls of vaccine hesitancy amidst the Boko Haram scare.
"It is a form of community diplomacy that health officials use to persuade administrative, religious and traditional authorities to encourage communities to accept the vaccines," says Isaac Wannamou Wana, a humanitarian worker in the area.
With the multiple challenges the country is facing, the work of these community diplomats is more important than ever.