"The Cure Is Us": Kibera artists take on the pandemic
In a bid to build awareness around COVID-19, Uweza Foundation and Safe Hands Kenya are tapping into the power of art.
When the COVID-19 pandemic hit, it was feared that places like the Kibera slums, the biggest informal settlement in Nairobi, Kenya with a population of close to a million, would be worst affected due to low-income areas receiving the least medical care and attention coupled with overcrowding. Social distancing is difficult in spaces like Kibera.
"At the beginning of the pandemic, people in my community thought it was a foreign phenomenon created by people far away to create fear in us. My mural is to let them know that this virus is a real thing and it is all around us."

What you do see on the many walls of the sprawling township are bright colours, graffiti, FMCG adverts and political slogans and, increasingly, murals by local artists with COVID-19 awareness messages.
A group of young Kibera artists got together to paint murals with messages depicting how the residents' good behaviour would help their chances of winning against COVID-19. This was made possible by the art collective Uweza Foundation's collaboration with health NGO, Safe Hands Kenya.
Uweza, which means "enabling" in Swahili, was founded to help artists to earn a living through their art. Uweza incubates artists in its art gallery, provides training and markets their artwork. It also serves as a sanctuary for the youth in the township, where unemployment is high.
At the heart of the Uweza and Safe Hands Kenya collaboration was the Tiba Ni Sisi 'The Cure Is Us' campaign to spread messages through murals. The Development Manager at Uweza, Sylvia Njambi, says, "We were so elated as a gallery to partner with SHK on this important campaign. We put out an open call to all our artists and those who were available got to participate by presenting their sketches that had to be approved."
Francis Okoth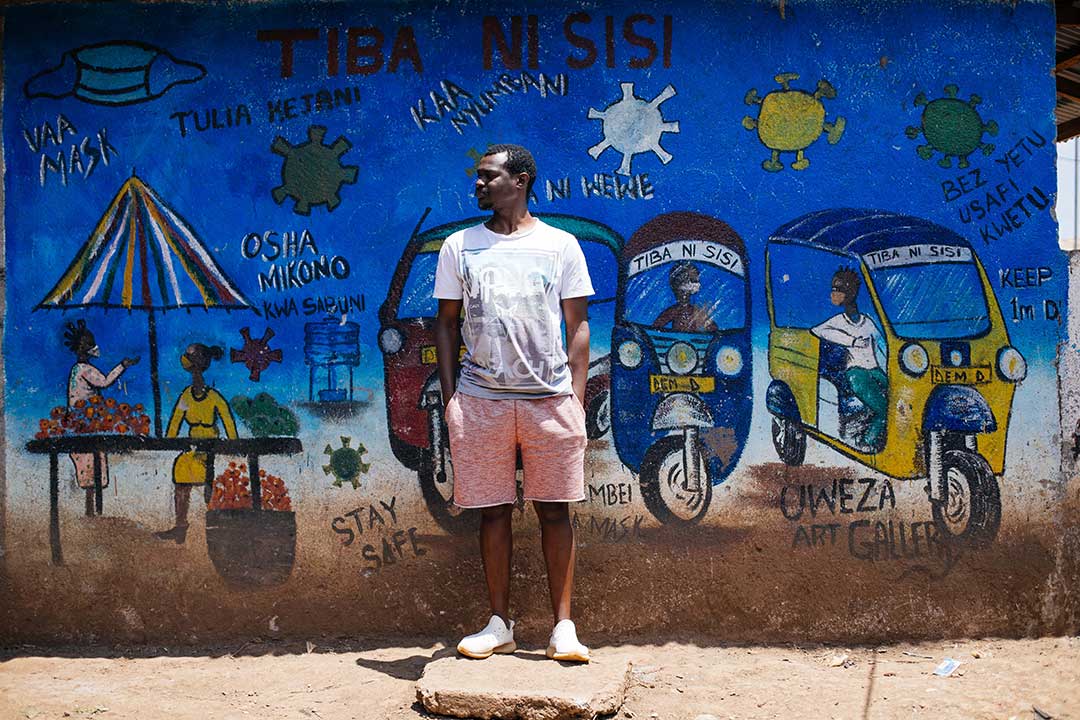 Born, raised and having lived in Kibera all his life, 30-year-old canvas and mural artist Francis Okoth is also the gallery manager at Uweza Art. While his father was artistic, Okoth wasn't encouraged to do art growing up. He heard about the Uweza gallery after high school and joined. At the gallery, he was taught how to do portraits and has since been able to earn a living through his art, including having his Portrait of an African Woman purchased by Melinda Gates.
"At the beginning of the pandemic, people in my community thought it was a foreign phenomenon created by people far away to create fear in us. My mural is to let them know that this virus is a real thing and it is all around us," says Okoth, as he signs his murals.
Okoth has both witnessed and experienced firsthand the way COVID-19 has had an impact on people's lives and livelihoods. He wanted to portray their plight through his mural, situated in the Lindi area. The mural depicts tuk tuks and a woman selling her wares, but surrounded by COVID-19 virus icons in the air.
"I decided to use these vehicles because they used to be over-filled with passengers but now they've had to reduce passengers because they were spreading the virus," adds Frank.
Kevin Odhiambo
A celebrated artist in the area, Kevin Odhiambo is known for his murals and runs his own art shop, Make It Simple. He is quite active in the community and he strategically chose to put his mural at an entrance of Toi Market in Kibera so that everyone can see it as they enter and leave. His mural depicts the railway tracks of Kibera and all the surrounding activity of the slum with well laid out sanitisation messages all over the mural.
Clad in a self-made Tupac T-shirt, Odhiambo says, "my core message was to remind people to put on masks and do so properly."
It took him two days to complete the mural from finding the wall and negotiating with the landlord for its use to priming the wall using plastic emulsion and brush painting the mural. He employed a landscape style so that he could have more feeling in the painting. He used spray paint for depth of the skyline and crown paints for the coat.  
Wesley Osoro
While he is generally an abstract realist on canvas, Wesley Osoro has been commissioned to do many murals in different parts of Kibera. He first joined Uweza as a football player, but lost interest in that once he saw they had an art programme.
Being a full-time student and artist, he was personally affected by the pandemic. Because he spent most of his days at school or at the gallery, with both closed, there was not much for him to do. This inspired him to paint a mural telling people about the pandemic.  
Inspired by a graffiti legend called Bankslave, also from Kibera, Osoro wants to be part of the new generation of artists to take Kenyan art to higher levels. Before he did this mural, he had already painted some other COVID-19 awareness murals because he felt the doubt from his community about the existence of the virus.
"People saw the low reported cases and confused it with the virus not being around. That was just due to a lack of testing. I have friends who got the virus so when the vaccine arrived, I was first in line to get the jab," says Osoro.
Brian Otieno and Wendy Meraba
The young duo of Brian Otieno and Wendy Meraba chose to collaborate because they are both believe that gender balance and representation is important. Otieno is a tourism student at Nairobi University while Meraba is an online marketer, but art is their true passion.
They put their mural at a Boda Boda stop so that many people going to work are able to see the messages. Boda Boda – a motorcycle taxi – is a popular mode of transport in Kibera. Meraba brought her love for portrait art, while Otieno brought his experience in doing murals and, together, they produced a powerful educative piece of art.
The pandemic has affected Meraba and Otieno, as it has affected other artists. Due to the closure of art exhibitions, they have not been able to sell art and, as a result, doing murals has kept them busy during this time.
More and more artists in Kibera are displaying their messages through murals. The residents are loving the work because not only are they educational, they also keep the walls decorated instead of being the bland, unregulated walls that are an eyesore to the community.
These murals have created work for artists, spread positive messages and have contributed to a harmonious community.
---
All images are credited to the author Moses Mbasu.
This project was made possible by Safe Hands Kenya; https://www.safehandskenya.com/ and Uweza Kenya: https://uwezakenya.org/