Flu spikes in Indian Kashmir as COVID-19 measures lift
In the wake of the COVID-19 crisis, uptake of the flu vaccine in the Himalayan state appears to be unusually slow. But as temperatures plummet and masks are left at home, that's having contagious consequences. 
4 January 2023
4 min read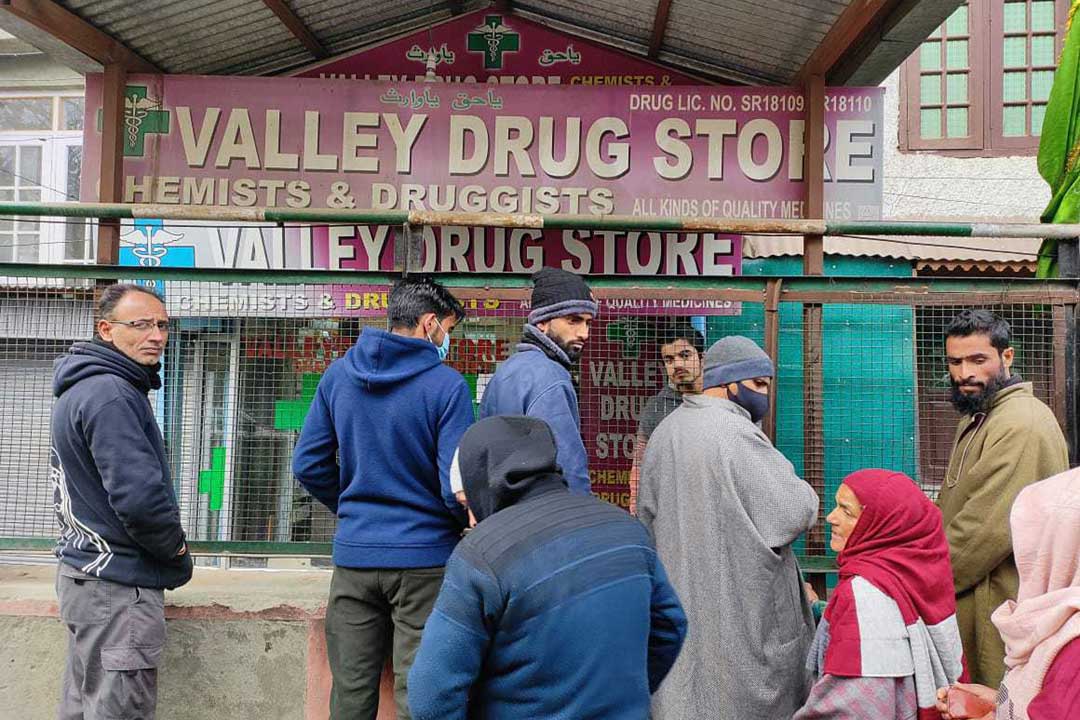 In Khag village, central Kashmir, 42-year-old Raja Bano's worry deepened as the mercury plunged to sub-zero levels in the first week of December. During the past month she had already needed to take her child for treatment at a nearby Primary Health Centre three times.
Her daughter Zainab, aged 12, has been suffering from severe symptoms of influenza.
"I have not been able to attend my school for the past week. Due to running nose, headache and fever, I am not able concentrate on studies even at home, " said Zainab, waiting for her turn to see the doctor.
"Out of every 15 investigations we refer for lab testing, ten turn out to be viral loads from influenza-related infections."
She is a not only patient suffering from flu; a majority of patients visiting the facility here in mountainous north India reported similar symptoms. And it isn't just Khag – health care centres across the Himalayan valley state have seen an uptick in flu-like complaints, as leading physicians warned of an unusual spike in the number of respiratory infections this winter.
Forty-five kilometres away, in a place called Harwan in Srinagar district, the situation appeared tellingly similar.
"In the past few weeks, the bulk of the medicine I have sold is used to treat the flu and cold. There is a continuous increase in the demand, " said a chemist running a medical shop outside the health centre.
Dr Naveed Nazir Shah, head of the department of Pulmonary Medicine, Government Chest Disease Hospital Srinagar, calls the surge in respiratory cases "unprecedented", adding, "out of every 15 investigations we refer for lab testing, ten turn out to be viral loads from influenza-related infections. "
As per the data available with the hospital, about 400 people suffering from various respiratory illnesses visit the hospital on daily basis. And of these 400 cases, nearly 60% suffer from flu- and cold-like symptoms.
This winter has been colder than the previous two, which were uncharacteristically mild and also saw lower-than-usual numbers of flu cases and hospitalisations. The colder weather offers the infection-causing virus optimal conditions to thrive, but influenza expert Dr Nisar Ul Hassan from Government Medical College, Srinagar, says that's not the whole story behind this year's surge in cases. It's also due to the easing out of COVID-19 precautions, he says.
"People were hardly exposed to the virus in last two years because of strict COVID-19 preventative measures, including the use of masks," he says. Less exposure means less opportunity to develop natural immunity.
Anticipating a rise in influenza infections this winter, health authorities and experts urged people to get vaccinated for influenza before the start of the Kashmiri winter, which runs November to February.
Despite that advice, the number of people who got their influenza jab this season is reportedly lower than normal.
According to a Srinagar based stockist of the influenza vaccine Inflovac Tetra, fewer vials have been sold this season as compared to previous years.
"Last year I sold around 5,000 vials of Inflovac Tetra as compared to only 3,000 this year, " he said, speaking in mid-December.
"As the pandemic has almost subsided, people seem to be taking the influenza virus lightly. There is a lack of awareness about the virus, " he added.
Another barrier is the cost of getting influenza vaccine jab.
Ruhi Jan, a housewife from Srinagar, says that she wants to get vaccinated. "Last year, I got the flu shot with the help of a friend and it worked wonders for me. But this year, I am unable to take the jab, as I can't afford it from a private market, " she adds.
A single flu jab costs around 1,200 rupees (US $14) to 1,500 rupees ($18) in most parts of the Kashmir. Dr Nisar ul Hassan, who also heads the Doctors Association of Kashmir, argues that the influenza vaccination should be free, especially for high risk groups, such as children, senior citizens, pregnant women and people with co-morbidities.