"I do not want them to end up like me": Abuja mothers with disabilities defy odds to get their children immunised
In a colony of people living with disabilities in Nigeria's capital, mothers contend with discrimination and physical challenges to get their kids protected from childhood diseases.        
18 August 2023
5 min read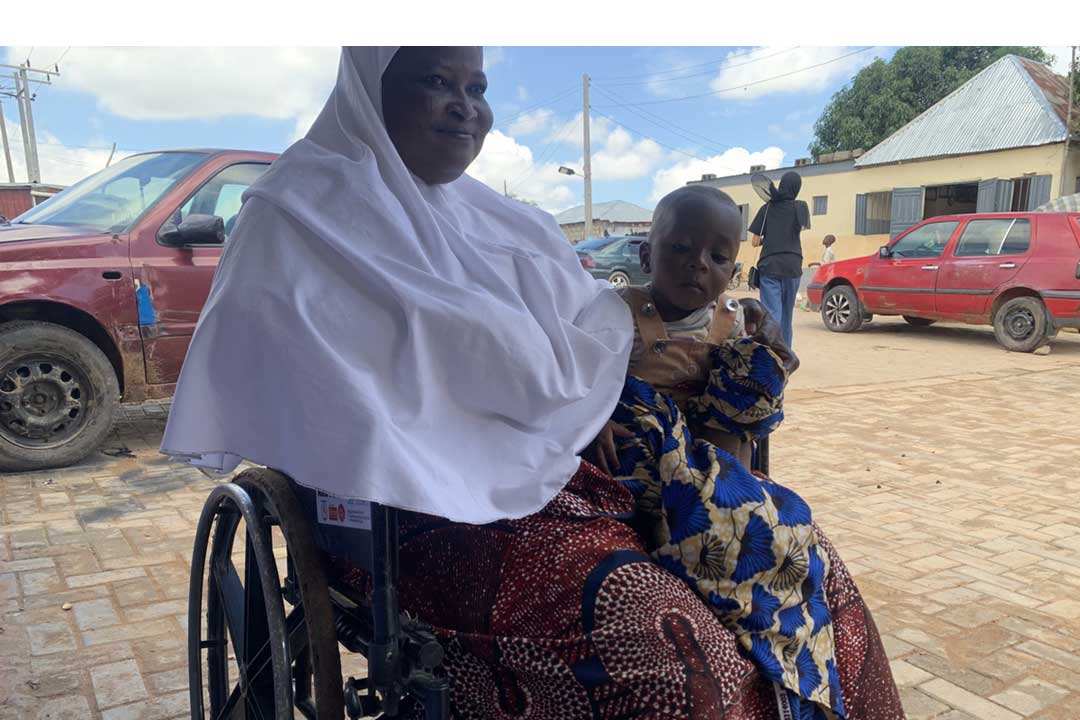 In a cluster of huts and cabins built with cartons and roofing sheets, Rabi Ibrahim, a double amputee, carries her eight-month-old son on her thigh as she wheels herself through the narrow, rocky paths that lead to the nearest health centre, where he is due to receive a vaccine shot.
It's a simple task, but one that is difficult for her to complete unaided. Still, she says she has never missed a scheduled immunisation for any of her three children.
"I have to find a way to go to the clinic. "I will not allow anything to happen to my children and I do not want them to end up like me."

– Rabi Ibrahim, mother of three and double-amputee
"I have to find a way to go to the clinic," Ibrahim explains, "I will not allow anything to happen to my children and I do not want them to end up like me."
Ibrahim, 39, lost both legs when she was a year old. Although she cannot recount the details of the condition that led to her amputation, Ibrahim posits that it started when her parents separated and she had to live with distant relatives.
"When I asked, some said it was a spiritual attack, but my mother said it was due to negligence," she says. "And I believe her."
Throughout her life, Ibrahim has been wheelchair-bound, and faces several forms of discrimination even when accessing medical care. One such incident led to the loss of her first child.
"It was my first time, and I was young, so I did not realise I was in labour until my husband insisted we go to the hospital," she recalls. "When we arrived, the doctors and nurses kept me in the waiting room without checking me while I was in active labour. As I waited, another pregnant woman, also in labour, came – and their response to her was quick. Within an hour I heard her deliver her baby and I began to cry."
Ibrahim says that this perceived preferential treatment infuriated her husband. He made his dissatisfaction known, and the nurses decided to attend to her – but in a manner she described as impolite. "They said they could not help me climb the bed. That I, without legs and in labour, should climb the bed on my own – and it was too high. My husband had to lift me. I began to push before they could prepare for me but my baby came out lifeless."
Because of this occurrence, Ibrahim said she never goes to any health centre to deliver a child. Despite being regular with antenatal and keeping up with vaccinations, she does not trust health workers to handle her child's delivery.
"It has been over ten years since that happened, but I already get anxious about how I might get treated when in labour."
Unguwar Guragu: A disabled people's community
Ibrahim's experience is unfortunately not unique. Apart from the physical and mental challenge people living with disabilities (PWDs) often negotiate in direct consequence of their disabilities, they also often face various forms of discrimination in different aspects of their lives. That is why here in Abuja, Nigeria's capital city, PWDs that are less privileged choose to live in a colony, where they can offer support to one another.
In an area known as "Unguwar Guragu' – which loosely translates to "disabled people's community'– located within the Karonmajigi district, more than 500 people with disabilities, a majority of them survivors of leprosy, have made their home.
While there is a sense of camaraderie between them, the physical fabric of the community is poorly planned, with rough paths that present obstacles to residents – including to parents seeking to get their babies immunised.
Salamatu Sa'idu, a visually impaired woman living in the community, recounts tripping and falling with her baby, as she navigated her way to the health centre.
"Despite having a guide, it is hard to navigate this place without soiling your feet in mud or tripping over a rock, or hitting your foot on the way. But I still have to go, to ensure my children's health," she says.
Ibrahim has also been in an accident while on her way to get her baby vaccinated. "Like most times, I did not have assistance and I was running late, so I decided to go with an okada [a motorcycle taxi]," she recalls. "We folded my wheelchair and I climbed on the back, but I had no balance, so I fell off. Thankfully my baby was strapped to my back so he was not injured. I got severe bruises."
But she knows that for her children, missing out on vaccination comes with unacceptable risks – including the risk of long-term disability. Dr Agbor Ebuta, a family physician, notes that, "The aim of immunisation is to protect children from common childhood diseases such as tuberculosis, diphtheria, tetanus, polio and a few others."
Dr Ebuta explains that polio alone significantly contributes to the significant burden of physical disabilities in Nigeria. "Children who are not vaccinated for polio have a high chance of getting poliomyelitis," he says. "This is a risk."
He further states that diphtheria, a bacterial infection that affects the throat, and tetanus can potentially lead to neurological issues – like paralysis – if not successfully mitigated for or vaccinated against. "In fact, [infections like these] can affect the brain, it can affect the limbs, it can affect anywhere there are nerves, because it causes damage to nerves," he says. There are also other vaccine-preventable diseases that can cause long-term damage to survivor's bodies – measles, for instance, can cause permanent blindness and deafness.
"Vaccinations are cost-effective [preventive] measures, and avoiding vaccinations can lead to illness associated with what the jab is supposed to protect against. And those illnesses can lead to serious damages, especially for a child's development," Dr Ebuta underscores. "I believe if vaccination coverage was wide in Nigeria, physical disabilities that are linked to lack of vaccinations would have been very, very, very low."
Ibrahim and Sa'idu believe that a disability-friendly road will enable wider vaccine coverage within the community. "Sometimes the health workers go from house to house – but this happens rarely," Sa'idu says.
More from Zubaida Baba Ibrahim