Monkeypox, Lassa and a pandemic: Lagos fights off a new COVID-19 wave with vaccination drive
In Lagos, state authorities and health workers are going the extra mile to ensure residents take the second dose of the COVID-19 vaccine in the face of multiple health threats.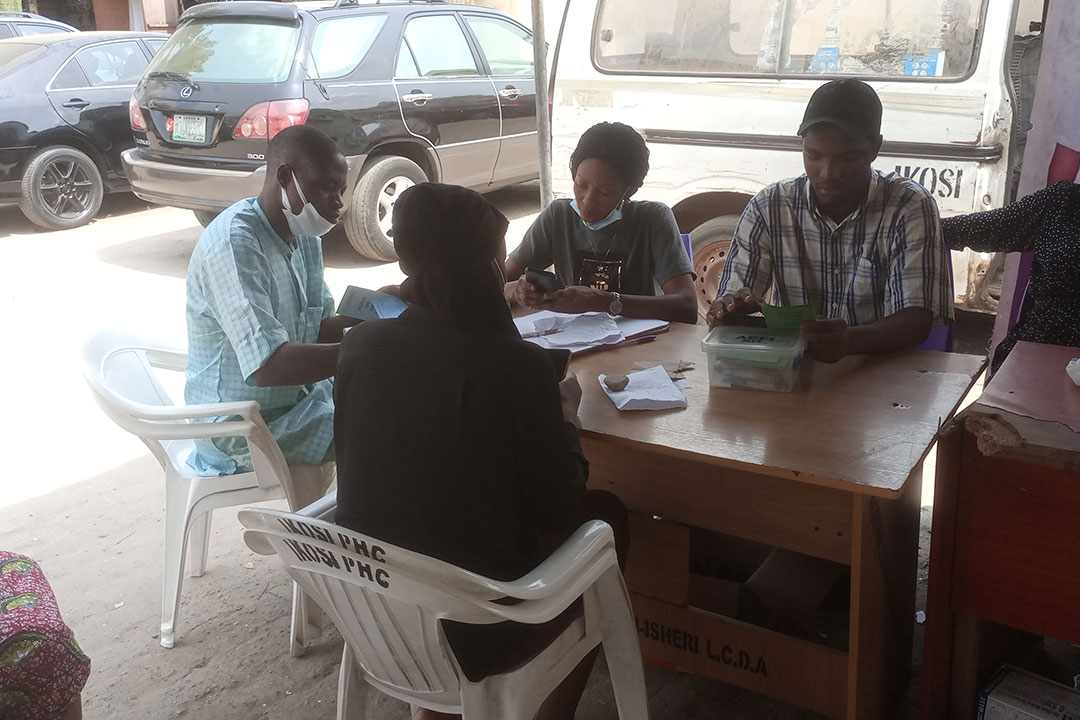 July 2022 was a busy month for Lagos and its 22 million residents. Apart from being politically-charged, like most big cities across Nigeria, as people registered for permanent voter cards ahead of next year's crucial presidential elections, the continued spread of monkeypox and Lassa fever made the month one of the toughest of 2022. A fresh wave of COVID-19 infections from mid-July has made the situation even more precarious.
Between 16 and 18 July, Lagos recorded 325 fresh infections out of the 478 new cases recorded across Nigeria. Four days later, the city recorded another 62 infections, bringing the total to 387 cases for July. It is a troubling sign, especially considering an increasingly precarious economic situation has put taking the second dose of COVID-19 vaccine lower down people's list of priorities. 
"I didn't want to come for the second dose initially but the follow-up text messages from health workers at the Ikosi-Isheri centre made me change my mind."
There was the risk that the latest surge would force Lagos into another lockdown.
But moving swiftly to turn the tide and halt the latest surge in infections, the Lagos State Government has embarked on a renewed awareness campaign via various communication channels, including radio, television and billboards, to get more people to embrace full vaccination.
Lagos State Health Commissioner, Professor Akin Abayomi, while receiving his second dose of the jab, says that the government has put measures in place to curtail the spread of the virus.
"We are encouraging everybody that has had their first dose to come and collect their second dose, so you are fully immunised. One dose is not enough to give you the protection that you need to fight off the virus if you get exposed," he says.
To complement the state government's efforts, some health workers in Lagos are also helping to get more people to take the second dose of the COVID-19 vaccine by adopting different methods. 
For example, Fisayo Bukunmi, a medical officer at the Ikosi-Isheri Local Government Area Health Centre in Ketu – a bustling suburb in the heart of the metropolis – reveals that, apart from sending persuasive text messages to remind people of the importance of taking the second jab, she and her colleagues drive around different sections of the council area to interact and engage with people on the need for them to be fully vaccinated.
"What we are doing is purely born out of the need to protect our city," she says. "As health workers, we know that if there are more fully vaccinated persons around, the virus will be easier to curb.
"This move is paying off as we have been witnessing an improved number of persons coming for the jab," she adds.
In the Ikorodu area of Lagos, another highly populated part of the city, health workers at a government-owned hospital in Igbogbo are also going the extra mile to ensure that people embrace full vaccination against COVID-19. Yemisi Olaniyi shares that she and co-workers often send out broadcast messages on Whatsapp to inform members of the public on the importance of full protection from the virus.
"As health workers, we try to appeal to them through our messages on Whatsapp and face-to-face interactions on why their safety is more vital to them than promises by politicians. There has been positive response from members of the public and we hope to sustain the tempo to help save and protect more lives," she says.
According to a report by the World Health Organization released on 22 July, there were more than 565 million cases of COVID-19 globally with more than 6.3 million deaths recorded. The report stated that around 9,181,118 cases were in Africa, adding that more than 12 billion doses of vaccines, including first, second and booster jabs, have been administered globally as of 19 July.
"I have received the second jab and I am glad I did."
While the WHO states that only about 24.7 million Nigerians have so far been fully vaccinated against the virus, the hope is the figure will rise significantly in the coming weeks, especially with the new approach being adopted by states like Lagos in pushing more people to take their second dose of the life-saving medicine.
"I didn't want to come for the second dose initially but the follow-up text messages from health workers at the Ikosi-Isheri centre made me change my mind," says Isaac Oseola, a 51-year-old Lagos resident. "I have received the second jab and I am glad I did."