Unsung hero: how a polio survivor is changing the narrative
Polio survivors in Kano State are helping to change perceptions towards vaccines.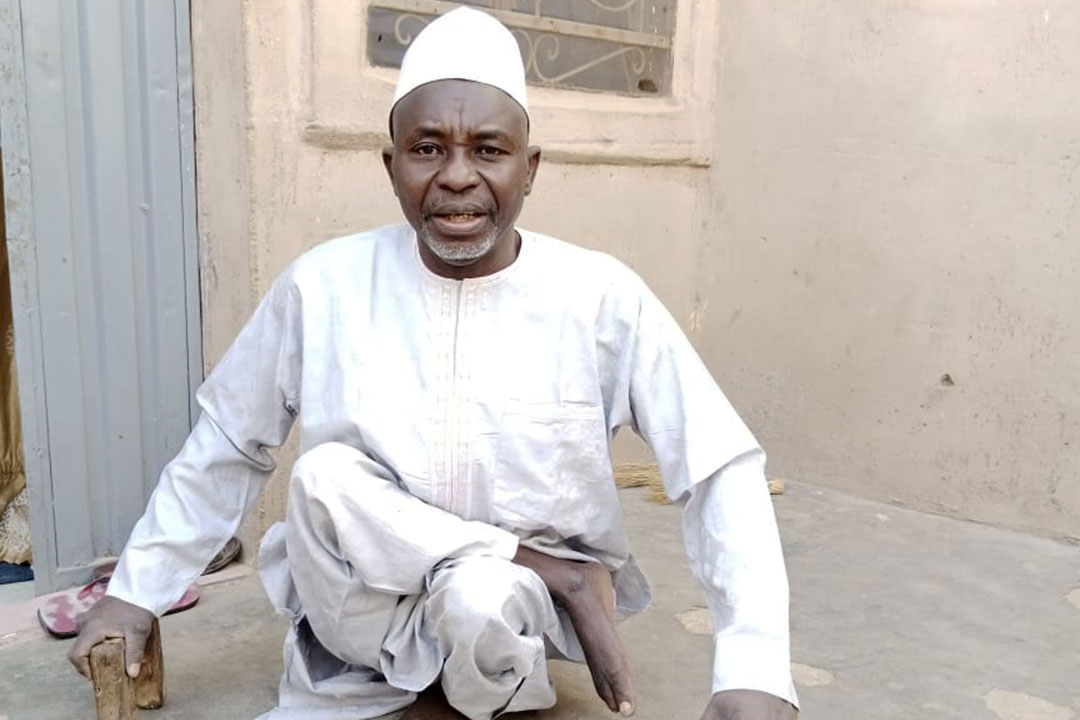 Aminu Tudun-Wada, a polio survivor, was three years old when he contracted polio. The disease invaded his nervous system and paralysed him.
"My mother did everything she could to save my legs, but all to no avail. If only she knew about the polio vaccine, I am very sure she would have gone the extra mile to ensure I received it," Tudun-Wada says.
"I told myself that I can use my disability to warn other parents and caregivers on the dangers of not vaccinating their children against vaccine preventable diseases."
Today, Tudun-Wada runs his own company producing low-cost tricycles for sale throughout northern Nigeria, helping to ensure mobility for polio survivors who might otherwise not be able to access schools and other spaces. And yet, he thinks he could have achieved more.
"I am 62 years old and I can tell you that I was not able to achieve about 80% of the things I wanted to achieve in life because of my disability. This could have been prevented with the polio vaccine," he explains.
Between 2004 and 2006 Tudun-Wada says that Nigeria recorded over 1,000 cases of polio. The northern part of the country has the highest number of polio cases yet vaccine hesitancy continues to thrive in this part of the country, with parents and caregivers refusing to bring their children to get vaccinated.
"Some parents and caregivers didn't accept the polio vaccine as they claimed it would make their daughters infertile or kill their children. These rumours are not science-based," says Tudun-Wada.
Someone needed to change the narrative, Tudun-Wada affirms, adding that, "I don't want any child to end up like me. I told myself that I can use my disability to warn other parents and caregivers on the dangers of not vaccinating their children against vaccine-preventable diseases."
He goes on to explain, "I decided to form the Polio Survivors Group (PSG) in Kano State 20 years ago. I was able to gather about eight polio survivors to join me in creating awareness around the importance of vaccinating children against vaccine-preventable diseases. Our main aim was to change the perception of Nigerians towards polio vaccine and other life-saving vaccines. With the support of UNICEF, the then-state governor of Kano and other organisations, we registered the group and we were trained on interpersonal communication, which helped us to become effective community mobilisers."
Currently, there are 422 survivors like Tudun-Wada scattered all over the 44 local government areas of Kano State, who tell parents why they need to ensure that their children are vaccinated against vaccine-preventable diseases like measles, pneumonia, yellow-fever, hepatitis, tuberculosis, polio and others.
The efforts of the PSG and other community mobilisers have paid off: in 2020, Nigeria was certified free of the wild poliovirus by the World Health Organisation (WHO).
Sani Abdullahi, the leader of the PSG in Gwale Local Government Area, which consists of 13 polio survivors, says that, despite this achievement, they are not resting on their laurels. The team still goes from door to door, to encourage parents and to remind them not to forget their child's immunisation day.
"We do not preach about polio alone; we preach to parents and caregivers to ensure that they don't miss any of their child's immunisations," Abdullahi adds.
"I feel fulfilled! Outside of the fact that we helped in making our country polio-free, many parents have come to realise the importance of vaccines to their children. We have been able to train younger polio survivors who will take over from us. Currently, I am training polio survivors on how to make tricycles at my workshop at no cost to them. These are achievements I am so proud of," Tudun-Wada exclaims.