"We need to reach every child": How Uganda's routine immunisation program climbed back from COVID-19
Resilience can look like a canny financial strategy or a health worker crawling up a rickety ladder, finds John Agaba in Kampala.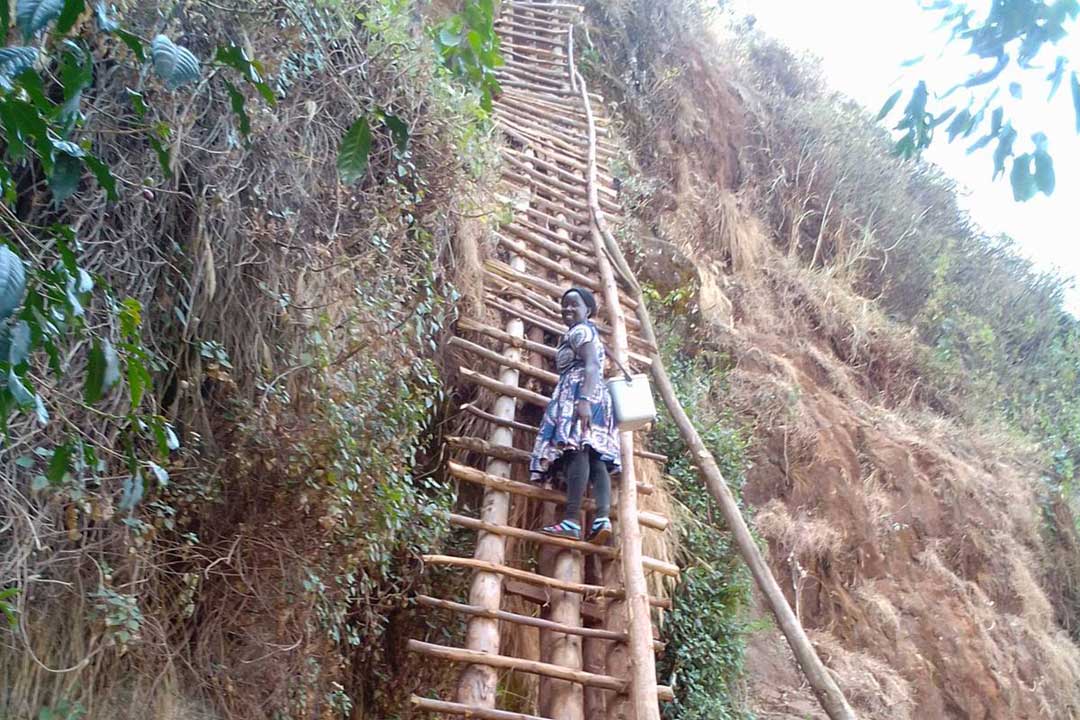 Agnes Namboozo hated to climb the rudimentary ladder connecting Buluganya subcounty to Mashelusi and Manyololo villages in the hills near Mount Elgon in Uganda.
It was rickety and incredibly tall, undulating for tens of metres up a brittle, near-vertical precipice. But there were children to immunise in the mountain villages, and the ladder was her only means of access.
So the nurse, a staff member of Buluganya Health Centre III, slung her vaccine carrier onto her back, grasped one of the rungs, and began to claw her way to the top.
"We want to put all our efforts to reach these children. We want to understand what is stopping the 3% of children who are unimmunised from seeking immunisation, and the barriers stopping us from reaching them."

– Dr Michael Baganizi, UNEPI deputy Program Manager
A video of her determined ascent soon went viral. Dr Jane Aceng, Minister for Health, tweeted her appreciation: "Nurse of the year!"
"I had to do this," said Namboozo in an interview with VaccinesWork. "We were conducting an outreach to immunise children against polio, and I didn't have an alternative route."
Absolutely speechless and touched to see this dedicated and committed Enrolled Nurse Ms.Nambozo Agnes from Buluganya Health Centre III. She is on her way to Masheluse village in Nataba parish, Young Child Clinic outreach to vaccinate children.
Nurse of the year! pic.twitter.com/64IbFpyK6t

— Dr. Jane Ruth Aceng Ocero (@JaneRuth_Aceng) February 26, 2023
The efforts of Namboozo and dedicated health workers like her have never been more vital.
As in much of the world, COVID-19 severely strained health systems in Uganda between 2020 and 2021, leaving thousands of children without access to life-saving routine immunisation. Lockdowns disrupted access to immunisation services, while subsequent COVID-19 vaccination efforts shifted limited resources away from routine services.
WHO and UNICEF data shows that globally, 25 million children missed out on vaccinations in 2021, six million more than in 2019. Children who didn't receive any vaccine – called "zero-dose children" – increased in number from 13 to 18 million during the pandemic.
Uganda numbers among five African countries recently hailed by a Clinton Health Access Initiative paper as "exemplars" of performance in strengthening routine immunisation during the last two years of the pandemic.
In the east African country, coverage rates with the third dose of diphtheria, pertussis and tetanus containing vaccine (DTP3) dipped from 93% to 89% between 2019 and 2020. But by 2021, that bellwether statistic had climbed back up to 91%. Coverage with the first dose of DTP vaccines had risen to 97% in 2021, up from 96% in 2019.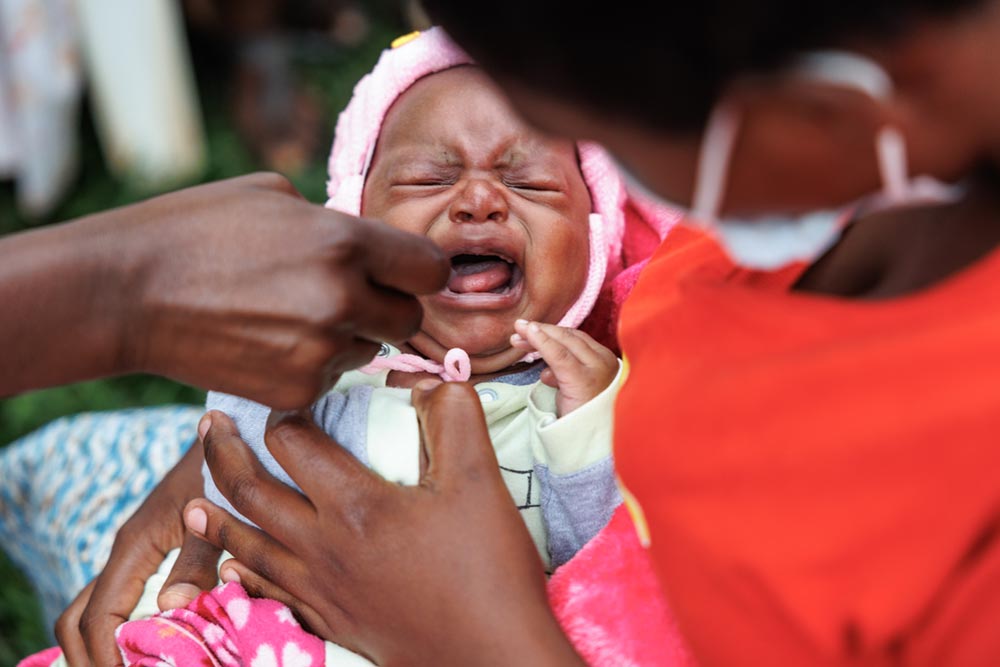 That's because Uganda had a plan.
As news of the pandemic's assault on health systems in China and started to trickle in, leading figures in UNEPI, Uganda's immunisation programme, sat down with partners to draw up a resilience strategy.
One of the risks the resilience strategy predicted was a shortage of vaccines and other necessary supplies, as a consequence of air traffic disruption. So, UNEPI ordered enough routine vaccines before more flights got cancelled.
"We actually had enough [routine] vaccines when other countries were struggling," said Dr Immaculate Ampeire, senior medical officer at UNEPI.
The resilience plan also included operational guidelines that supported symbiotic delivery of health services alongside COVID-19 vaccination, care, and treatment. This helped to leverage limited resources because, as Ampeire explained, "We were able to continue other essential health services, including routine immunisation alongside COVID-19 care."
"There was no money," she said. "COVID-19 vaccine supplies were still low. So, we encouraged existing structures, which already had cold-chain fridges and were giving routine immunisation to also vaccinate high-risk groups such as the elderly, health workers and persons with other comorbidities."
The programme then engaged non-traditional health stakeholders at district level to mobilise additional financing, which eased pressure on the system, in order that immunisation services would be able to continue.
Strengthening health information systems and reviewing health facility immunisation data monthly helped to identify underserved areas – and divert resources to better target them – in real time.
"Reviewing data showed us specific areas that were lagging behind," said Ampeire. "It enabled us to tell which children were not interacting with immunisation so we could focus on them."
That meant conducting intensified and targeted outreaches in 2020 and 2022 to immunise children who had been missed out.
"Right from the top to the bottom, we have leadership that understands the importance of immunisation. Our health workers are very committed, same as our Village Health Teams who move in communities encouraging parents to take children for immunisation."

– Irene Nabukose, nurse
In October 2020, Uganda's health system conducted catch-up activities targeting high-risk communities, including young girls who hadn't yet been vaccinated against human papillovirus (HPV). And in the final months of last year, the immunisation programme conducted multiple door-to-door campaigns against measles and polio.
These initiatives have enabled Uganda to improve its routine immunisation coverage to beyond pre-pandemic levels for some antigens. Ministry of Health records show the east African country improved coverage of the first doses of the inactivated polio vaccine and the measles rubella vaccine, the third dose of pneumococcal conjugate vaccine and the third round of polio drops, between 2019 and 2022.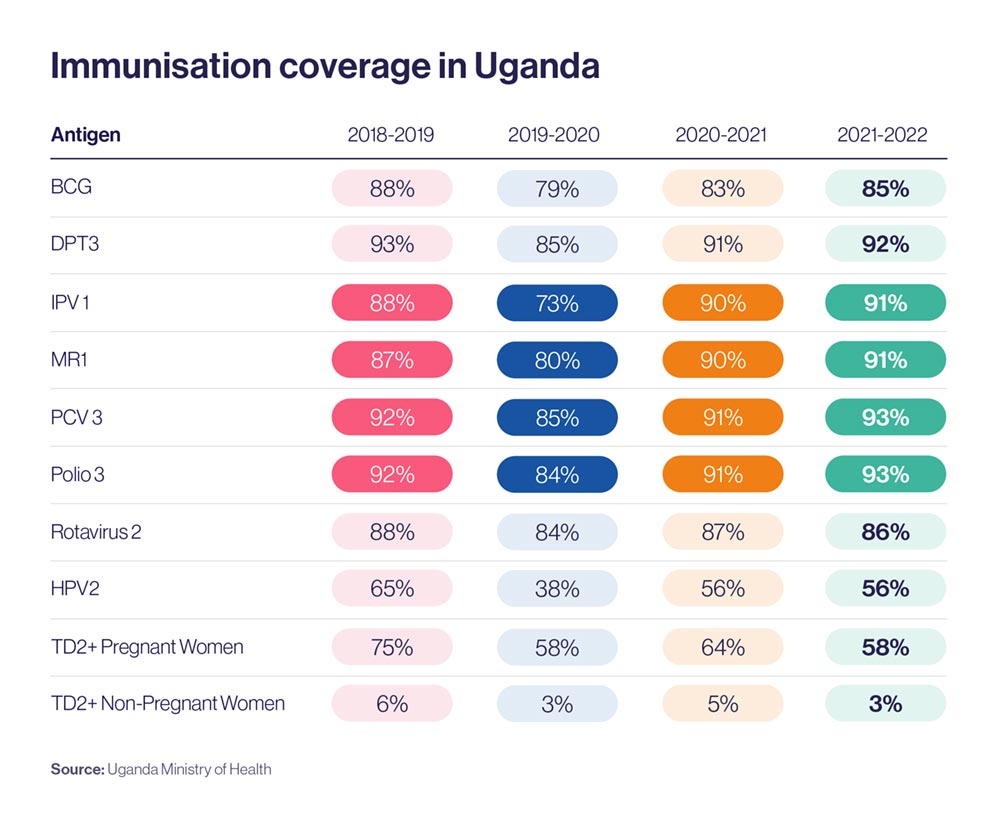 Now the programme is focusing on inoculating children who have not been immunised and those who "come once and don't return".
"Our focus for the next five years is to reduce numbers of children who have not been immunised," said Dr Michael Baganizi, UNEPI's deputy programme manager. "They are about 3%."
"We want to put all our efforts to reach these children," he said. "We want to understand what is stopping them from seeking immunisation and the barriers stopping us from reaching them."
He said UNEPI will involve religious and other community leaders to reach these at-risk children. The programme will hold targeted and tailormade campaigns to reach them.
"We have a lot of hard-to-reach areas, gender-based violence issues, and other challenges," said Baganizi. "But we will come up with customised interventions. We need to reach every child."
He said that the programme has developed a strategy that will enable working mothers to take babies for immunisation over weekends.
"We have shown we can continue routine immunisation in epidemics (COVID-19 and Ebola). Now we need to sustain these gains and build resilience to withstand future pandemics," said the medical officer.
Irene Nabukose, senior nursing officer at Kiswa Health Centre in Kampala, said Uganda had managed to repair its routine immunisation coverage because the country has a structure "that works.
"Right from the top to the bottom, we have leadership that understands the importance of immunisation," said Nabukose. "Our health workers are very committed, same as our Village Health Teams, who move in communities encouraging parents to take children for immunisation."
According to the WHO, immunisation is one of the most successful and cost-effective public health interventions. Worldwide, immunisation programmes prevent around 2.5 million deaths each year.
That's what drives health workers like Namboozo to climb creaking ladders up crumbling hill-faces: she knows the vaccines in her carrier bag are preventing deaths, and giving young ones a meaningful shot at life.