Zimbabwe's health workers on the pandemic front line
Health workers at the forefront of Zimbabwe's COVID-19 vaccination campaign share their experiences.
14 February 2022
4 min read
For Linda Kaisa, a nurse in the Mudzi communal area of Mutoko town 230km east of Harare, the first sunlight is a signal to get ready for work. 
Living away from her home and family, she is part of a mobile COVID-19 frontline healthcare team that goes into villages in the remote parts of Zimbabwe to administer COVID-19 vaccines. 
"We often leave the hospital early in the morning to reach our destination in time, before 8am when we start work," Kaisa says.
"As a frontline health worker, I always encourage people to get vaccinated and remain vigilant because COVID-19 is here to stay."
To reach these communities, the team must navigate a network of predominantly dirt roads and narrow bridges to preserve lives. Along the way, the experienced driver carefully guides the truck loaded with COVID-19 vaccines and the frontline staff on board. As the car rattles on the rough road, the team inside briefly jerks back and forth, but they remain determined, discussing the mission that lies ahead.
"We sometimes have to go through rough terrain or sometimes use longer, winding routes to get to the places where we do COVID-19 vaccinations, but we are now accustomed to these situations," Kaisa adds.
As the truck drives past villages, pedestrians dutifully gesture at the healthcare personnel, silently acknowledging their lifesaving presence. Everyone, including Kaisa, is focused on a tour of duty that demands patience and total dedication.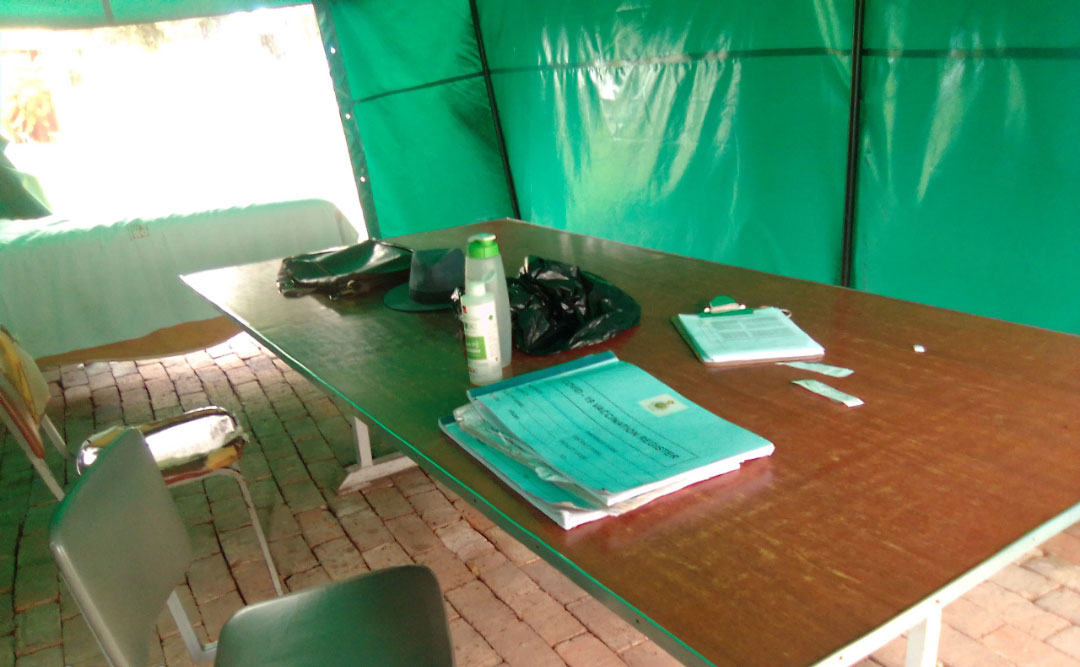 "These people are generally far away from the hospital. We often go to places where people are staying or working in mines panning gold. We set up at busy places where many people gather."
Finally, after a lengthy drive, the team arrives, in this instance at a shopping centre, where a handful of people are already mingling in anticipation of their jabs. Before more people trickle in, the mobile team set up their equipment, in preparation for a day's work. Here in the remote villages, myths and misinformation are widespread, however, the nurses are trained to counter this.
"We always explain and counsel people on the benefits of getting vaccinated. When people get the right information, they agree to get vaccinated," says Kaisa.
Previously, on such outings, the frontline workers used to work extra hours due to few available vaccination points. 
"We used to work for weeks on end to meet the targets," explains Kaisa. But the increase in mobile vaccination points and more COVID-19 vaccinations has since reduced the necessity to do so.
On this day their outing has been successful, save for a few incidents. The police and the local community leaders are ready to assist if trouble arises.
"At the height of the pandemic, we encountered stigma from a section of community members," says Kaisa. "People started to avoid us, while some nurses were chased away from the houses they were renting because people were afraid that we had the deadly virus. To avoid this, we took off our uniforms on our way home from work."
With more information now readily available, the stigma is gradually fading away, she says."The stigma has since been reduced because people now have more information and understand that we wear protective clothing to protect ourselves and we are there to serve them."
In Chitungwiza, a town 25km north of Harare, Chipo Chapfika, another nurse, has been vaccinating people since the programme started. 
"Sometimes there is a communication barrier when a deaf or mentally ill person comes to get vaccinated. In that case, we have to find an interpreter to communicate effectively," Chapfika says.
Like Kaisa in rural Mutoko, Chapfika regularly tackles misinformation about COVID-19 vaccinations. "We sometimes face challenges when someone has been given the wrong information, but when they come here, we always correct that," the nurse explains. "We also offer them information on various vaccinations, indications and some of the side effects that they may experience when they are vaccinated and the course of action to take when that happens."
Although fear of infection still lurks, Chapfika practices what she preaches to reduce her chances of getting infected. "Here, I am more vigilant. First, I don't have physical contact with anyone, and I always wear protective clothing and frequently use hand sanitiser."
From her daily encounters, Kaisa is convinced that vaccination and staying safe will reduce the threat of the virus. "As a frontline health worker, I always encourage people to get vaccinated and remain vigilant because COVID-19 is here to stay."  
Follow Derick on Twitter: @Comic24Derick
More from Derick Matsengarwodzi