5 questions with Unilever's Rebecca Marmot
Gavi has been working with Unilever since 2017 to raise awareness of both immunisation and handwashing across India. VaccinesWork spoke to Rebecca Marmot, Unilever's Chief Sustainability Officer, about the Safal Shuruaat programme, why it's been successful and what could come next. 
10 October 2022
5 min read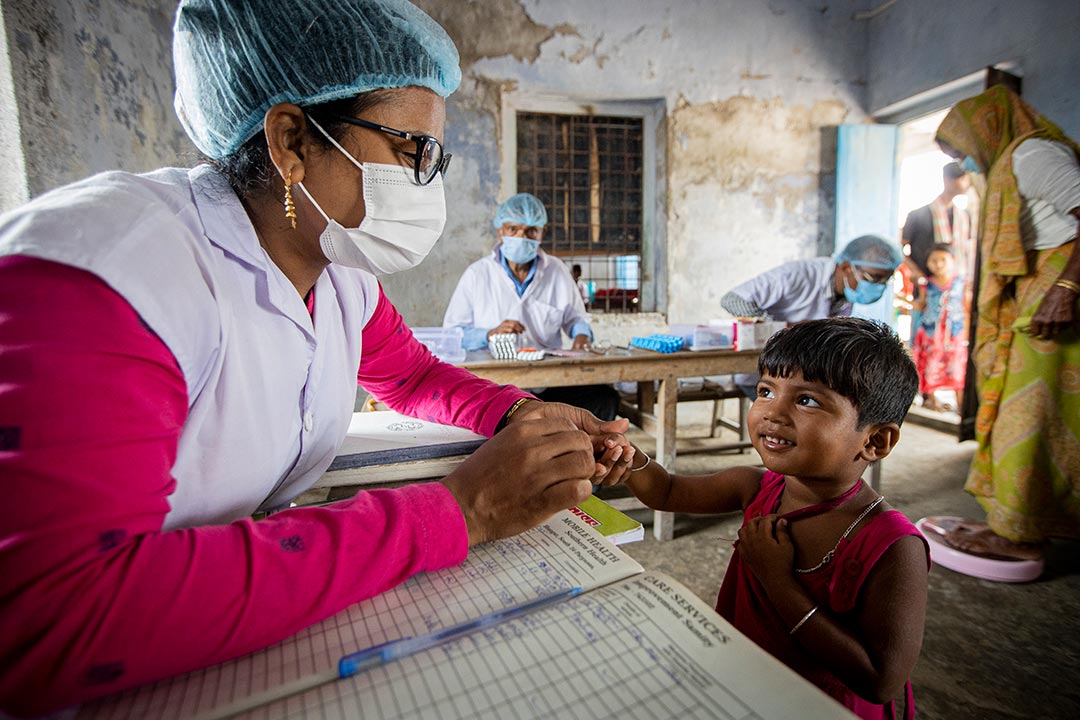 Rebecca Marmot is the Chief Sustainability Officer at Unilever and launched the Unilever Foundation during her tenure as Global VP, focusing on innovative business models for impact. Throughout her career, Rebecca has worked for many high-profile organisations, including L'Oréal and the UK Department of Trade and Industry.
Rebecca tells us about her motivations for working in the field of sustainable business and why Unilever's partnership with Gavi on vaccines and hygiene has been so successful.
1. You have had a varied and busy career, with 15 years at Unilever. What influenced your pathway towards working in global health and sustainability – was there a gradual, growing interest, or a lightbulb moment?
I originally did a PR and marketing training scheme, many years ago, at an agency. I then got experience in consultancy, government, and private industry across multiple organisations. I became interested in how all these different stakeholders worked together to make projects happen.
My jump into sustainability and global health really came when I joined Unilever, just when the whole world was going through a period of change and flux. It was during the global financial crisis. The new vision at Unilever was that the company would grow and be profitable but in a way that shared profit across the value chain. We had an opportunity in the strength and breadth of our products to make a more sustainable contribution to macro-level problems exacerbated by the fall of the banking system.
 
2. Is there a particular project or campaign you have been involved in – at Unilever or elsewhere – that was influential in how you saw the role of industry in transforming global health?
When I started at Unilever, the ambitious Unilever Sustainable Living Plan aimed to improve the health and wellbeing of a billion people between 2010 and 2020. It was a real game-changer. It presented a new way of working between sectors – with NGOs, civil societies, governments, and academics. It covered hand washing, sanitation, improving understanding of and access to oral care and mental health.
It was very exciting to realise the scale one can reach by working with such a range of partners and building on the capabilities we didn't have in Unilever. Along the way, we learned how to adapt those programmes and use the power and reach of our brands for positive impact. It was a seminal moment for me to see the sustainable living plan come to life and the impact we had.
 
3. How has Unilever helped keep hygiene and sanitation at the forefront of global health priorities?
Through our brands we have lots of knowledge and expertise in the area of hygiene; part of our portfolio is Lifebuoy, Unilever's largest soap brand. We also know that access to water sanitation and hygiene is a fundamental human right, but about a third of the world lacks access to basic handwashing facilities at home. Hygiene is such a cheap and important defence against communicable diseases like dysentery and diarrhoea.
So, we've really focused in on water sanitation and hygiene because it's where our expertise is. We've set out commitments around access to washing facilities, we've done a lot of work around advocating for increased prioritisation of funding for hygiene, and asking that governments invest in water sanitation, because it's such a cost-efficient way of ensuring basic health education and disease prevention.
 
4. The Safal Shuruaat (SS), meaning "Successful beginnings"programme, run in partnership between Unilever Hindustan and Gavi, has shown how successful targeted communications around hygiene and vaccination can be. Why was this an important project for Unilever?
I love this programme – it's such a simple partnership, but it's been massively impactful. Vaccinating babies is a simple, effective health intervention, and so is handwashing. And when you look at Unilever and Gavi, you've got two organisations with really complementary, but distinct, capabilities.
We started Safal Shuruaat in India, where we have been working for a long time. We tried lots of interventions and material, and worked with on-the-ground influencers to make sure our work resonated and got adapted to the cultural contexts of the regions we worked in. We saw significant improvements in handwashing and immunisation in even the most remote areas of India. Incidental handwashing with soap increased five times within a short time of starting the programme.
We did it by bringing together our expertise – our marketing skills, and knowledge of how to communicate for behaviour change towards mothers and fathers with young children, and Gavi's expertise in leading immunisation campaigns and mitigating vaccine hesitancy.
 
5. Why do you think this project has been such a success, and what is the future for Safal Shuruaat?
We set out very clear metrics – we wanted to see an increase in vaccinations, we wanted to see an increase in handwashing. Being able to measure and track that was really important. We worked closely with national and local governments to integrate the programme. Understanding how to communicate on immunisation and handwashing, we were well set up for success.
Once you get a model that works, it's repeatable in other countries. The programme has been a success in India, and because of this we are moving to Indonesia, launching the programme later this year.
Establishing Lifebuoy as a brand that is able to work in the right way with such an established organisation as Gavi has been hugely exciting and successful. We look forward to seeing many more successes thanks to this partnership.  
More from Angela Wipperman