5 ways in which earthquakes can threaten our health
Even after the immediate crisis has eased, the Turkey-Syria earthquake is likely to have a long-term impact on survivors' health.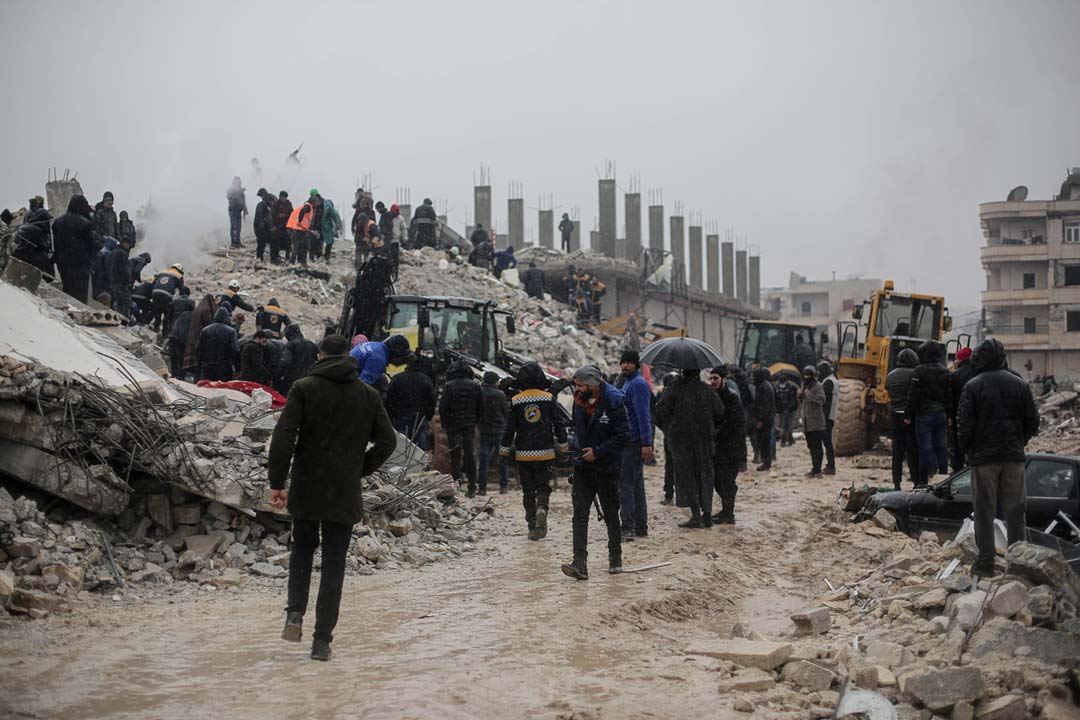 The WHO has warned of a secondary health crisis in the aftermath of the devastating earthquake that struck Turkey and Syria on 6 February. The 7.8-magnitude quake is already known to have killed more than 34,000 people, and injured countless others, and this toll is expected to rise significantly in the coming days. But ensuring survivors continue to stay alive in the coming weeks and months presents another massive challenge.
Robert Holden, the WHO's earthquake response incident manager said: "We've got a lot of people who have survived now out in the open, in worsening and horrific conditions.
"We are in real danger of seeing a secondary disaster, which may cause harm to more people than the initial disaster if we don't move with the same pace and intensity as we are doing on the search and rescue."
Earthquakes often cause damage to health facilities and transport links, making it harder to deliver services and for patients to access care.
So, what health threats do survivors face, and is there anything governments and aid agencies can do to reduce the toll?
1. Wound infections
Most of the immediate deaths and injuries will have been caused by buildings collapsing, or people being caught in fires triggered by the earthquake. Injuries could range from minor cuts and bruises to serious fractures, crush injuries and burns, plus the effects of inhaling large amounts of dust and debris. Further problems, such as dehydration and hypothermia, will set in the longer victims remain trapped or without shelter.
Wound and skin infections can present another problem in the following days and weeks. Crush injuries and cuts can easily become contaminated with bacteria from soil and rubble. In the worst cases, this can result in amputations, life-threatening sepsis, or tetanus – a disease caused by a bacterium that lives in soil. It can be prevented through vaccination, but lapses in routine childhood immunisation – particularly in northern Syria – could present a problem.
Access to tetanus immunoglobulin, a medicine containing antibodies that prevent the tetanus toxin from damaging nerves, may also be limited as a result of damage to roads and medical infrastructure, particularly in northwest Syria.
Tetanus was an issue following both the 2004 Indian Ocean earthquake and the 2005 Kashmir earthquake. The enormous number of injuries sustained, and the poor prior immunisation status of affected populations were key factors, said Dr Maria Mavrouli, at the National and Kapodistrian University of Athens, in Greece. In Islamabad – one of the cities affected by the Kashmir earthquake – 51 patients with tetanus needed breathing support, and 22 of them died.
Ensuring those who have been injured in the latest earthquake receive prompt and adequate medical care is critical. Yet with so many injured, there is a risk of wounds going untreated and increased antimicrobial resistance, leading to increased mortality. Additionally, with the scarce medical resources in Northwest Syria and the lack of UN disaster response, this risk is way much higher.
People affected by the earthquake may return to the damaged but still standing buildings, which would contribute to more injuries/mortality. Deploying specialised teams to check buildings' status is also of high importance.
2. Infectious disease
Large earthquakes create ideal conditions for the spread of infectious diseases. Water-borne diseases such as cholera can flourish in unsanitary conditions caused by damage to water pipes and water treatment plants, while overcrowded shelters aid the spread of other diseases, including measles and respiratory illnesses, such as COVID-19.
Syria is already battling an outbreak of cholera, with nearly 85,000 cases reported since August. Some of the worst affected areas overlap with those heavily impacted by the earthquake, including Aleppo and Idleb.
According to an earthquake response update from the United Nations' Office for the Coordination of Humanitarian Affairs (OCHA) on 9 February, preliminary reports suggest "significant damage to the water networks", including turbidity, contamination and reduced functionality. "As such, there is anticipated higher risk of waterborne illness, including exacerbation of pre-existing cholera and hepatitis A outbreaks," the report said.
Improving water and sanitation, strengthening cholera surveillance, and targeted use of oral cholera vaccine will be key to reducing the impact of the disease.
Another problem could be leishmaniasis, a parasitic infection spread by sandflies. It comes in two main forms: cutaneous leishmaniasis, which causes ulcers and can result in life-long scars and serious disability, and visceral leishmaniasis, which can be fatal if left untreated.
Leishmaniasis is endemic in many Eastern Mediterranean countries, including Turkey. The sandflies that transmit it feed on blood, and are attracted to crowded housing because it supplies a good source of meals, while poor housing and sanitary conditions increase breeding and resting sites for the flies. Sleeping outside or on the ground increases the risk of being bitten.
Bitterly cold conditions, malnutrition and ongoing psychological stress could make things worse, by suppressing survivors' immune systems.
The delay in searching for dead bodies under the rubble will also contribute to increased chances of outbreaks. This is exacerbated in northwest Syria, where people are left alone with insufficient search and rescue teams and equipment.
3. Chronic conditions
People with chronic conditions such as diabetes or heart disease are also at heightened risk. Not only can their access to drugs and ongoing medical care be disrupted, studies have suggested an increase in rates of heart attack and stroke from the first month to up to three years after an earthquake. They have also recorded higher rates of diabetes among earthquake-affected individuals.
Psychological stress may be a factor, along with the destruction of medical records – which may lead to consultations or treatments being missed – or circumstances that delay the seeking of medical care, such as unemployment or resettlement. The disruption of normal routines and emotional stress could lead to dietary changes that increase health risks. The destruction of health facilities as a result of
the quake also presents an enormous issue in northwest Syria, where 47 health facilities are out of order.
4. Healthcare disruption
It is not only those with chronic diseases whose health could suffer. Earthquakes often cause damage to health facilities and transport links, making it harder to deliver services and for patients to access care.
Even before the earthquake, medical facilities in northwest Syria were struggling to operate, resulting in shortages of staff, drugs, and medical equipment, and hospitals having to scale back services. "For example, some Syrian cancer patients were crossing the border to get treatment in Turkey. Their health status is likely to get affected after the quake, which will probably result in higher mortality," said Mervat Alhaffar, a research fellow at the London School of Hygiene and Tropical Medicine, UK, who previously worked as a pharmacist in Syria.
Pregnant women are another vulnerable population. According to the OCHA, there are an estimated 148,000 pregnant women in earthquake-affected areas of Syria, 37,000 of whom are expected to give birth in the next three months. "An estimated 5,550 women may experience complications requiring emergency obstetric care including caesarean section," the OCHA said.
The earthquake is likely to put pressure on the Turkish healthcare system too. Alhaffar fears that Syrian refugees (temporary protection status holders) in southern Turkey will feel the impact most due to accessibility barriers, Turkish regulations and movement restrictions. For instance, some of them may need a translator to accompany them to appointments, adding an additional layer of complexity to their ability to access health care.
Work must also be done to ensure routine immunisation campaigns continue, to avoid the resurgence of infectious diseases such as measles.
5. Psychological trauma
Earthquake survivors often experience symptoms such as anxiety, low mood, emotional ups and downs, and poor sleep in the month or so after the event. Some of them will also develop longer term mental health problems, such as depression or post-traumatic stress disorder (PTSD).
Some of those from Syria will already have experienced multiple displacements in recent years, on top of losing friends, family members and their homes, said Alhaffar. "A proper and tailored mental health programme must be integrated into a holistic response accounting for the pre-quake situation while meeting the population's basic needs (shelter, food and health services)."