Painful, and potentially disfiguring, cutaneous leishmaniasis is a growing threat in Pakistan
Doctors say climate change, urbanisation and migration patterns, as well as inadequate sanitation, are driving the spread of the sandfly-borne parasitic skin ailment.
The rash on his daughter's face had turned into a large lesion, sore and extremely itchy. Gul Bibi was also running a high fever, and Abdul Wali was worried. The only skin doctor in Zhob district, north west Balochistan, diagnosed her with leishmaniasis, more commonly called "kal-dana" locally.
The disease is very often missed or misdiagnosed.

Dr Saifullah
But in fact there's little awareness of leishmaniasis in rural parts of Balochistan. "When Gul Bibi complained of rash and pain on her cheek, we thought it was a common sore, as skin diseases were widespread in our area after the historic flooding," said Abdul Wali. But weeks passed, the itching grew worse, and the fever set in.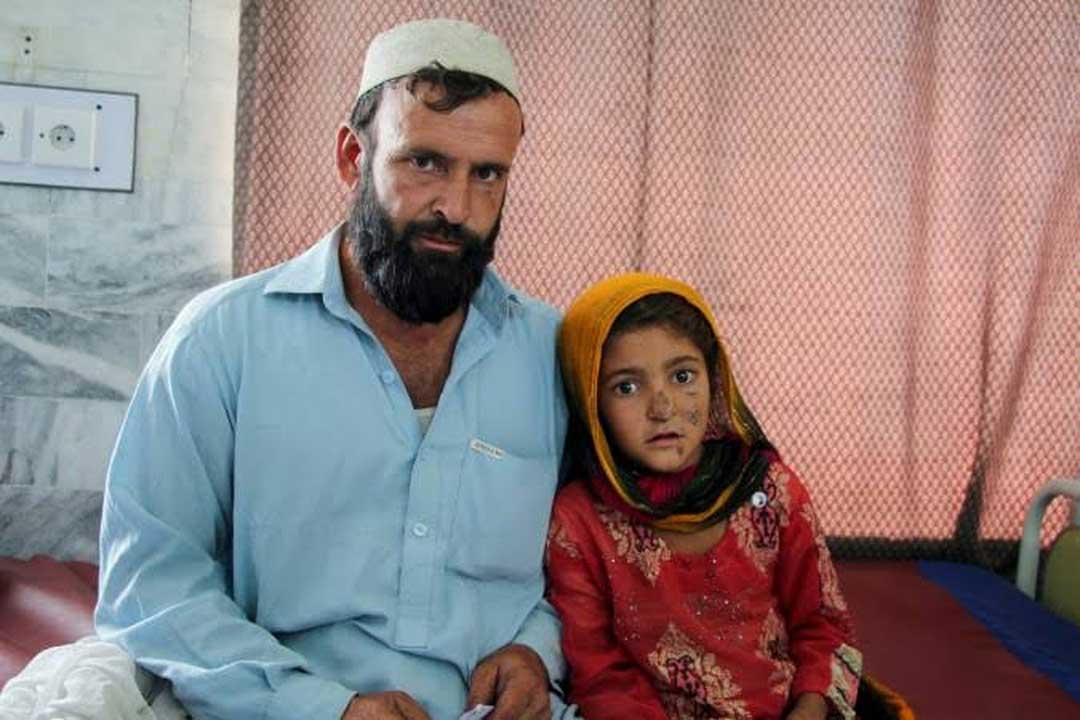 After her diagnosis, Wali brought his daughter to Benazir Shaheed Hospital Quetta due to the severe dearth of medicine and treatment facilities in remote Zhob.
He said the doctor in Quetta prescribed a course of injections labelled "Glucantime" – the commercial name for Meglumine antimoniate, the first-choice drug against all forms of leishmaniasis.
The cost for the treatment would run to more than 20,000 Pakistani rupees (USD 74), Wali said.
"I somehow managed expenses, but hospital authorities later informed me that they had run out of Glucantime stock. The injection wasn't available in the open market either," Wali recalled.
Sandfly scourge
A parasitic infection spread by the sandfly, cutaneous leishmaniasis is spreading fast in Balochistan, with the Federal Ministry of Health reporting a spike in cases in the province in the first quarter of 2022. The majority of people affected were women and children.
Cutaneous leishmaniasis (CL) is one of three forms of the disease. Unlike visceral leishmaniasis, also called "kala-azar", the cutaneous form is not typically fatal – but can be scarring and disabling.
In CL, the site of the sandfly bite soon develops a papule or nodule, which may eventually develop into large plaques or ulcerating lesions, depending on the particular species of the parasite, and the host's immune response.
According to Dr Zeeshan Haider, Associate Professor of Microbiology and Biomedical Sciences at the University of Lahore, these lesions may be self-healing. However, this can take several months to years – with a typical recovery time of two to eight months. Left untreated, these so-called "Oriental sores" can develop into chronic disfiguring lesions or swelling of the affected parts, inhibiting mobility.
That usually means the extremities – body parts exposed to the sandfly, like the face, the feet, the legs, and the hands. Scarring can lead to psychosocial consequences, says Dr Haider, like stigmatisation and discrimination – especially for women.
A growing problem
According to WHO data, 186,703 leishmaniasis cases were reported across Pakistan between 2014 and 2018. Balochistan province, where more than 60,000 cases were reported in that time period, appeared to be the epicentre already at the time.
Balochistan registered 21,000 in the 12 months between January 2021 and 2022, showing an accelerating spread of the disease. That uptick was concentrated in rural areas.
Dr Mubashir Khan, a specialist at Children's Hospital Quetta, said that a major factor behind the recent increase in leishmaniasis cases in both Sindh and Balochistan provinces has been migration from Afghanistan, with most cases reported in the border lands.
Other significant factors are climate change, urbanisation, poor hygiene, and sanitation conditions in rural areas. Sandflies thrive among mud and unplastered houses, especially where livestock are abundant.
A deadly relation
That's a potentially deadly concern. Sandflies also spread CL's more dangerous cousin, visceral leishmaniasis, which, if untreated, is fatal in almost every case. WHO estimates 50,000-90,000 new cases of VL a year, concentrated in Brazil, east Africa and India.
Dr Shahzeen Saifullah, a skin disease expert in Karachi who handled what may have been the first reported case of successfully-treated visceral leishmaniasis from Gilgit Baltistan, told VaccinesWork just how grave VL can be – even handled in a hospital setting.
A sick five-year-old child from the city of Swat was brought to him at the Civil Hospital Karachi. According to Dr Saifullah, the boy suffered from high grade fever and had several lesions on his nose and face. The boy was weak, suffered chills and rigors, his abdomen distended. He bled from his rectum. It took five weeks of in-patient treatment before the child stabilised, found his appetite again, and began to slowly return to health.
The disease, Dr Saifullah suggests, is very often missed or misdiagnosed.
Prevention and cure
Abdul Wali is not the only worried parent to find himself with a clinical diagnosis for his daughter's illness, but without reliable access to treatment.
Low stocks of effective medicines at regional health centres mean that thousands of CL patients from rural areas make the journey to the Medicins Sans Frontiers (MSF) leishmaniasis centres at Quetta and Kuchlak in Balochistan, and Peshawar in Khyber Pakhtunkhwa.
According to Shahzad Badar, field communication officer at MSF Pakistan, MSF has been treating leishmaniasis at Kuchlak in Balochistan since 2008.
"In Balochistan, three well-established cutaneous leishmaniasis centres are providing free treatment," Badar said. "In 2022, nearly 5,974 patients received treatment from [Khyber Pakhtunkhwa] and Balochistan clinics."
Badar explained that prevention and control of the sandflies requires effective integrated vector control management, which is highly complex. "Therefore, our primary focus is on early diagnosis and effective treatment to reduce the prevalence and, thus, the transmission."
MSF is training up local corps of lady health workers (LHWs) to spot and spread awareness of this growing public health problem. These lady health workers visit villages to make people aware of the severity of the disease and explain preventative measures. Those include the use of chemically-treated bed nets, sealing cracks in houses, placing traps in windows, regularly removing garbage and spraying insecticides.
"We are arranging training sessions for Ministry of Health paramedics for the diagnosis and cutaneous leishmaniasis case management. In order to increase access to prompt diagnosis and effective treatment, we will enhance this programme to Bannu and other areas of KPK in the coming months," added Badar. Like Balochistan's, Khyber Pakhtunkhwa's CL caseload has been mounting since 2018.