Celebrating Nepal's typhoid conjugate vaccine introduction
The introduction of typhoid conjugate vaccine in Nepal is a great step forward in keeping children healthy and protected from typhoid.
Written by Sagar Dahal, Immunization Manager, Family Welfare Division, Nepal
---
Vaccines are one of the most effective public health interventions against infectious diseases. Today, I am happy to share that Nepal added typhoid conjugate vaccine (TCV) to our Expanded Program for Immunization, protecting our children against typhoid. I am proud of our efforts to keep our children healthy and protected from preventable diseases so that they can grow up strong and follow their dreams.
Typhoid in Nepal
Nepal has one of the world's highest typhoid burdens. The Global Burden of Disease study estimates that there are more than 82,000 cases and more than 900 deaths due to typhoid each year, mostly among children younger than 15 years old. A recent surveillance study conducted near Kathmandu found an even higher rate of typhoid―1,062 cases per 100,000 people, with children younger than 15 years old most at risk. We know that typhoid puts a heavy strain on our health system and our communities.
In addition to our high typhoid burden among children, we also experience high levels of drug-resistant typhoid. Data show high rates of resistance to the standard antibiotic treatments for typhoid. Rising rates of drug-resistant typhoid in Nepal make it more difficult to effectively treat those who get sick; the burden on our health care workers increase, and families pay more to ensure their children receive care. This places even more urgency on effective prevention tools, which include TCVs, clean water, sanitation, and frequent handwashing. TCVs can have a major role in both reducing typhoid cases and preventing the spread of drug-resistant typhoid strains. A recent modeling study predicts that two-thirds of cases and deaths due to drug-resistant typhoid could be prevented through TCV introduction in the next 10 years.
Protecting our children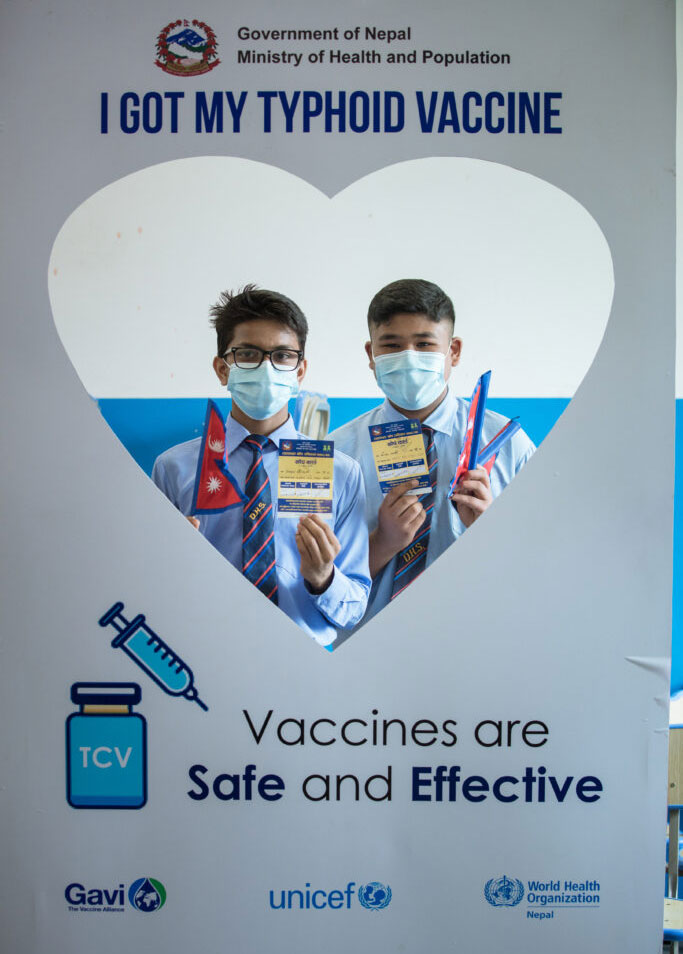 Today's TCV campaign launch is a major milestone in our efforts to protect children from preventable diseases. We hope to immunize nearly 7.5 million children between the ages of 15 months to 15 years old during this national campaign. During the campaign, the vaccine will be available at various sites throughout the country, including health facilities and schools. Once the vaccination campaign concludes, TCV will become available for all 15-month-old infants through the routine immunization schedule. The introduction of TCV in Nepal demonstrates our unwavering commitment to ensuring the health and wellbeing of our nation's children.
---
PARTNER CONTENT
Posted by Coalition Against Typhoid on 8 April 2022.
More from Coalition Against Typhoid