COVAX vaccines take to the air by drone
Ghana is not only the first country to receive a shipment of COVAX vaccines, but it will be the first to broaden its reach by delivering them by drone. The new partnership with Zipline and UPS Foundation will see 2.5 million doses delivered this way.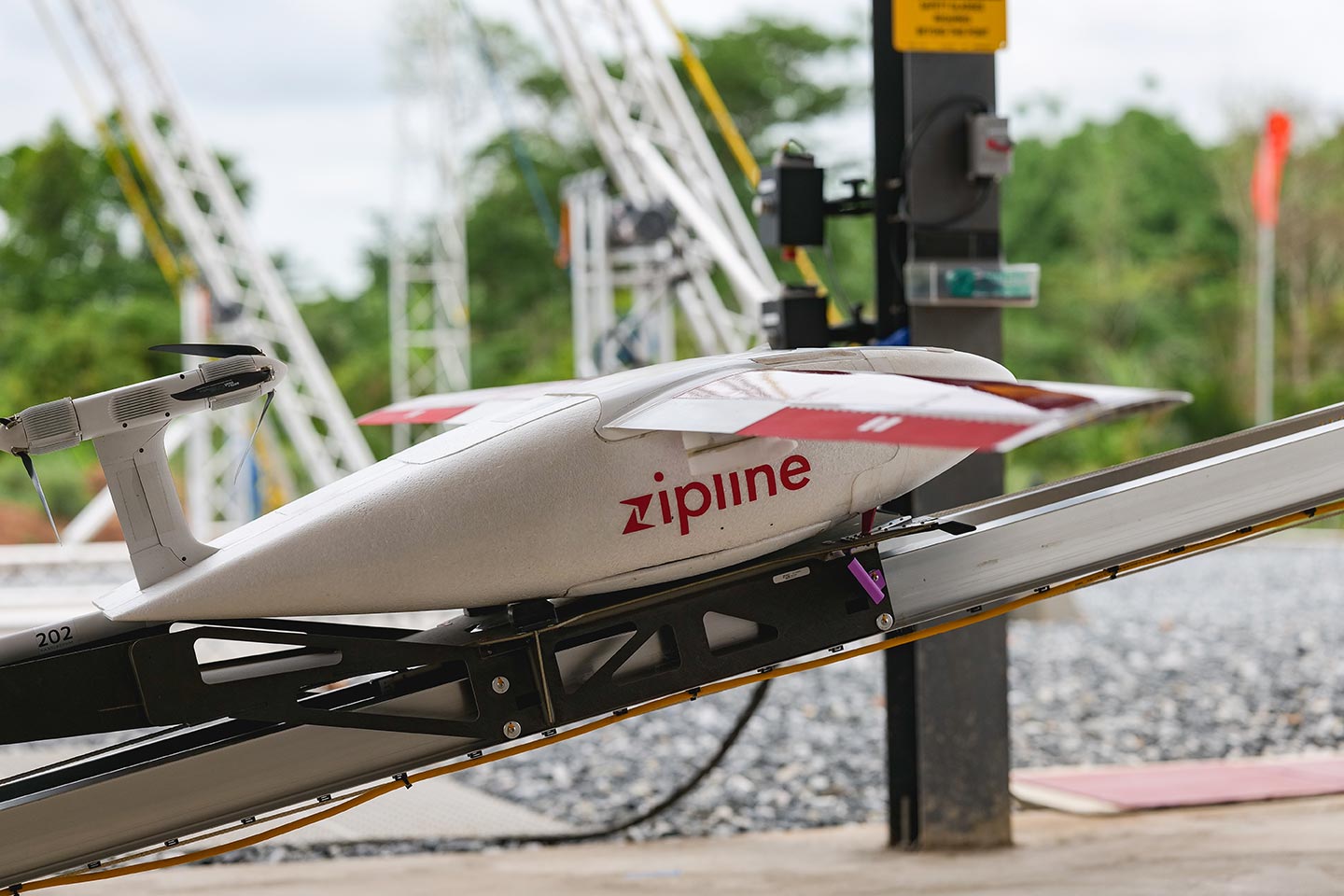 Touch-down, and take-off! No sooner had the first shipment of 600,000 doses of COVAX vaccines landed in Ghana on Wednesday, preparations were underway for some of them to be launched back into the air, to be delivered to health facilities across the country by autonomous drones. As part of a new partnership between Zipline, a medical drone delivery company, logistics giant the UPS Foundation and the Government of Ghana, up to 2.5 million doses of COVID-19 vaccines be distributed to vaccination sites in the coming weeks and months. The aim of the partnership, which was announced on the 26 February – two days after the first shipment touched down in Accra – is to improve both the speed and access of these precious vaccines, by providing on-demand delivery, even to the hardest-to-reach areas in Ghana.
In Ghana, as elsewhere, Gavi's track record of helping to forge innovative public-private partnerships has proven fruitful during the global health crisis of the last year.
Refrigerated trucks from the UPS fleet met the shipment on the tarmac, early on Wednesday morning, and ferried the vaccines safely to the National Cold Room, a central storage facility run by Ghana's Expanded Programme on Immunization (EPI). In the coming days, UPS vehicles will transport doses onward to regional EPI cold-points and four Zipline "nests" – launch-bases for the company's squadrons of autonomous medical delivery drones. This first volley of vaccines is expected to be distributed across Accra, Ashanti and the central region.
Zipline, supported by Gavi, the Vaccine Alliance, the Bill & Melinda Gates Foundation, the UPS Foundation and others, has been a key link in Ghana's health supply chain since April 2019. Since then, hubs in eastern Omenako, southern Mpanya, north-eastern Vobsi and western Sefwi Wiawso now dispatch fully-autonomous aircraft carrying blood, vaccines and other medical supplies to 1,000 health facilities, on-demand and around the clock.
When the drones reach their destination – whether it is a health facility or a remote out-reach vaccination centre – rather than landing, they instead lower their altitude to release their payload from the air. This then parachutes to the ground, landing safely and accurately in a landing zone roughly three metres wide.
To date, Zipline Ghana has delivered more than one million EPI vaccine doses, many of them to parts of the country which are hard to reach overland, or which struggle with unreliable cold-chains. By providing on-demand delivery using drones, the government is not only able to reach more people but can do so more efficiently.
Last April, the drone service pivoted to help the government of Ghana confront the pandemic challenge, speeding COVID-19 test samples from rural communities to national laboratories in urban centres. With this new partnership, Zipline drones will parachute insulated packages containing doses of COVID-19 vaccine quickly, safely and precisely down to health facilities, helping to secure equitable access to protection from COVID-19 for people all across Ghana – "even in areas that do not have cold chain equipment," says Naa Adorkor Yawson, General Manager of Zipline Ghana.
"Being able to use every point of care in the health system to get people vaccinated – that's the strategy here," Zipline's Caitlin Burton told VaccinesWork. "We'll be sending exactly the number of doses needed – the chain of custody is very short, and the cold chain is one hundred percent guaranteed."
UPS and Ghana Health Service delivery vans will tackle the ground-level portion of the vaccine roll-out. "This is a moment like no other and it demands the expertise that UPS has developed in Healthcare Logistics," said Nicole Clifton, President of the UPS Foundation, in the statement.
"With every dose [of COVID-19 vaccine] being so important, it is critical to ensure that our partner countries have the necessary support and tools to deliver vaccines effectively and efficiently to those who need them," said Dr. Seth Berkley, CEO of Gavi.
In Ghana, as elsewhere, Gavi's track record of helping to forge innovative public-private partnerships has proven fruitful during the global health crisis of the last year. "This new support builds on the long-standing partnership between Gavi and the UPS Foundationpx," Berkley explained, "which is focused on ensuring that every child in Gavi-supported countries receives lifesaving vaccines."