Delivering life-saving vaccines during the COVID-19 pandemic
Health workers are stopping at nothing to ensure immunizations for every child.
23 July 2020
6 min read
by UNICEF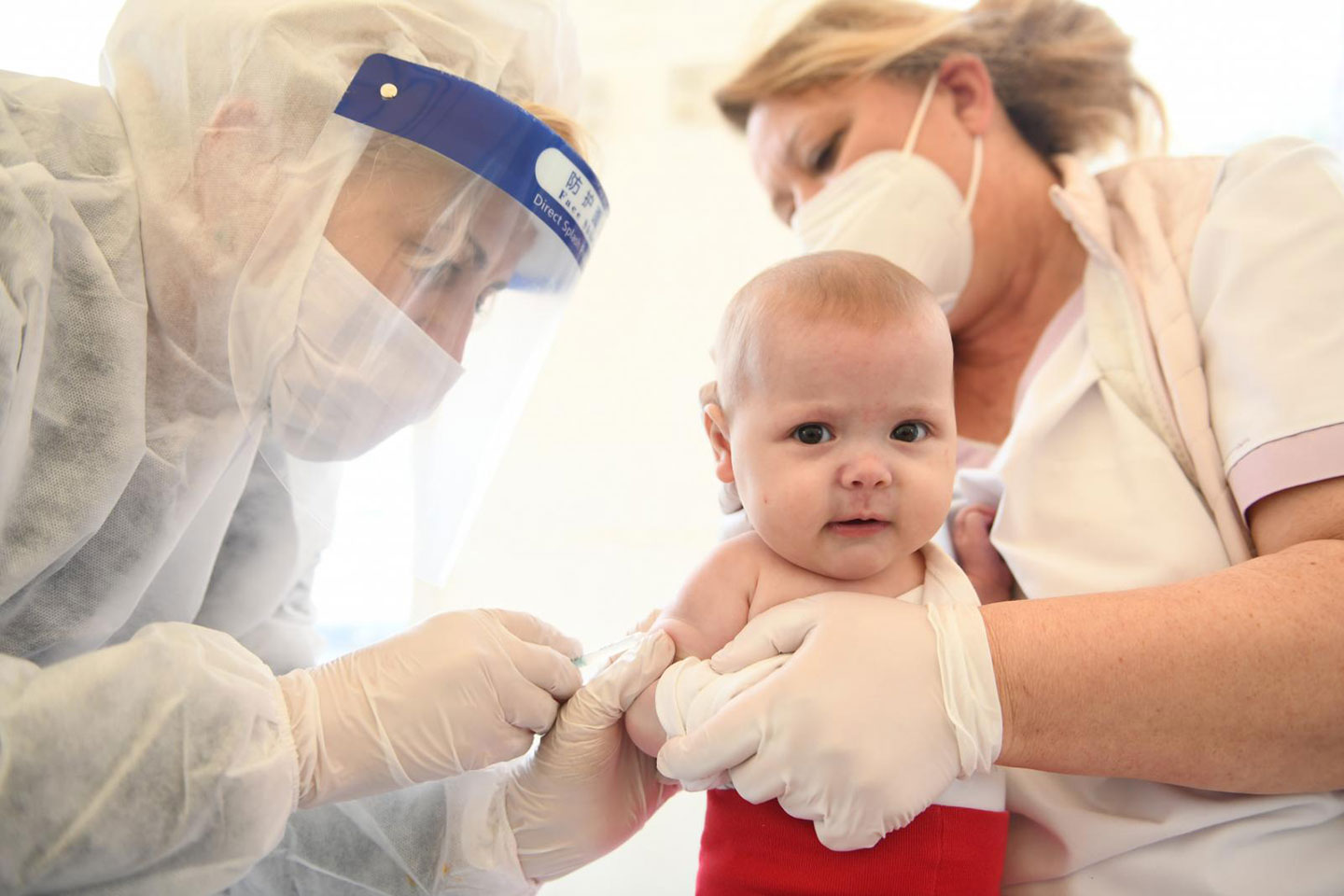 When Munnibala Suman got on a bike for the first time in March, it wasn't for fun. The 50-year-old health worker had been administering vaccines in the state of Bihar, India, for the past 30 years when a nationwide lockdown was announced in response to the COVID-19 pandemic.
Suddenly many health workers found it difficult to travel, but Munnibala wasn't deterred.
Determined to make a difference, she learned how to ride a bicycle in just three days to be able to reach children and pregnant women with vaccines. 
Even before COVID-19, health workers in many countries faced enormous obstacles to carry out their lifesaving work and vaccine coverage over the past decade has stalled. But the pandemic has made a challenging situation even worse – disrupting the delivery of immunization services and threatening to reverse hard-won progress in reaching children with essential vaccines. Approximately 80 million children under the age of 1 are now at increased risk of vaccine-preventable diseases in 68 countries, as of May 2020.
UNICEF is supporting health workers around the world to continue their critical work to protect children against preventable diseases like polio, measles and tetanus and to help us avoid trading one health crisis for another.
Above: A child is vaccinated in Kosovo* where immunization services resumed after being temporarily halted due to the pandemic for nearly two months, May 2020.
Above: A 6-month-old baby receives a vaccine shot at a community health centre in Beijing, China, on 26 March 2020. Due to the COVID-19 outbreak, the baby didn't get her DTP shot when she turned five months old. "We were worried that a vaccine visit may cause infection," said her mother. Provinces other than Hubei, the epicentre of the COVID-19 outbreak, gradually resumed full vaccination services that had been halted due to the outbreak.
Above: A child waits to be vaccinated in Nepal on 2 July 2020.
Deepika Shahi (not pictured), a community nurse in the north of Nepal, walks long hours to vaccinate children across the remote Mugum Karmarong municipality where villages are often far apart.
"For us community health workers, it means walking two to three hours between settlements to conduct these campaigns," she says. "We also go door to door to counsel people on preventive measures. We've covered around 200 households this way on foot. It's not easy, but we have to do it."
Above: Hawa, a health worker at the Gamkalé health centre in Niamey, Niger, on 26 May 2020. "With the arrival of the first cases of COVID-19 in Niamey, the mothers were afraid to come to the health centre," she says. "We noticed a drop in visits and it was very worrying because we know how much mothers and children need the routine services of the centre."
"We cannot turn our backs on other diseases such as polio or measles as their impact may be greater than COVID-19," says Ramatou, head of the immunization unit at the health centre. "With a lot of effort in raising awareness within the communities, mothers are starting to feel more comfortable with visiting the centre again, but the rhythm of visits is still slow compared to normal times. We are working hard to ensure the children continue to be vaccinated."
UNICEF is training hundreds of health workers and hygienists on COVID-19 infection and prevention control to protect the safety of health personnel and health service users in Niger.
Above/Left: Baby Najib gets polio drops in a health centre in Uganda in April 2020. To support the continuity of such immunization services, UNICEF procured 3,842,000 doses of bivalent oral polio vaccine (bOPV). The vaccines, funded by the Government, arrived in the country on 24 April 2020. 
Above/Right: Mothers waiting to have their children vaccinated as part of a UNICEF-supported measles vaccination campaign in Goma, Democratic Republic of the Congo, 21 April 2020. The COVID-19 pandemic continues to test the country's health system, which has also been dealing with Ebola and measles epidemics. The measles vaccination campaign was launched on 21 April 2020, initially targeting 150,491 children aged 6 months to 5 years in the most affected health zones in North Kivu province. 
Above/Left: A boy receives a vaccine from a health worker during a joint UNICEF-WHO vaccination campaign in an informal tented settlement in Zarqa governorate, Jordan, on 23 June 2020.
Above/Right: Three-month-old Zuka receives her vaccines at a temporary clinic provided by UNICEF in eastern Aleppo, Syria, on 16 June. 
UNICEF, WHO and partners concluded a five-day national immunization campaign across Syria. The campaign, implemented by the Syrian Ministry of Health, reached more than 900,000 children to check their vaccination status and vaccinated more than 210,100 children to ensure they were caught up with their routine immunization schedule. More than 8,000 health workers took part in the campaign – in 1,000 health centres, 666 temorary vaccination posts and 545 mobile health teams – to make sure they reached every child, including those in hard-to-reach areas.
Above: Jonatan and his mother wait to be seen at the Los Pinos health centre in El Alto, Bolivia, on 26 May 2020. The health centre is one of those certified under the "Mother and Child Friendly Hospitals" initiative, in which UNICEF promotes vaccination, adequate nutrition, loving care and breastfeeding. During the COVID-19 pandemic, UNICEF and the Canadian embassy provided hygiene and personal protection equipment for health centres in the municipalities of La Paz, Cochabamba and Beni.
Above: A child is vaccinated in a health centre in Bolivar state, Venezuela, where UNICEF distributed polio, yellow fever, tetanus and BCG vaccines, on 2 July 2020.
Since the COVID-19 outbreak, UNICEF has distributed more than 14,000 pieces of personal protective equipment to health care workers in the country and over 37,000 children under 1 have been vaccinated against measles.
Above: On 16 April 2020 in Nigeria, UNICEF received a delivery of vital health supplies to support the fight against COVID-19.
The current COVID-19 outbreak is applying pressure on global manufacturer production capacities, supply availability and logistics. And it is putting at risk the continuation of immunization programmes in countries due to lockdowns and other measures to contain the spread of the virus, which also has an impact on supply. UNICEF is in ongoing dialogue with governments, vaccine manufacturers, partners and freight forwarders to assess the risk to vaccine availability and accessibility and which mitigating measures can be undertaken. UNICEF reaches nearly half of the world's children with life-saving vaccines, and it is critical that this important work continue despite the difficult road ahead.
---
* All references to Kosovo should be understood in reference to the United Nations Security Council Resolution 1244.