"Don't use COVID-19 as an excuse not to immunize your children, you will regret it."
Janet, mother of twins, tells fellow mothers.
3 December 2020
4 min read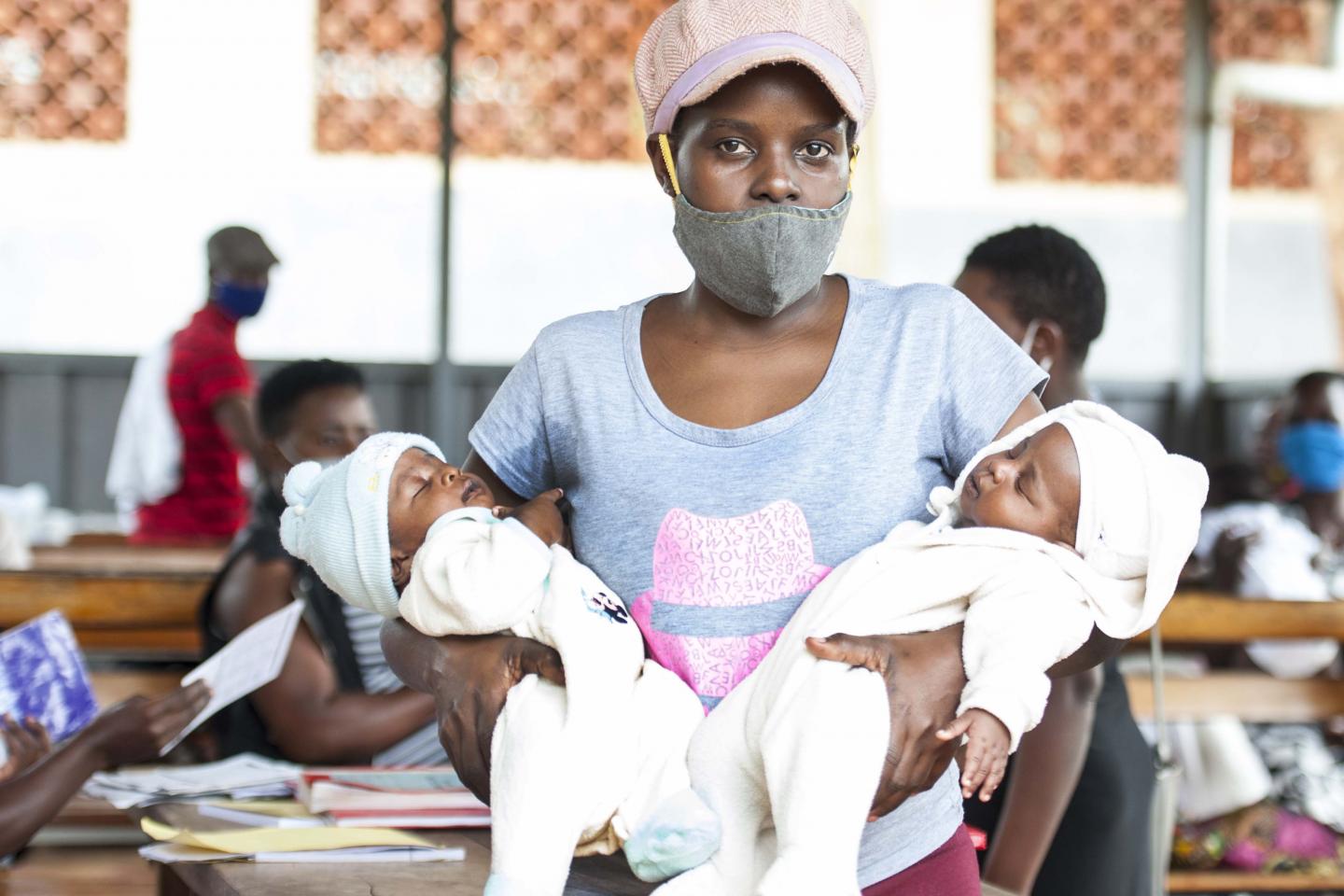 When the COVID-19 pandemic was declared, 30-year-old Janet Kasibante, a mother of six children, was pregnant. Even the high transport fares did not stop her from seeking antenatal care services, especially after she was told she was carrying two babies. "I wanted to know how my babies were doing. Were they growing well? The doctor had told me they were not in very good positions and this worried me." 
It has been a month and a half now (October 2020) since the babies were delivered safely in a health facility. They are healthy and bubbly. Janet the proud mother has the same enthusiasm and wants her twin babies free from vaccine-preventable childhood diseases, which in the worst cases can kill children.
Janet carries her twin baby boys – Wasswa Trino Kasibante and Kato Trinidad Kasibante – at the health centre. She heard about the Integrated Child Health Days, and today, she is at Komamboga Health Centre III for immunization services and more. The twins are due for some vaccines.
The Integrated Child Health Days are conducted by the Ministry of Health every April and October, with support from UNICEF and other partners. The campaign strives to reach every child and woman with critical health care services like routine immunization catch-up vaccination, deworming, and vitamin A supplementation, in addition to family planning services and general health education.
Janet is aware of the COVID-19 pandemic and the risks involved, but this doesn't stop her from making sure that her babies are protected by life-saving vaccines provided at the health centre where she is today. Instead, she abides by COVID-19 prevention measures – she wears a mask, washes her hands with soap and water upon entry at the immunization shelter, and maintains physical distancing. UNICEF provided the vaccines, thanks to Gavi funding.
UNICEF has also provided handwashing facilities at the health centre. All mothers and caregivers who come for immunization and other health services must wash their hands with soap and clean water to prevent COVID-19, as well as to boost hygiene.
At the immunization clinic, Janet mentions that many mothers out there are missing out on their children's vaccination appointments, blaming it on COVID-19. To them she says "Don't use COVID as an excuse not to vaccinate your children. Immunization is good for our children's health and guarantees them a healthy future."
At one and a half months old, Janet's babies are immunized against diarrhoea and polio, among others. The two diseases are dangerous to children under the age of 5 but can be prevented through immunization. Janet confirms that none of her children have missed or delayed getting their vaccines. When asked what the benefits of immunization are, she is quick to say, "It is important to immunize children to protect them from diseases that usually affect them while they are still young, especially before their bodies are strong enough to fight those diseases. To me, immunization boosts their immune system."
Her hands are full. She must take her children for weighing in turns, one after the other. The same thing happens when it is their turn to get vaccinated. Growth monitoring of the babies is one of the services provided at the health facility. The twins are growing well, and she is still breastfeeding. At the nurse's desk, Janet is encouraged to continue exclusively breastfeeding the baby boys until they are 6 months old. It is the best food for them to grow and thrive.
"I have seen children sick of measles, they suffer a lot and I hear many die," says Janet. She urges mothers to immunize their children because if they don't, they will regret it in the future when their children catch diseases like measles and diarrhoea, yet they had numerous opportunities like these to have them immunized. 
How peaceful the babies are, as they take a nap in their mother's hands. They have just been immunized a few minutes ago and are now protected from killer diseases. Janet too is happy because her babies are safe. She has received details of the next appointment. She will return without fail so that her babies are protected further through immunization and other essential health services.
Partner content
This article was first published by UNICEF Uganda on 3 November 2020.