Eritrea touts screening and HPV vaccines to drive down cervical cancer rates
The second commonest cancer among women aged 15 to 44, and often diagnosed late, cervical cancer has a brutal mortality rate in Eritrea. Now, community health workers are pushing prevention.
Health worker Idris Hakieno was waiting for his colleague Salih Dawud on the beaches of Desie, an Eritrean island in the Red Sea. "We are to disseminate full information regarding the upcoming second-round vaccination against cervical cancer. It is scheduled to be held in the middle of the current year," Hakieno explained.
"This island is far from Massawa," he said, referring to the large port city, 33km away to the south east. "Remote island residents depend on us for mobilising the healthcare beneficiaries."
"Hot climate, lack of communication devices and absence of safe sea transportation were, in the first round of the vaccination program, big challenges."

– Salih Dawud, health mobiliser
When Eritrea's Health Ministry launched a nationwide vaccination programme against cervical cancer in November 2022, Dawud was one of those healthcare workers charged with serving areas like Irafaile, Halieb, Malkato, Hirgigo Bay and places as far away as Aba Guba, an island halfway to the Gulf of Aden, which is home to just a few families.
Disseminating information about cervical cancer and its prevention is "still a solid mission of the Health Ministry", Hakieno said. "The burdens of cervical cancer are not subject to hesitancy."
Ranked as the second most common cancer among women between 15 and 44 years of age, cervical cancer is a significant public health problem in Eritrea. Mortality rates are sky-high: of the estimated 178 women that are diagnosed annually with cervical cancer, 130 die. "Cervical cancer has been another healthcare battle," said Dr Mulugeta Haile, Head of the Central Region Health Branch.
But not only in Eritrea. Despite the fact that more than 95% of cases are associated with the human papillomavirus (HPV), meaning that almost all cervical cancers are preventable by means of the HPV vaccine, cervical cancer was the fourth most common cancer among women globally in 2020.
According to WHO, 90% of the estimated 604,000 new cases and 342,000 deaths that year occurred in low- and middle-income countries. Incidence is disproportionately high in southern and eastern Africa. "Like the rest of Sub-Saharan Africa, our health system have been prioritising, among others, paediatric conditions, infectious diseases and other various traditional healthcare demands," said Dr Haile.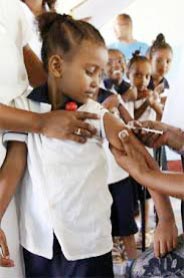 This has needed readjustment. A two-level preventive strategy is being mounted: vaccination against HPV at early puberty stage for girls aged 9 to 15, backed by screening in women to catch and treat of pre-cancerous lesions. This should mean that soon, Eritrea will no longer depend solely on treatment of often advanced-stage cancer.
For months before the first introduction of the HPV vaccine, intensive awareness-raising campaigns were carried out nationwide.
"To implement [the new vaccine] successfully, the Ministry established responsible task forces in 67 sub-zones of the country," states Tedros Yihdego, an officer with Eritreas' Expanded Immunization Unit.
Hakieno and Dawud staffed task forces in the South East coast of the country.
"Hot climate, lack of communication devices and absence of safe sea transport were, in the first round of the vaccination programme, big challenges," Dawud recalls. "You know what layered challenges are there when you have targeted even the most far areas!
"However the vaccinating programme was successful," he adds.
Seventy-five percent of the target group were reachable in 1,382 schools. But the remaining 25% also had to receive the HPV vaccine. Through joint efforts of the Ministry of Health and responsible administrative bodies, 250 temporary centres and another 60 mobile facilities were established to bring the jab to harder-to-reach girls.
While the launch of the vaccine programme took place in November 2022,  from May of this year onwards it will be administered as part of routine immunisation services, Yihdego clarifies.
"HPV is a common virus that is passed from one person to another during sex," says Dr Haile. The vaccine prevents infection with the cancer-causing virus, squashing the risk that cancerous lesions will develop almost completely.
"In the battle against cervical cancer, we are striving for building confidence on vaccinations at the early puberty age."

– Dehab Solomon
For the women and girls who haven't had the opportunity to receive the vaccine, regular screening is the frontline preventive measure. "Cervical cancer diagnosed early has high rate of treatability and guarantees long survival and good quality of life. Screening is also recommended for the eligible," Dr Haile explains.
Today, therefore, Hakieno and Dawud have been discussing Pap smear tests with influential Desie mothers. "There is no appreciated knowledge of such services and its incomparable benefits," Hakieno says.
Not many women get regular Pap smears here, the health workers say. In fact, only 10% of women aged 25 to 65 are estimated ever to have undergone screening. There aren't many testing sites, and there simply isn't widespread awareness of screening as an important health norm. Even women who have heard of the test's function hesitate, they explain, often due to a sense of vulnerability – of not being confident in their health status.
"In the battle against cervical cancer, we are striving for building confidence on vaccinations at the early puberty age and screening-based information, not on self-perceived individual psyches," says Dehab Solomon, Head of Family and Community Health. "That's why the screening fee in this country is highly subsidised, while the vaccination for girls at puberty age is totally free."
Eritrea's Health Ministry is signed up to WHO's Global Strategy to Accelerate the Elimination of Cervical Cancer, which was launched on 17 November 2020. The target is to reduce the incidence of cervical cancer to four cases or less per 100,000 women per year.
In the first round of the HPV vaccination programme, Eritrea targeted about 300,000 girls.
"For us, this is one of the ways for bridging the inequality between women from rural and urban communities," states Tekia Tesfamichael, President of the National Union of Eritrean Women. "Empowering women by paving paths to healthcare benefits is key to [achieving] sustainable development goals."
More from Yosief Abraham Z.