Five charts on monkeypox, past and present
As the monkeypox outbreak continues to gain momentum worldwide, here are five charts explaining exactly why this outbreak is so different from what we've seen in the past.
16 August 2022
4 min read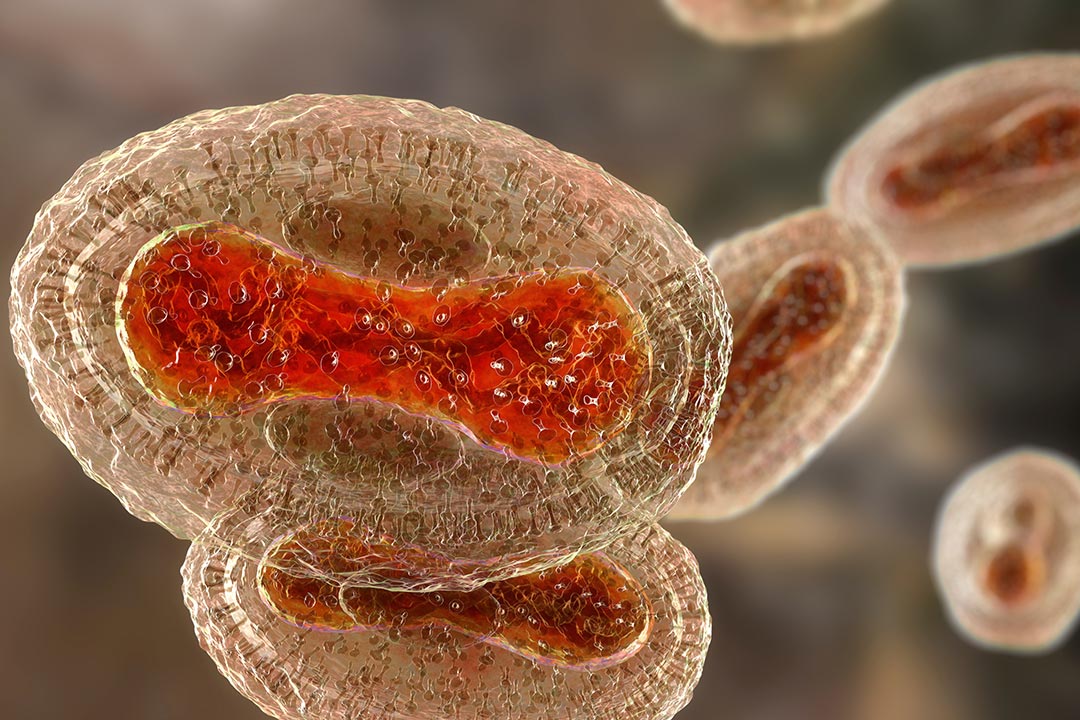 The first confirmed cases of monkeypox in humans were recorded in 1970, and within several years, human cases were found in multiple countries in central and western Africa. However, the world has seen nothing like the outbreak we are now seeing internationally.
The current number of confirmed cases in the past four months according to Our World in Data is 23 times more than all cases recorded for the roughly five decades from 1970 to 2018 (~1,475).
Historically, outbreaks of monkeypox have been linked to animal-to-human transmission, and we have not seen long chains of human-to-human transmission, whereas for this current outbreak we are seeing extensive human-to-human transmission, causing both the number of cases and the geographic spread (80+ countries) to be unique.
In previous outbreaks the most sequential human-to-human cases, or the longest uninterrupted chain of person-to-person transmission, was six cases in the Republic of Congo. Now things are looking very different. Monkeypox cases are continuing to increase daily, with almost a thousand new cases reported worldwide on average every day.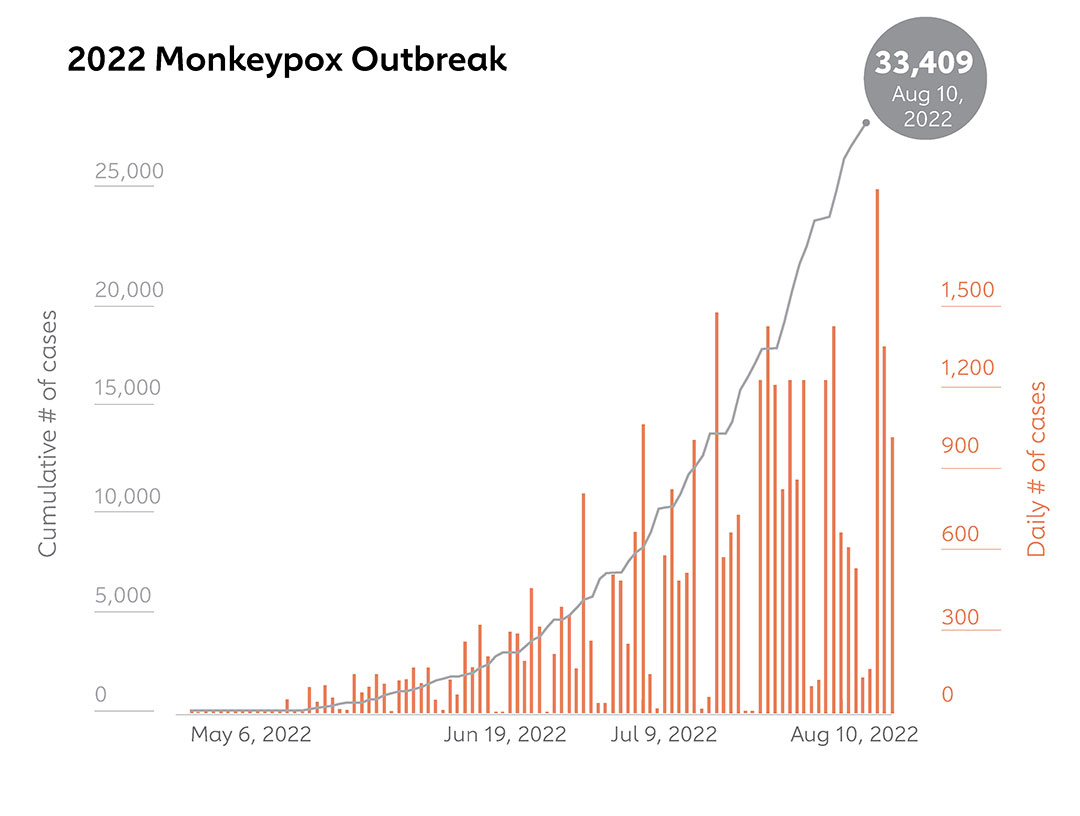 Also unique to this outbreak is that available data indicates it is predominantly spreading in Europe and the Americas, with less than 1% of current cases confirmed from endemic countries. While the number of countries reporting cases has grown from a handful to over 80 in the last eight weeks, the majority of new cases remain contained to five countries.
One distinctive aspect of the current monkeypox outbreak is who is being infected and the mode of transmission. The chart below shows some of the current realities of this outbreak – cases are mostly presenting in middle-aged men (98-99%) and typically through sexual contact (95%), but not all.
Monkeypox is not considered a sexually-transmitted infection. The virus typically spreads to anyone through close personal contact, often skin-to-skin contact, including direct contact with respiratory secretions, such as mucus or saliva, or skin lesions. However in this monkeypox outbreak, contact during sex is the predominant mode of transmission.
Also, the R0, or the reproduction number, for men who have sex with men is above 1 in countries with more than 1,000 cases. This means each confirmed case within a high-risk population will currently spread to more than one other person on average.
WHO reported that in Spain's urban centres the estimated R0 is 1.8, in the United Kingdom 1.6, and in Portugal 1.4. The proportion of persons with monkeypox in Europe that are immunosuppressed is very high – 38-40% of positive cases are also HIV+.  Most cases in Europe are not severe (94%) and only 5-6% of those infected need to be hospitalised.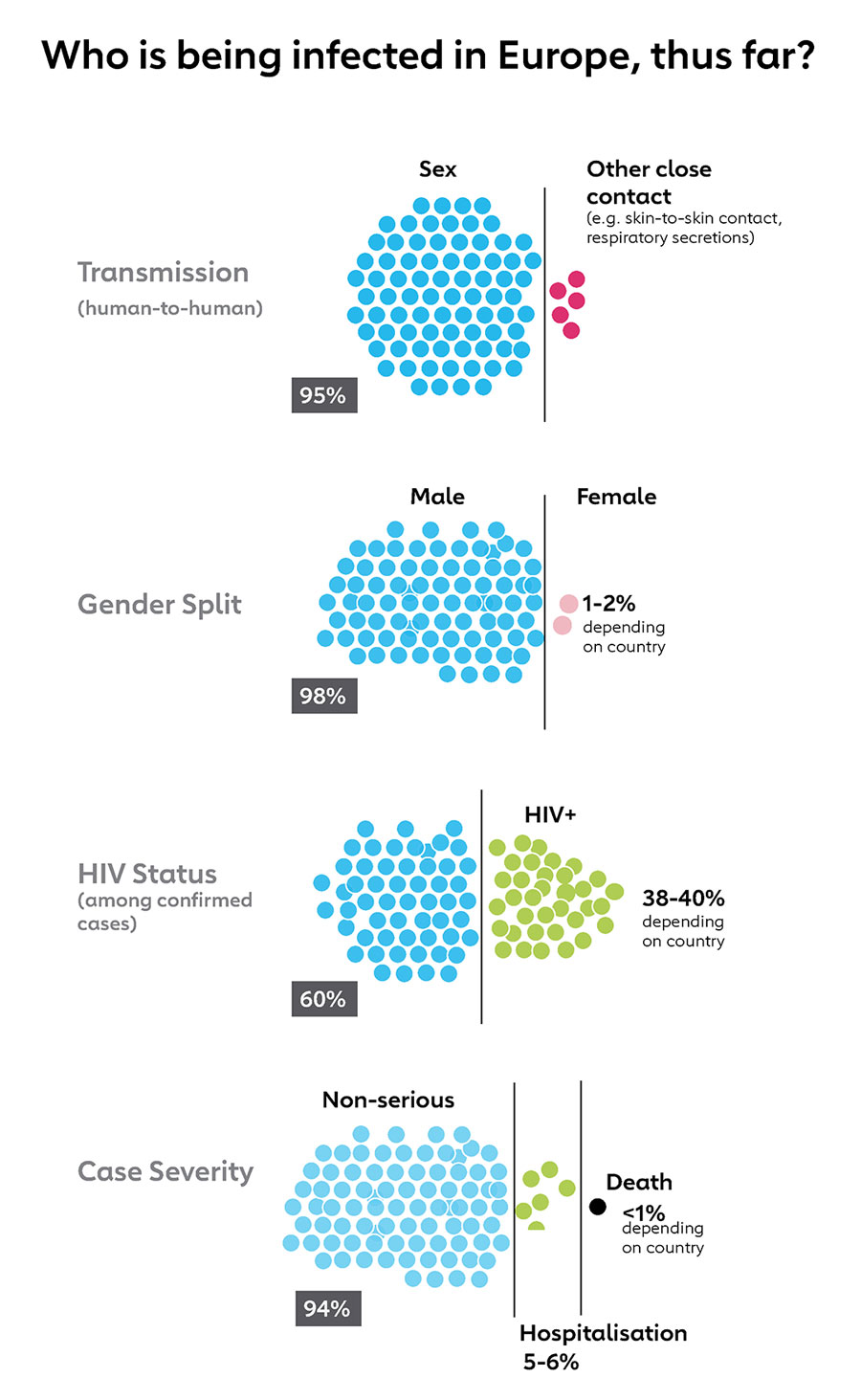 As with past outbreaks, this outbreak will come to an end only if R0 drops below one everywhere. This will require control measures such as vaccination, isolation of cases, quarantine of contacts, use of personal protective equipment and changes in the behaviours leading to the transmission of monkeypox.
The good news is that there are vaccines developed for smallpox that are still produced to supply national stockpiles for biosecurity. These vaccines have subsequently been licensed for monkeypox based on animal studies. However, the current demand far surpasses the globally available supply.
But the race for monkeypox vaccine access is well underway and strategies for dose sharing and eligibility for vaccines are being rolled out in countries that have access. While the US, Britain, Canada and other countries have bought millions of vaccines, none have gone to Africa. Here a more severe version of monkeypox (Congo Basin Clade) is suspected to have caused more than 70 deaths in 2022 according to  health officials (official WHO figures report seven confirmed deaths). Countries outside of Africa have only reported a few monkeypox deaths to date.