Five things we've learned about the BA.4 and BA.5 Omicron variants
The BA.4 and BA.5 Omicron sub-variants threaten to trigger a new wave of COVID-19 infections in South Africa. Here's what we know about them so far.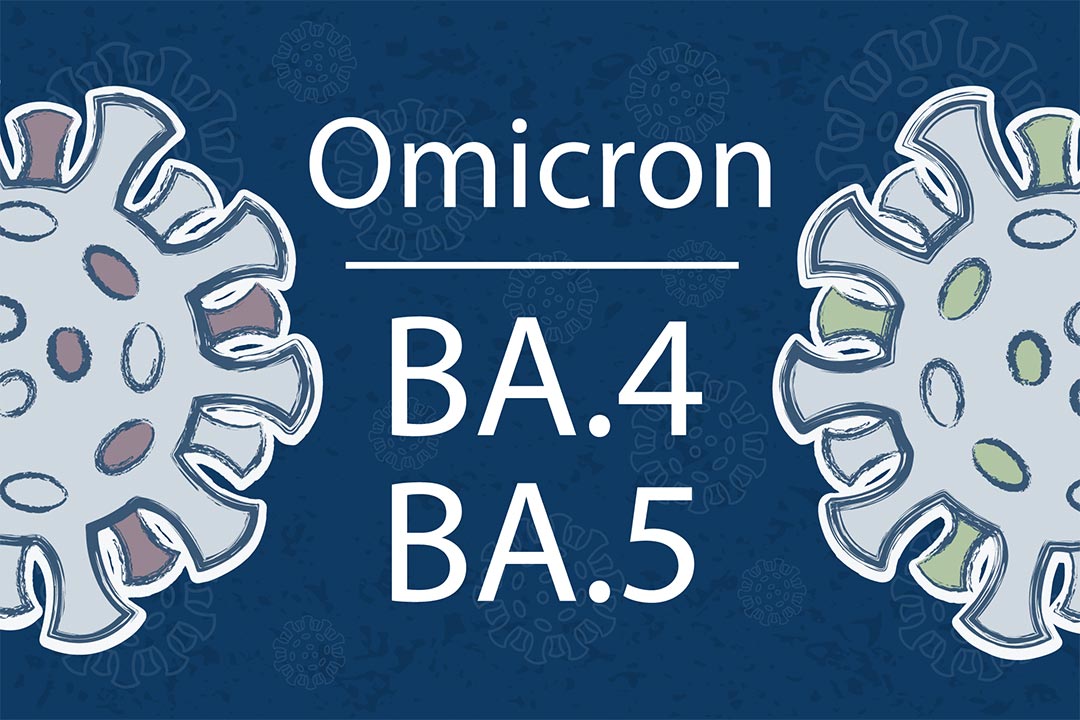 1. They have been circulating since January
The BA.4 variant was first detected from a specimen collected on 10 January 2022 in Limpopo, South Africa, and has since been detected in all South African provinces. BA.5 was also first detected in South Africa, this time from a sample collected on 25 February 2022 in KwaZulu-Natal. It has also spread to other provinces.
Antibodies produced by the 15 individuals who had been vaccinated against COVID-19 were more effective than those from people who had recovered from natural infection alone.
South Africa performs genetic sequencing on more SARS-CoV-2 samples than many other countries, so it's possible that these variants emerged somewhere else and South African scientists were simply the first to spot them.
2. They appear to be growing in prevalence
According to genetic sequence data uploaded to the global GISAID database, as well as reports from WHO regional offices and countries, both the number of countries reporting the detection of these variants and the number of cases are rising. In South Africa, the percentage of sequences designated BA.4 has grown from less than 1% in January 2022 to more than 35% on 29 April 2022. The percentage of sequences designated BA.5 stood at 20% by the end of April. This growth could suggest that these variants are more transmissible than the existing Omicron variant, or it could the result of waning immunity from past infection or vaccination – it is too early to know for sure.
South Africa still accounts for the greatest proportion of cases for these variants worldwide, accounting for 69% of BA.4 and 45% of BA.2 sequences at the latest count. However, BA.4 has also been detected in Austria (7% of global cases), the UK (6% of global cases), the US (5% of global cases) and Denmark (3% of global cases). BA.5 has been detected in Germany (22% of global cases), Portugal (13% of global cases), the UK (9% of global cases) and US (3% of global cases).
3. They carry additional mutations of concern
New mutations are to be expected as SARS-CoV-2 evolves; they only matter if they enhance the severity of disease the virus causes, significantly enhance its ability to overcome the immunity provided by vaccines or previous infection, or render diagnostic tests less effective, making it harder to control the spread of the disease.
BA.4 and BA.5 share many of the same mutations as the original Omicron variant, but have more in common with the BA.2 variant. They also possess a number of additional mutations, some of which could change their characteristics. The two sub-variants are often discussed together because the mutations in their spike protein gene are identical, even though they differ in mutations found elsewhere. The spike protein is important, because this is what the virus uses to infect human cells, and therefore determines how easily the virus is transmitted.  It is also the part of the virus used in most COVID-19 vaccines.
Have you read?
Both new variants carry an L452R mutation, which was also previously detected in the Delta variant, and is thought to make the virus more contagious by enhancing the virus's ability to attach to human cells; it may also help it to partially evade destruction by immune cells. They also possess a genetic change, called a F486V mutation, near where their spike protein binds to human cells. This may also help them partially evade our immune response.
Unlike the BA.2 variant, most BA.4 and BA.5 sequences also contain a genetic change that affects the readout of certain routine PCR tests, leading to a phenomenon called S-gene dropout  This provides a quick – although not conclusive –  means of tracking these sub-variants in countries where BA.2 is dominant.
4. There is no evidence to suggest these mutations are associated with more severe disease
So far there is no indication that BA.4 or BA.5 are associated with new symptoms or more severe disease. This is to be expected, given that the majority of mutations are similar to those found in other Omicron lineages, although it something that will continue to be closely monitored by the WHO and local health teams.
5. They can dodge antibodies from earlier Omicron infection... to some extent
Only a handful of scientific studies have been published on BA.4 and BA.5 so far, none of them peer-reviewed, meaning knowledge about them remains limited. However, in one of these studies, researchers led by Alex Sigal at the Africa Health Research Institute in Durban, South Africa, investigated the extent to which antibodies from 39 people who had recovered from the original Omicron variant could prevent cells from being infected with the BA.4 and BA.5 variants.
The research found that the antibodies were several times less effective against the new sub-variants than they were against the original Omicron strain. However, antibodies produced by the 15 individuals who had been vaccinated against COVID-19 were more effective than those from people who had recovered from natural infection alone.
Sigal wrote on Twitter that BA.4/BA.5 escape, while not as dramatic as Omicron escape from the vaccine or Delta immunity, "is enough to cause trouble and lead to an infection wave. But [it is] not likely to cause much more severe disease than the previous wave, especially in vaccinated [individuals]."
"South Africa has a high immunity due to previous infection and vaccination, which has been shown to protect against the risk of developing severe COVID-19 disease."
Recent data from South Africa has indicated a slight increase in the proportion of positive PCR and antigen tests since mid-April 2022, with some warning this could herald the start of the country's fifth COVID-19 wave.
According to Josie Everatt and colleagues at the National Institute for Communicable Diseases in Johannesburg, although the mutations in BA.4 and BA.5 may result in some degree of immune escape, "South Africa has a high immunity due to previous infection and vaccination, which has been shown to protect against the risk of developing severe COVID-19 disease. There is currently no indication that this will change with BA.4/BA.5, however the situation will continue to be monitored closely."