In Ghana, a strong cold chain makes all the difference
UNICEF and Gavi partnered to fund, procure and deliver more than 2,300 items of cold chain equipment to ensure health centres met immunization targets.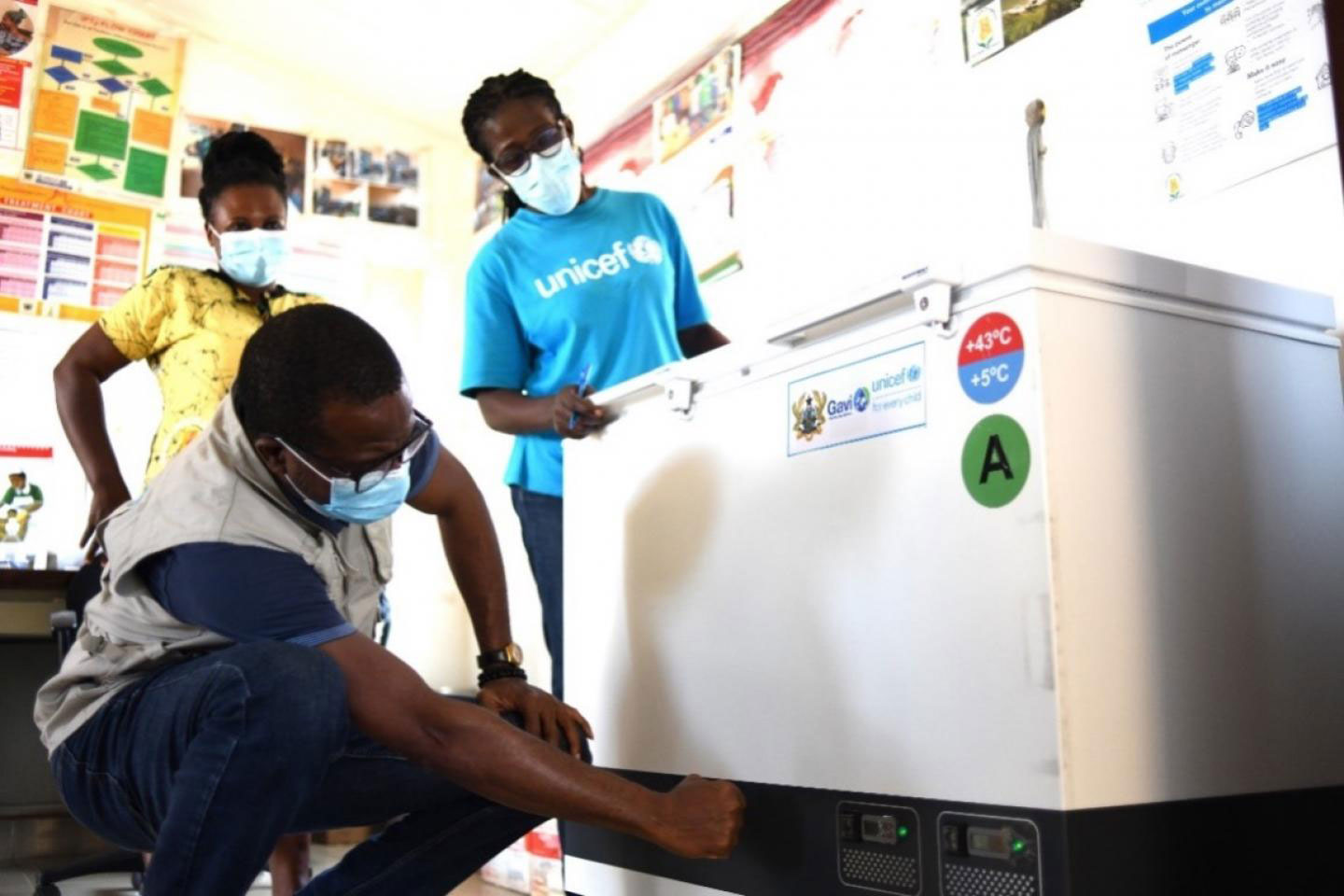 Vaccines are one of the most effective tools we have to prevent disease and death, especially amongst children. Every year, they save up 3 million children's lives around the world.
However, for vaccines to work effectively, they need to be stored within a specific temperature range. The fridges, freezers and cold boxes that maintain this temperature is called the 'cold chain'. But keeping vaccines cold enough can be a major challenge for many countries because of outdated equipment and an unreliable electricity supply.
Ghana is no exception. In the Dokrochiwa Health Centre in Ayensuano district, the 31-year-old refrigerator was becoming temperamental, often recording temperatures beyond the 2-8 degrees Celsius required for most childhood routine vaccines such as pentavalent, polio, and measles, mumps and rubella. Broken hinges on the door sealing the vaccines inside further worsened the situation.
Dokrochiwa Health Centre is in a remote part of Ghana, where it serves as the local vaccination centre, and also supports two other Community-Based Health Planning and Services compounds. The terrain is mountainous, and communities are far apart. Travelling between villages is usually done by motorbike, but often transport is unavailable, meaning people are restricted from reaching the services they need.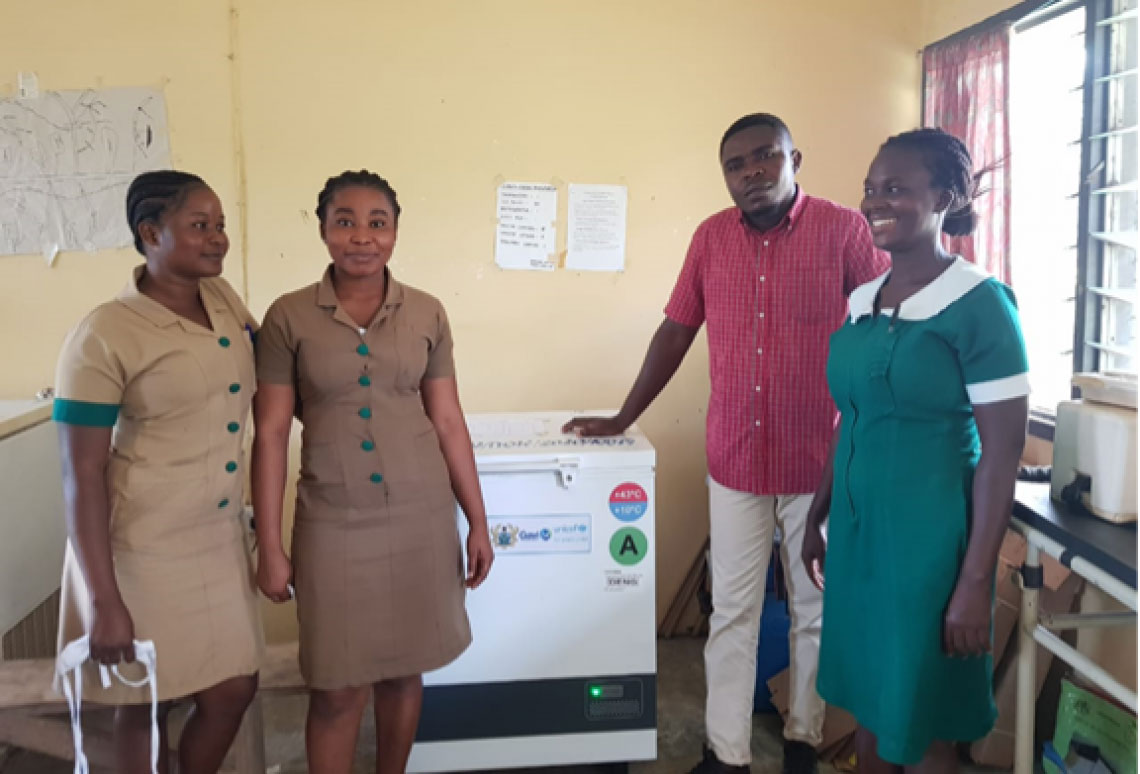 Disappointment and mistrust
Each month, the health centre aims to immunize about 36 children and the same number of women attending antenatal clinics. But up until April 2020, unsuitable cold chain equipment prevented them from meeting these targets. Ransford Tamety, a disease control officer at the health centre, often needed to think outside the box to maintain the correct temperature, but it wasn't always possible.  
"Sometimes, after work in the evenings, I would return to the facility to turn the refrigerator off because it could hit zero degrees very quickly and freeze the vaccines. At other times, when the temperature rose and became too warm, I had to transfer the vaccines to cold boxes and fill them with ice packs," said Ransford.
Planning at the facility was also disrupted, meaning missed health care targets and many wasted opportunities to vaccinate children. Instead of stocking a month's supply of vaccines, the facility kept enough for two weeks only as the cold chain was unreliable and vaccines could spoil. Adding to the difficulties was the fact staff needed to commute through hard-to-reach terrain by motorbike twice a month to replenish the vaccine stocks.
Despite the efforts put in by Ransford, patients would get upset when they came for routine immunizations. Often, they would have walked long distances to the centre, only to be told to return the next month or go to the nearest outreach clinic – all because the fridge could only store a limited number of vaccines that would sometimes run out. That situation, according to Regina Asakibelongo, a midwife at the centre, "caused clients to mistrust us and the system, and the risk of them not returning for their vaccines was high."
Support from Gavi and UNICEF
The challenges facing the Dokrochiwa Health Centre are now firmly in the past. In 2017, UNICEF supported a national immunization cold chain assessment in Ghana and found that more than half of the health facilities providing immunization services either did not have WHO pre-qualified cold chain equipment or did not have any cold chain equipment at all.
Based on that assessment, the Ministry of Health, with support from UNICEF, applied for funding support from Gavi, the Vaccine Alliance, under their Cold Chain Equipment Optimisation Platform. The aim of the programme is to support countries to improve their cold chain facilities so activities like routine childhood immunizations can take place as planned.
The application was successful. Soon after, UNICEF Supply Division got to work procuring and delivering 2,343 items of cold chain equipment to Ghana, including more than 200 solar-powered units, worth US$4.7 million. Dokrochiwa was one of 16 health centres in the Ayensuano district that benefitted from the support, as well as UNICEF's country-wide inspections after installation to ensure the equipment was performing as it should. Finally, after 31 years, Dokrochiwa's old refrigerator was replaced.
Exceeding targets
"Now, I feel good about working, as the stress was too much," says Ransford. "Our facility was always at the bottom of an established league table recording how health centres were progressing towards our targets, and it always felt bad to be on the bottom as we couldn't reach our target."
Since the new refrigerator was delivered, the team at Dokrochiwa have been able to reach and exceed their immunization objectives. According to the team, significant change has taken place.
The good old refrigerator is not completely retired, though. It can still be used to freeze ice packs. It looks like the health facility now has it all.
---
Since 2017 and through April 2021, UNICEF, working in partnership with Gavi, delivered over 100,000 vaccine refrigerators to 100 countries. More than half of these units were solar-powered systems, which are vital to keep vaccines at the right temperature in places that have unreliable electricity