How India is taking on a family of liver-killing viruses
Hepatitis, which can cause deadly liver damage, is widespread in India. A cocktail of strategies is helping Punjab curb its impact.
13 September 2023
5 min read
Forty-seven-year-old Manpreet Singh was busy tending to his two-acre paddy field near Patiala in Punjab, when an elderly neighbour stopped by and urged him to pay a visit to the local health centre, situated half a mile away. Over the past several days, Manpreet's eyes had taken on a yellowish tinge. His skin looked pale. The village elder was concerned.
He was right to be. After undergoing series of investigations, the farmer was diagnosed with hepatitis C, an inflammation of the liver caused by the hepatitis C virus, against which there is currently no vaccine. Untreated, hepatitis C can lead to serious liver damage and death. But in Punjab, unlike in many parts of the country, Manpreet has the privilege of getting life-saving antiviral treatment for the disease free of cost.
"One of the main factors for the success of the programme in the state has been a coordinated effort of all the stakeholders. We sensitised all the doctors, paramedics and ground workers about the programme.".

– Dr Gagandeep Singh Grover, Programme Officer, Anti Hepatitis Programme in Punjab
Punjab, a primarily agrarian state in northern India, was among the first states in India to launch a comprehensive anti-hepatitis campaign: the Mukh Mantri Punjab Hepatitis C Relief Fund. Launched in 2016, the programme ensured free antiviral treatment and subsidised diagnostic services at public health facilities.
Soon, the government also launched public-private partnerships to ensure the broader availability of diagnostic and confirmatory tests at an affordable rate. Within a few years, the multi-pronged approach, combined with comprehensive surveillance of patients, was showing signs of success.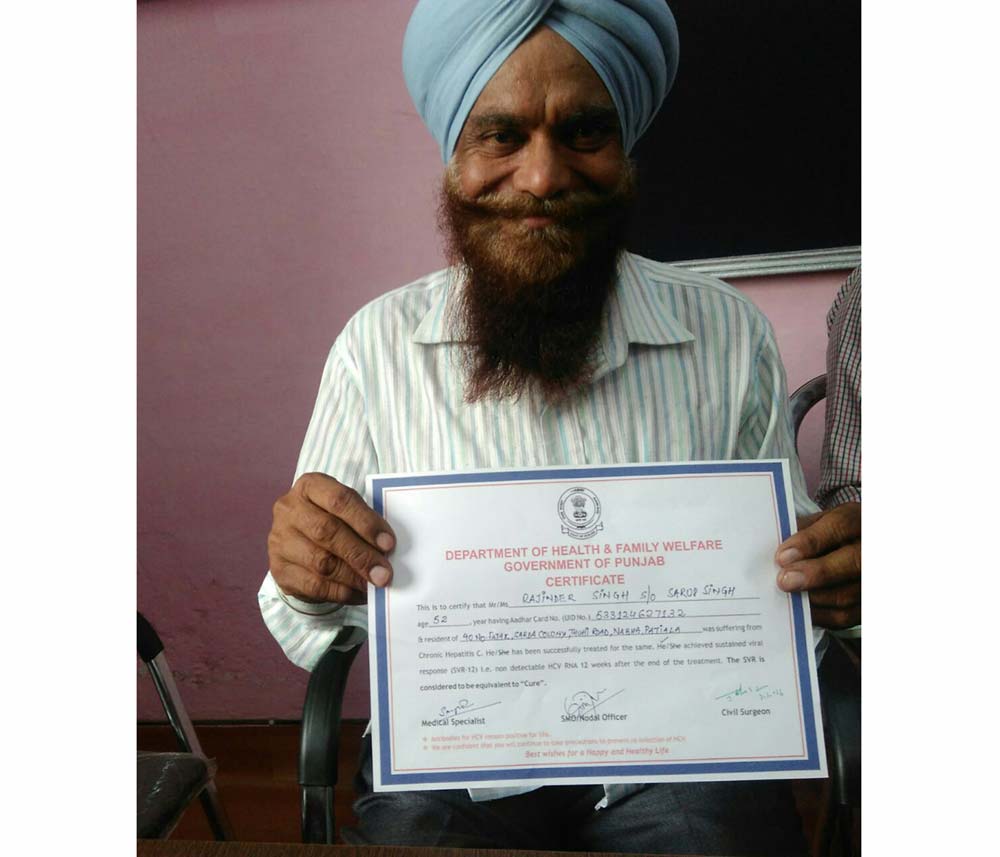 "Apart from looking for patients having symptoms like jaundice, loss of appetite or paler skin, HHH (HIV, Hepatitis B and C) tests were given to all antenatal [patients] and patients undergoing surgery. Comprehensive surveillance of drug addicts, jail inmates, HIV patients and other vulnerable people all helped in the collection of actionable data," explained Dr Gurmeet Singh of Patiala, the former Nodal Officer of the successful programme.
Health care workers across the state, he said, had stepped up to the challenge at hand, shepherding the ill into care, and turning up hidden cases.
"We involved ground-level workers and ensured that the treatment was not missed. During the programme, an ANM [an auxiliary nurse-midwife] from one of the Shukrana villages in Patiala reported three cases of hepatitis C. On conducting a survey, the health workers were able to find more than 50 positive cases in the village," Dr Gurmeet added.
"One of the main factors for the success of the programme in the state has been a coordinated effort of all the stakeholders. We sensitised all the doctors, paramedics and ground workers about the programme," said Dr Gagandeep Singh Grover, Programme Officer, Anti Hepatitis Programme in Punjab.
All the medications prescribed during the treatment period are provided free of cost to the patients. The length of treatment depends upon the severity of infection, Dr Gagandeep explained.
Hepatitis has a high prevalence in parts of India, including Punjab and Delhi. According to figures available with Health and Family Welfare Department of West Bengal, around 6–12 million people are the carriers of hepatitis in India.
According to the National Health Mission's National Action Plan for Combating Viral Hepatitis in India, the country falls under the category of intermediate endemicity, with the prevalence of vaccine-preventable Hepatitis B standing at between two and seven percent, with India accounting for an estimated 10–15 percent of the entire pool of HBV carriers of the world.
Hepatitis A, C and E are being controlled with the administration of antiviral drugs, as guidelines stipulating immunisation against vaccine-preventable hepatitis B are followed throughout the country.
The National Action Plan for Hepatitis envisages administration of the hepatitis B vaccine to every newborn baby within 24 hours of birth. That first dose is followed by a three doses at six, ten and 14 weeks.
Experts believe that lack of hygiene and proper knowledge about the disease's transmission play an important role in its continued spread.
"Apart from mother-to-baby transmission, food hygiene and reuse of syringes – mostly among vulnerable sections [like among] health care workers, drug addicts and slum dwellers – are the main causes for the high prevalence of the infection in society," said Dr GS Sidhu, a senior hepatologist from Max Hospital Mohali in Punjab.  
In Kalkaji, a neighbourhood of New Delhi, the national capital, Dr Kapil Sharma, Director of Gastro Care Clinic believes that many hepatitis C patients face social ostracisation.
"Families often keep distance from a contaminated person. The lack of proper knowledge about the disease also leads to the aggravation of problem. It is very common to find HCV-positive people in our clinic," Dr Sharma said. Though the total eradication of virus presently does not appear possible, it can be effectively neutralised as a public health threat, he said.
In order to do away with the social taboo, some states in the country have started with the practice of issuing certificates to recovered patients.
"After testing positive for hepatitis C, I saw a visible change in the behaviour of my friends. Even my family members wanted to maintain a distance from me. But thanks to the health workers, who did not only treat my hepatitis C, but also issued a recovery certificate in my favour," said a jubilant survivor, Gurvinder Singh.
According to Dr Adarshpal Kaur, Director Health and Family Welfare Punjab, a key focus for the immediate future is extending and already extensive screening system. "There must be dropouts and our department is upscaling the effort to reach all those who are yet to be identified and confirmed," she said. Mechanisms are in place to trace all patients through a network of ground level workers.
With 2030 in sight – the target set by the Government of India to eliminate the Hepatitis C from the country – health officials focus on keeping up relentless pressure on the liver-killing family of viruses.