How is Nigeria addressing the public health challenges due to COVID-19?
As one of the African countries most affected by COVID-19, Nigeria has faced significant economic and health impacts, including to routine immunisation, in the face of the pandemic.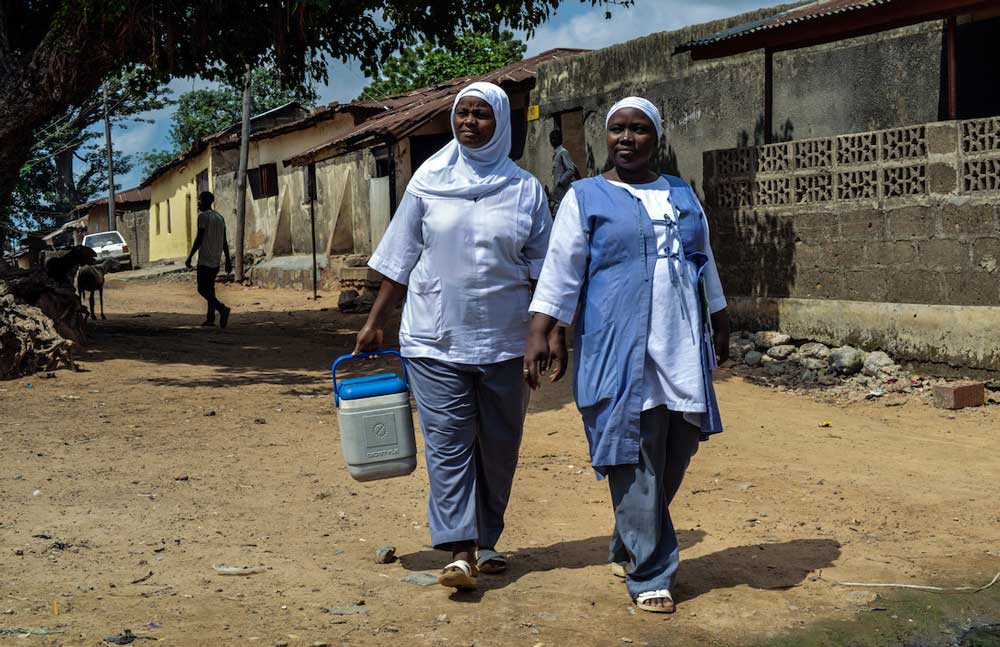 Among Gavi-eligible countries in Africa, Nigeria has the highest number of reported coronavirus cases, and is globally one of the African countries most affected by the COVID-19 pandemic. It has the third-highest number of reported cases on the continent following South Africa and Egypt. In the past week, the number of confirmed cases in Nigeria has grown by 6% compared to 8% in the United States of America. All of Nigeria's 36 states have reported cases with Lagos State, home of Africa's largest city, accounting for 34% of these.
Economic impact
On 30 March, Nigeria initiated a lockdown in the Federal Capital Territory (FCT), Lagos and Ogun States, which was eased in early May. In early August, President Muhammadu Buhari extended the second phase of the nationwide lockdown, which began on 22 April by four weeks.
As Nigeria's economy largely depends on oil exports, the government will struggle to meet the targeted demand of crude oil to fund the 2020 budget due to the reduction in crude oil prices triggered by the pandemic. According to the International Monetary Fund (IMF), the informal sector accounts for approximately 65% of economic activity in Nigeria.
More than 3.8 million people, mainly working in the informal sector, risk losing their jobs, and this could rise to 13 million if movement restrictions continue for a longer period.
Impact on routine immunisation
The uptake of immunisation services has been adversely affected since the onset of the pandemic in Nigeria. A comparison of pentavalent performance between 2019 and 2020 shows a decrease in performance in the months since the COVID-19 outbreak began.
No vaccine stock-outs have been reported at federal and state level but there was a low buffer level for pneumococcal conjugate vaccine (PCV) and pentavalent vaccine, which was addressed through vaccine supply shipments by charter flights, some of which were supported by Gavi.
Replenishment of vaccines for the national strategic cold store is underway, with several shipments ready for delivery through a charter flight that was planned for 27 July.
The government continues to work on mitigating the impact of COVID-19 on routine immunisation (RI) in the immediate and short term by planning for RI intensification through strategies such as an appointment-based approach, deploying geocoded mobile health vans and holding targeted, temporary fixed-post immunisation sessions.
This year, the country is planning to introduce the second dose of measles-containing vaccine (MCV2) in the northern states, and measles and meningococcal vaccines in Kogi and Niger States. Yellow fever supplementary immunisation activities are still planned for the latter part of 2020.
Nigeria's National Primary Health Care Development Agency (NPHCDA) and Alliance partners continue to collaborate closely to develop a plan for continuing and optimising primary health care services amid the COVID-19 pandemic.
Read the full 11 August 2020 situation report, here.