India's pneumococcal vaccine rollout will save 50,000 children a year
Pneumococcal Conjugate Vaccine has now been introduced in every state in India, meaning this lifesaver will be available to every child in the country.
12 November 2021
3 min read
Pneumonia can be deadly for children. In fact, pneumonia is the leading infectious cause of death for children under five worldwide. Pneumococcal conjugate vaccines (PCVs) are safe and effective at protecting children from this deadly disease, but they remain out of reach for too many children in low- and middle-income countries around the world.
Fortunately, that is starting to change. India has taken great strides to roll out PCV nationwide – even amid the challenges posed by the COVID-19 pandemic – with the aim of reaching millions of children and saving more than 50,000 lives each year. Now, PCV is available in every state in India.
This is largely thanks to a new vaccine option – manufactured in India – that is the lowest cost to date. This vaccine was developed as part of the Gavi Advanced Market Commitment (AMC), which gives countries like India the ability to buy life-saving vaccines at greatly reduced prices. At this low cost, the Government of India can procure the domestic vaccine through its own resources and reach more children. John Snow India has been on the ground supporting the country's efforts to roll out the vaccine.
Each state had to overcome its own unique challenges, in addition to surging COVID-19 cases. For example, some northeastern states, where the majority of the country's tribal populations reside, have hard-to-reach areas with difficult roads, river crossings and marshes. Despite these obstacles, these states worked tirelessly to train vaccinators, launch the vaccine and introduce it into their routine programmes. The vaccinators and the other health staff often have to trek for long hours to reach remote session sites to ensure that the caregivers do not have to travel long distances to get children vaccinated.
Another challenge the northeastern states face is very unreliable network connections, even in the cities. So, in very remote areas where there was no possibility of a virtual training, small groups of vaccinators attended in-person trainings while following all COVID-19 protocols. To achieve this, all partner agencies helped the state governments to implement preventive measures like social distancing and masking.
The official launch of the pneumococcal conjugate vaccine in the state of Tripura took place in a health facility which had a separate immunisation room with banners and posters informing parents and caregivers about the new benefit available to them.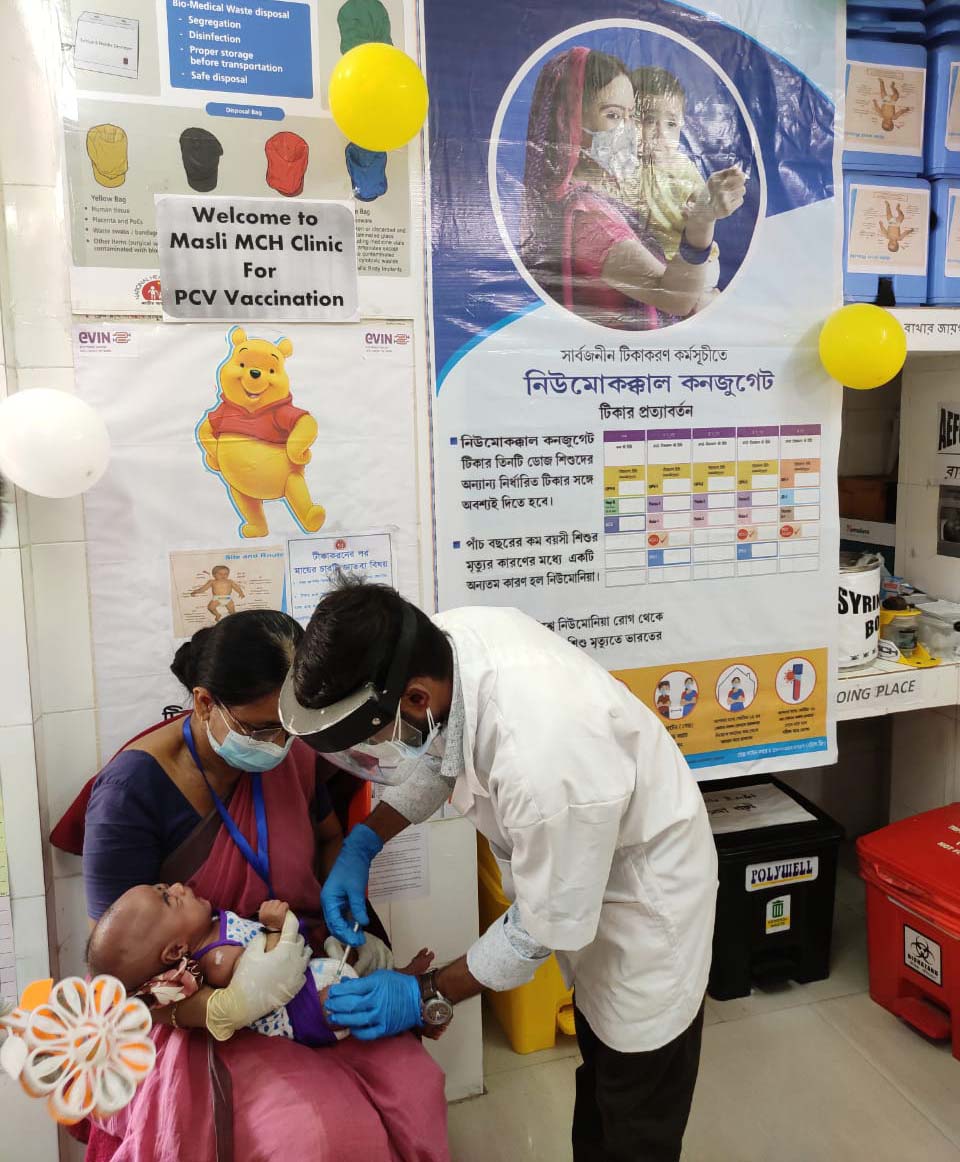 The state of Tamil Nadu (one of the Southern states of India) came up with an innovative way to promote vaccination by gifting the mothers and their babies teddy bears and rattles during the launch ceremony.