Leading Nurses Through Crises in Lebanon
Poverty, power cuts, medicine shortages and COVID-19. Learning new ways to communicate with the team of nurses she manages has helped Rita Akiki deal with multiple crises in the last few years.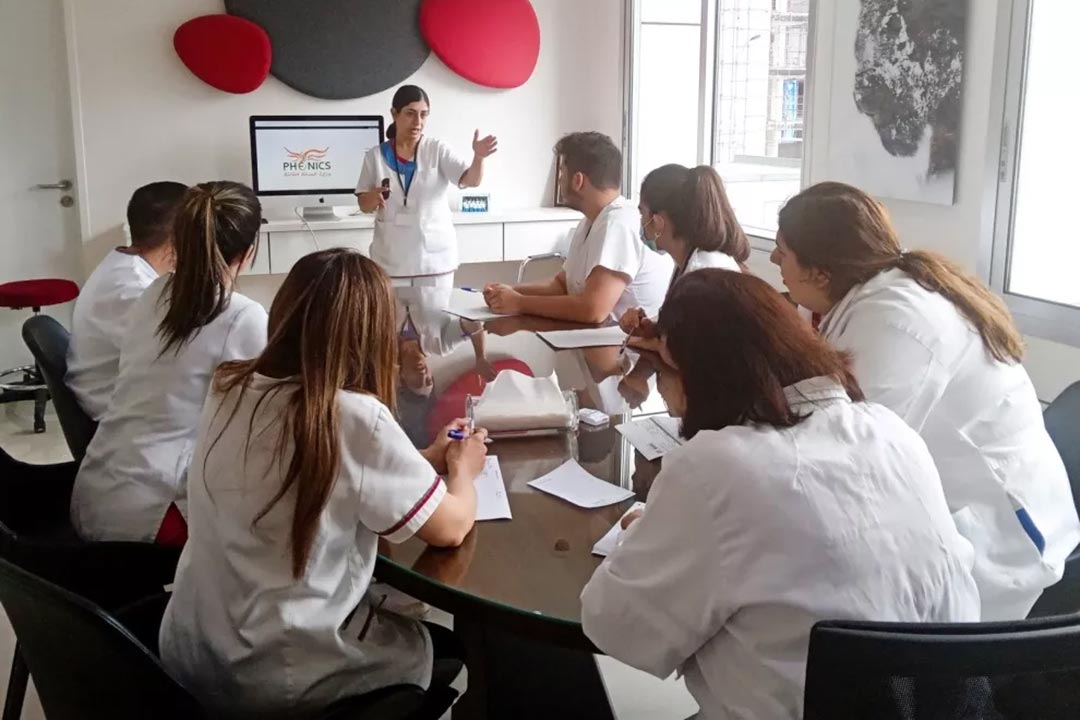 Over the past few years, says Rita Akiki, MS, BSN, working as Nursing Director at the Aboujaoudé Hospital in Beirut, Lebanon meant "dealing with multiple crises at the same time." As a result of a major economic downturn that hit the country in 2019, three-quarters of Lebanon's 6 million people have fallen into poverty. Power cuts and medicine shortages make it difficult for everyone, but especially health workers, who began to leave the country to seek work. In 2020, a massive explosion at the Port of Beirut added to the losses and difficulties shortly after COVID-19 hit.
"During the pandemic, we were overwhelmed," she recalls. "I felt like I was alone. So I went online to get more information." She discovered the Storytelling for Change course offered through Sabin partners Nursing Now! and People Power Health and began learning new ways to communicate with the 130 nurses she supervises. "I learned to tell stories, learned how to convince nurses to come back to work, to stay with us, to be at the frontline of COVID."
Usually in Lebanon they like doctors, not nurses, but due to the COVID pandemic, what was beautiful was that the population now understands the importance of nurses."

Rita Akiki, MS, BSN, Nursing Director at the Aboujaoudé Hospital
Community Activation
She also discovered the Sabin Vaccine Institute's Boost Community and courses offered on community activation. "I'm managing nurses that do not want to get vaccinated, chronic patients like heart failure patients that do not want to get vaccinated…I was like, let's learn something and apply it."
Rita found the Boost trainings useful – even though it was offered in English, and she speaks mostly French and Arabic. She became a Boost Fellow in 2022, advancing her practice with more training in community activation and adaptive leadership. "It was a new way of thinking, a new way of approaching daily challenges," she says. "Every day before this learning, I'm like, 'I don't want to go to work because I will have one of my colleagues coming for resignation because he wants to travel.' Now I'm more like, yes, they will come, and they will travel, but I know how to adapt, I know how to think in another way and deal with my own feelings. I learned who are my people, what are my strengths, what are my weaknesses, and to plan proactively."
The skills of storytelling, planning and relationship building have become part of Rita's leadership practice. She now rounds more deliberately, checking in and connecting with patients and her staff. "Due to community activation, I realize this kind of communication is very helpful for the patients and, also for the nurses. We have become a more positive environment. The hospital is working as a unit, so everybody is helping each other, and we are all one. All this came through the learning and the communication."
Rita says she has also been using the skills she learned to build trust around primary health care, including childhood immunization. When children are missing vaccinations because their parents can no longer afford the vaccination fees, she uses her storytelling skills with parents to build relationships and develop their trust in her advice. She researches networks in the public health system and sends the parents to the public institutions where vaccines are available free of charge. "It is by building the relationships and trust with the parents that they are willing to go to these other institutions and have their children vaccinated."
A Real Need For These Skills
Information shared from other Boost fellows has helped as well. "We had a cholera outbreak, but since the cholera vaccine is only good for six months, patients ask why they have to take it? I took examples from colleagues in Boost, like from Africa, and I was telling patients 'Look at those people, they also have outbreaks, but they are not afraid to take the vaccine.' It's an international example. I was matching the learning with the integration with daily life and work. "
Recently Rita facilitated Boost's Boosting Leadership course in French and is currently facilitating Boost's Advanced Community Activation Training. "I am grateful for this learning journey," she says. "What I found when I was transmitting this learning to colleagues, is that there is a real need for these skills, especially in countries that are facing crises like Lebanon."
---
Website
This article was originally published by Sabin Vaccine Institute on 10 May 2023.
More from Sabin Vaccine Institute