Malaria ends with me: Sierra Leone celebrates World Malaria Day
World Malaria Day 2022 kicked off on a high note in Freetown with a commemorative event held by Sierra Leone's Rotary Club and the government.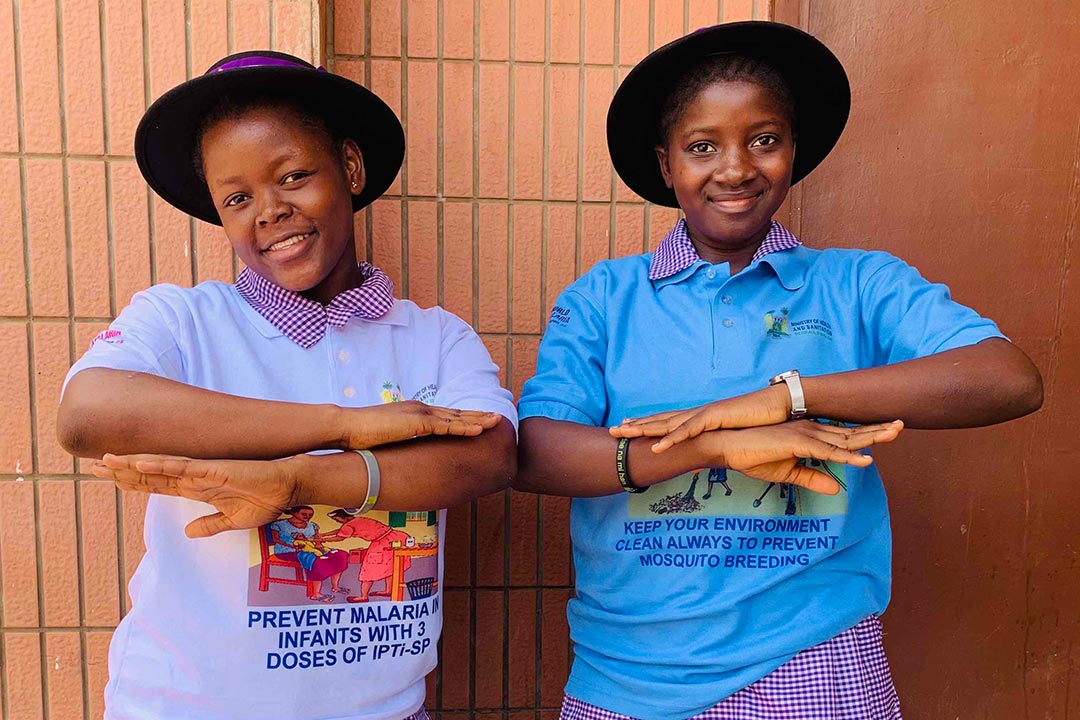 On Monday morning, 25 April 2022, World Immunization Week commenced in Freetown with the commemoration of World Malaria Day at Youyi Building, which is home to many of the Government of Sierra Leone's ministries. This year's global theme is Harness Innovation to Reduce the Malaria Disease Burden and Save Lives and the local theme is Zero Malaria, Draw the Line against Malaria.
"It is important for citizens to know that testing and treatment are free. I hope this announcement will encourage Sierra Leoneans to go to the hospital or clinic when sick and not shy away because they are afraid treatment is expensive or inaccessible."
The event was well attended by hundreds of participants from the public sector, the development sector as well as independent media outlets. Members of Rotary Club of Freetown-Sunset and Rotary Club of Freetown were also present.
Rotary is an international service organisation with over 1.4 million members across the globe who work together to advance goodwill and peace.
District Governor Christopher John Forster talked to VaccinesWork about their partnership with the government to advance health systems to treat, diagnose and prevent malaria.
"Malaria is one of the most prevalent diseases facing us in Sierra Leone, especially for pregnant women and children under the age of five. Rotary supports the government in preventing and treating malaria, which is overseen by our global Rotary Action Group that fights against malaria. We also support the Ministry of Health and Sanitation (MOHS) in the fight against polio," he said.
Rotary International has seven areas of focus and three of them are health related, namely Water and Sanitation Hygiene (WASH), Maternal and Child Health and Fighting Disease Prevention and Control. Rotary District 9101, which comprises ten West African countries, is committed to ending malaria in the region and the world at large.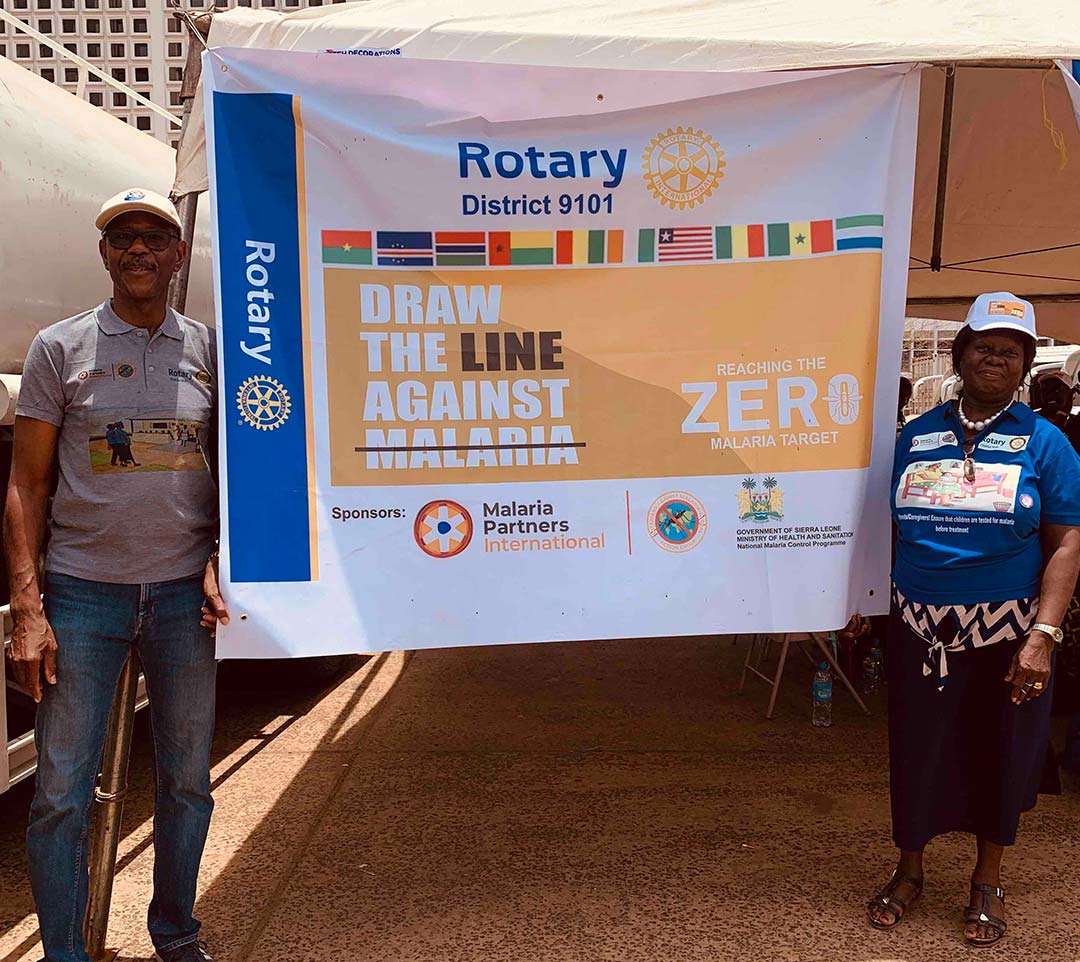 Theodora Wilkinson, Chair of the Malaria Committee in Sierra Leone, stated: "As partners in development, we encourage all Sierra Leoneans, irrespective of where they live, whether that's near water or in the mountains, to endeavour to sleep under a bed net, to not rely on traditional medicinal treatment and to go to the hospital or clinic where one can receive free malaria treatment."
In her keynote address, Deputy Minister of Health and Sanitation Princess Dugha gave the statistics of malaria in Sierra Leone along with intervention methods and control under the National Strategic Malaria Implementation plan.
"More than two thirds of deaths were children under the age of five living in the World Health Organization (WHO) African Region in 2020. Sierra Leone tested about 3.2 million suspected malaria cases and treated about two million cases of confirmed malaria."
The Deputy Minister stated that, in May 2020, the National Malaria Control Programme of the MOHS and health partners conducted mass distribution of insecticide-treated bednets, integrated with a COVID-19 prevention campaign. A total of 4.34 million nets were distributed free to every household (two persons per net) with a maximum of three nets per household to obtain a universal coverage of 94.5%. She added that, by 2023, 5.345 million bed nets will be distributed to consolidate the gains in universal coverage.
At the health fair, a malaria testing station run by personnel of the 34 Military Hospital could be found with dozens of participants lining up to get tested for free. The necessary drugs and nets were also readily available.
"The ministry is committed to stepping up in innovation, expanding access to the tools we have and making more use of the current methods of prevention, diagnosis and treatment of malaria. We will strengthen systems for collecting data at the community level, chiefdoms, districts and national levels for informed decision-making and efficient response to malaria," explained Deputy Minister Dugha.
The event was well attended by secondary school students who had positive feedback to share. Leticia Bangura and Jeneba Kargbo of the Methodist Girls High School were enthusiastic about their experience and clear on what they intend to do with the new information as malaria ambassadors.
"I learned a lot from the Deputy Minister and development agencies about malaria prevention and I will definitely share with my friends and family when I get back home," said Jeneba Kargbo.
"It is important for citizens to know that testing and treatment are free. I hope this announcement will encourage Sierra Leoneans to go to the hospital or clinic when sick and not shy away because they are afraid treatment is expensive or inaccessible," added Bangura.
Kadi Bangura, who is six months pregnant, was especially appreciative of the malaria treatments and sensitisation in her community as she is expecting her first child.
"I have been going for antenatal care and I received doses of the Intermittent Preventative Treatment (IPTp-SP) during my first trimester. I was happy to learn about this programme because I was afraid for my and my baby's health as malaria season is fast approaching."
With the malaria vaccine expected to be available in Sierra Leone soon, Deputy Minister Dugha concluded the well-received event with a message of action to all.
"You can make a difference, whether you're a government, a charitable organisation, a company or an individual; you can roll back malaria and help generate broad gains in multiple areas of health and human development."