Meet the Sherpa doctor of Nepal
Dr Kami Temba Sherpa was the first Sherpa to receive a medical degree. He has devoted his life to helping the poor and marginalised on the slopes of Mount Everest.
30 November 2022
6 min read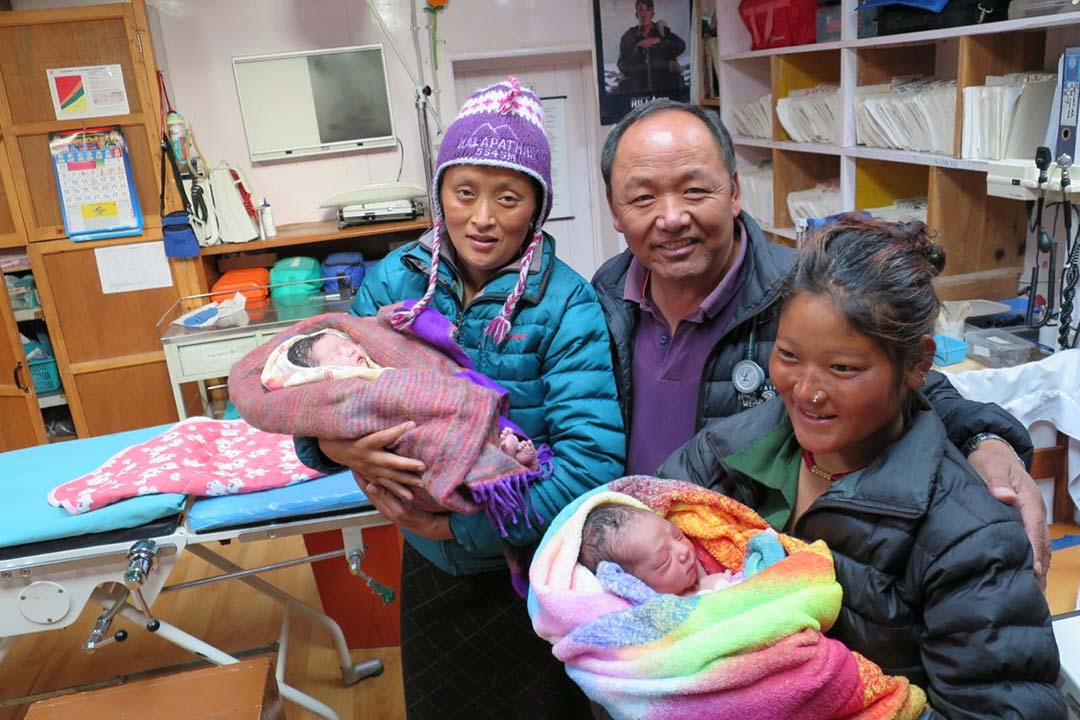 Dr Kami Temba Sherpa began working at Kunde Hospital in 1976, when he was just 19 years old. The hospital, established by Sir Edmund Hillary in 1966, is located 3,840m above sea level in Khumbu – the northeastern region of Nepal – which is the Nepal side of Mount Everest.
"Maternal mortality has been zero in Khumjung region for 20 years, which is a remarkable achievement."
Dr Temba, now 67 years old, has spent his entire life in the service of poor and marginalised people in the remote Himalayan region, forsaking modern facilities and comforts in the more urban parts of the country.
He is the first person from the Sherpa community to receive a medical degree and this is a responsibility he has never taken lightly, as a representative of a people who have earned much acclaim around the world for mountain climbing.
Kaji Bista, Manager of Pyramid International Laboratory/Observatory, the high-altitude scientific research centre located 2,050m above sea level, says that Dr Temba is seen as the 'Himali Doctor'.
"Educated people from Kumbu region tend to leave for the capital city, Kathmandu, or abroad for better opportunities, but Dr Temba instead devoted his life to the villagers. The local people respect him very much," Bista says.
About 13 years ago, Bista visited Kunde hospital suffering from swelling and tenderness of his joints. Dr Temba diagnosed him with arthritis, having checked uric acid levels via a blood test in the hospital laboratory, and then treated him accordingly.
"I was (and am) very impressed by his simplicity, and his way with patients. He cured my ailment," he recalls.
According to Fura Doma Sherpa, Staff Nurse at Kunde Hospital, Dr Temba's clinical expertise is exemplary.
"As he is a doctor from the Sherpa community, he explains and counsels in the local language which makes it easier for the people to understand. This and his compassionate service have made him highly respected in the local community," she explains.
She says that without Dr Temba's tireless efforts, Kunde Hospital would not have been able to be where it stands now. "'He is a good manager and has created a strong foundation for the sustainability of the hospital. The staff are working with high morale," she adds.
Dr Temba was accorded the responsibility of doctor-in-charge in 2002 and held the position until December 2020. He now works part-time as a senior medical officer.
"I have entrusted the management responsibility of the hospital to the young doctors and try to share my skill and knowledge with the young ones. Plus my health is good, so I think I can serve in the hospital for a few more years," Dr Temba says.
A long and hard history
Growing up in a poor family in a remote Himalayan village, Dr Temba spent his childhood as a yak shepherd. His father had died while he was still in his mother's womb.
"At that time, there were no health facilities in the village. Later I heard from my mother that my father died due to a swelling problem," he remembers.
He received a scholarship from the Himalayan Trust (also established by Sir Edmund Hillary) and completed basic education at a primary school in Thame, then at Khumjung school. After receiving his School Leaving Certificate (SLC), he returned to his village where he was one of few to actually complete school.
"I taught in the primary school of the village for a few months in 1976. Shortly after that, I started working as an interpreter for foreign doctors at Kunde Hospital. After receiving training from the foreign doctors, I started serving as a medical assistant in 1977," he says.
He served the patients in the hospital for 15 years before moving to Fiji for formal studies in 1992 on a scholarship from the Himalayan Trust. He completed a  Medical Assistant course and Health Assistant course and followed that up with Bachelor of Medicine, Bachelor of Surgery (MBBS) degree which he finished in 1999.
He returned to Nepal and started working at Kunde Hospital again from 2002. He has served in the hospital for 35 years in total. Prior to his arrival, the hospital was mainly staffed by foreign volunteers from Canada, the US and Europe.
"While working with seven foreign volunteer doctors at Kunde Hospital, I got a lot of exposure," Dr Temba says.
The results: a healthier, happier community
As a result of the continuous service of Dr Temba and his team, there has been a noticeable improvement in the health of the local community. When he started, there were 25 to 30 patients coming daily with communicable diseases like pneumonia and skin infections. Overall, according to Dr Temba, the number of patients has decreased to 15 a day, and most of them are have non-communicable diseases such as hypertension, diabetes, cancer, blood pressure and arthritis.
Until two decades ago, residents of the remote Himalayan villages went to shamans when they were sick, which resulted in some patients dying prematurely. Following the efforts of Dr Temba and his team, faith and trust in modern medicine increased.
Dr Temba says happily, "The condition of health services has become very good with modern medical methods and medicines reaching the villages."
The change in the quality of health services has led to a radical change in the maternal mortality rate. "Maternal mortality has been zero in Khumjung region for 20 years, which is a remarkable achievement," Dr Temba says. Infant and child mortality rates have also remained very low in the area.
Due to the lack of hospitals and public awareness, most women used to give birth at home. Now more than 85% of children are born in hospitals. Dr Temba not only brought in an ultrasound machine, he also did six months' training on how to operate the machine as the hospital had a shortage of manpower. After the introduction of the ultrasound service, it has become easier for pregnant women to get tested.
"One hundred percent of pregnant women from Khumbu region come for examination since the hospital installed ultrasound. The birthing centre is operated by institutionally trained health workers. It has become easier as equipment is added," Dr Temba remarks.
In addition, under Dr Temba's watch, routine immunisation coverage has increased, further reducing the child mortality rate.
Dr Temba feels proud when he sees the happy faces of sick patients while treating them in the village. He believes that increasing awareness around family planning has had a positive economic and social impact.
He plans to spend the time after his retirement in 2023 in his village, Thame. His wife runs a lodge there, and his children live outside of the village. He spent most of his time away from home because of his job, which is why, after retiring, he will spend all his time in his village.
While the local community will miss such a dedicated public servant, he leaves a powerful legacy: a healthier, happier community.