Mothers in Nigeria's Wassa IDP camp spread the word: breastfeeding can save infant lives
Breastfeeding has both nutritional and immune benefits for babies. Perhaps particularly in emergency settings like this one, it can make all the difference.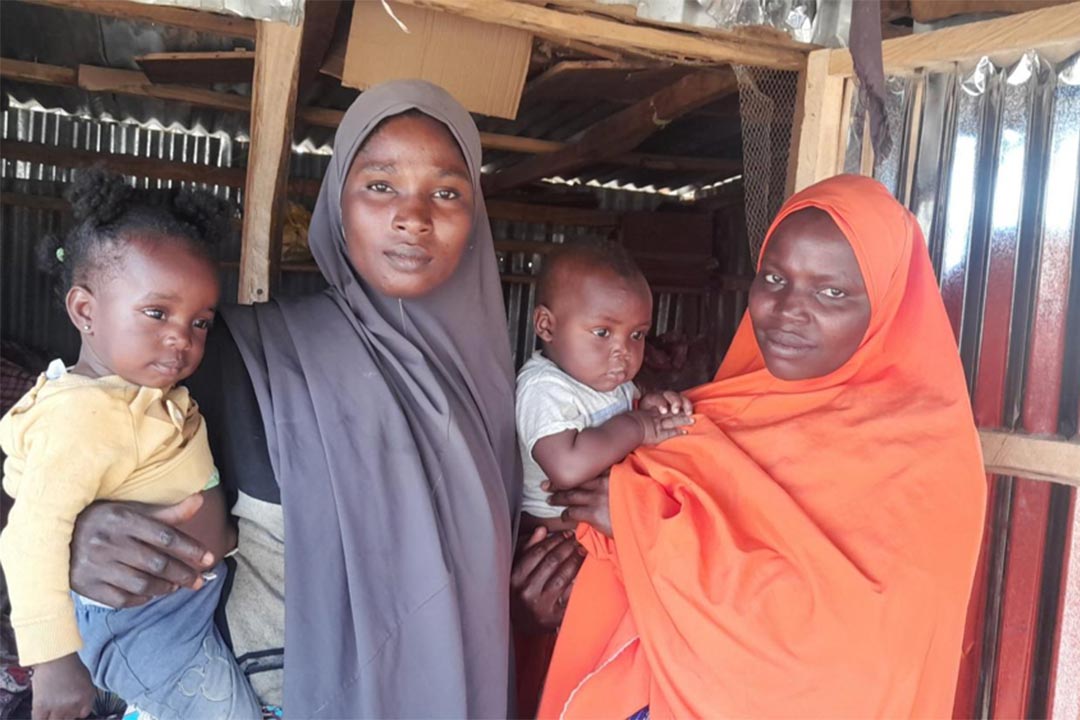 In Nigeria, a minority of mothers exclusively breastfeed their infants, but women living in the tough conditions of internally displaced persons' (IDP) camps in Nigeria's Federal Capital Territory are finding they can help protect their children against childhood diseases by that most ancient of means.
That's after civil society organisations in the Abuja region campaigned to encourage displaced mothers to aim for breastfeeding as a complete solution to babies' nutritional needs, and a massive aid to their immune systems.
"I gave my baby breast milk for six months and didn't have any reason to visit the hospital due to early childhood diseases."

Nelly Abraham
"Exclusive breastfeeding makes baby very healthy and prevents dehydration among infants," explains Nelly Abraham, a mother at Wassa IDP camp, the largest in the Abuja area. "Babies that do not consume breastmilk usually have bouts of cold, catarrh, flu, and persistent dry cough. The advantage of breastmilk is very numerous in the life of an infant child."
Her own observations support the theory. "I was deliberate about practising exclusive breastfeeding," she says. "I gave my baby breastmilk for six months, and throughout those six months I didn't have any reason to visit the hospital due to early childhood diseases."
When pregnant women living in the IDP camp attend antenatal clinics, lactating mothers like Abraham can boost the efforts of the civil society organisations touting the benefits of breastmilk. She says, "I encourage mothers around me to also practice exclusive breastfeeding due to the numerous benefits I noticed in my children. During antenatal classes, different organisations educate pregnant mothers about the importance of good nutrition."
According to UNICEF and WHO, 29% of Nigeria's babies are exclusively breastfed. The results, according to a joint statement released by UNICEF executive director Catherine Russell and WHO chief Dr Tedros Adhanom Ghebreyesus last year, are stunting rates as high as 37% in children aged under five, and wasting in 7% of children in the same age bracket. Nutrition is not the only benefit children stand to miss out on, they point out: breastmilk transfers immune protection from mother to child.
How does breastfeeding help protect babies against diseases?
First, a basic fact: a better-nourished, healthy human body has stronger defences against infections. That goes for newborns, too.
But more specifically, breastmilk can directly channel some of a breastfeeding parent's immunity to their child. Antibodies – the products of the lactating parent's own, fully-developed immune system, generated to ward off infections they've encountered – pass in the breastmilk to the baby.
The baby is beginning to generate its own antibodies against viruses and bacteria it has encountered, but infant immune systems aren't yet operating at full strength – and the protectiveness of antibodies transferred via the placenta during late pregnancy and birth wane over the child's first six months. Antibodies from breastmilk – a form of 'passive immunity' – act as additional cover to help babies through this wobbly patch in their immune development.
But they aren't a perfect shield. A breastfeeding parent can only pass on antibodies against pathogens they've encountered, or been vaccinated against, and even then they may only offer partial protection. That's why WHO recommends a combination of vaccination – which activates the child's own immune response – and breastfeeding from the first hour of life to keep babies safe in their vulnerable earliest months and years.
Breastfeeding can be especially challenging in emergency settings like this one, where populations suffer exhaustion and emotional distress, and privacy and sanitation are compromised. But despite the harsh conditions where they live, Nelly and other mothers ensure that they follow the WHO recommendation that mothers should breastfeed infants for the child's first six months to achieve optimal growth.
Mothers broadcast the benefits: "he's strong, healthy, and chubby"
Another woman in the Wassa camp, Adama Mohammed, a mother of four, says: "I am breastfeeding my seven-month-old baby, and he is very strong, healthy and chubby.
"I practised exclusive breastfeeding for my last two children and noticed tremendous changes in their health. I want other mothers to emulate me, so they can have healthy babies. Civil society organisations usually come here and teach us about the benefits of exclusive breastfeeding, and this has been quite helpful."
Hadiza Ibrahim, a native of Borno state, whose youngest is one year old, says, "I practised exclusive breastfeeding for six months, due to the impact of civil society organisations who usually educate us on the importance of breastfeeding. I listened to the advice of the nutritionist that came to train us, and this has helped the growth of my baby. I am always happy anytime they come around.
"I realised all the benefits inherent in giving children breastmilk, and they are quite noticeable. My last two children that I practised exclusive breastfeeding for are stronger than the ones I didn't practice exclusive breastfeeding."
Expert views: "the 'first immunisation'"
Dr Goodness Chidi Anyanwu, a nutritionist and programme manager at an organisation called Scaling Up Nutrition in Nigeria (CS-SUNN), says: "Breastmilk is the first immunisation the child receives at birth. It aids in preventing early childhood diseases, such as colds, coughs, pneumonia, and cholera."
"We support nutrition interventions in internally displaced camps. We sensitise mothers on the importance of exclusive breastfeeding. It is our mandate to ensure that cases of malnutrition are reduced drastically," she says.
"Breastfeeding aids the cognitive development of a child. Studies have shown that for a child that is well breastfed, cognitive development is better than that of a child that takes infant formula."
"Breastmilk is the "first immunisation" a child receives. It aids in preventing early childhood diseases such as colds, coughs, pneumonia and cholera."

Dr Goodness Chidi Aanyanwu
Dr Otuneye Adekunle, consultant paediatrician in neonatology at Abuja's National Hospital says, "Breastfeeding is one of the key survival strategies for early babies. Women who are not able to breastfeed their children are rare and not common."
More often, Dr Adekunle suggests, external challenges stand in the way of a mother's ability to breastfeed. "When a woman does not have the necessary family support, either from the spouse or the grandparents, it may affect the flow of milk. Family members are meant to relieve the mother of some house chores: this will give her ample time to nourish her baby."
Breastfeeding is a skill – and mothers often need expert help as well as at-home assistance. "The support from healthcare workers during the first hours of delivery is also critical to the flow of breastmilk. Ignorance on the part of some mothers who may not position their baby for proper sucking may also affect the flow of breastmilk. If there is a slight gap, there might be a problem. When mothers are separated from babies due to sickness, breastmilk can be expressed and made available to the baby," he explains.
There are cases, of course, in which breastfeeding is not possible, or not advisable. Dr Adekunle explains, "In some instances, when the mother is receiving some medications it may affect the child, or when she has infections, she is usually advised not to practice exclusive breastfeeding," he says.
But the benefits need to be broadcast, he thinks. "Every lady should be taught the importance of exclusive breastfeeding while growing up, during pregnancy, and especially before delivery. Sometimes when mothers have multiple deliveries there may be a need to supplement with breastmilk substitute. Regular feeding at every two to three hours' interval is also necessary. Mothers should eat well to be able to feed their babies with adequate breastmilk," Dr Adekunle recommends.