Poo-free zone: How Nigeria is winning the war against open defecation
Jigawa was declared Nigeria's first open defecation-free state in October. It hasn't taken long for that victory to translate to noticeably better public health.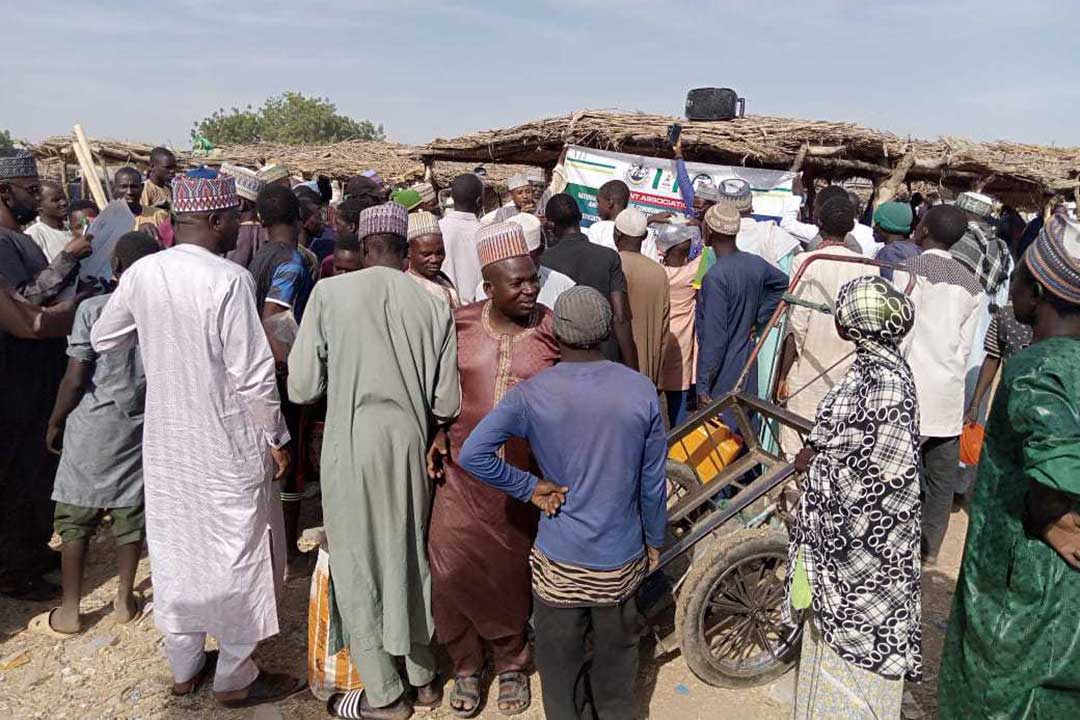 Ayuba Alhassan, head of Gagarawa Arewa village in the Gagarawa Local Government Area, exudes excitement. He is overjoyed, he says, that his village is winning its war against open defecation – the practice of defecating outside rather than into a toilet.
Following the mass provision of public toilets by the Nigerian government and its partners, communities, schools and marketplaces across Gagarawa have transformed, Alhassan says.
"The almajiris (pupils) used to defecate around the premises and we usually experienced cholera. But for more than a year now, we hardly record such in the school and the community at large."

– Ibrahim Gwani, school head
"There are toilets in different locations and these have helped a lot in curtailing open defecation in my village and Gagarawa as a whole. I'm always excited to see our environment clean unlike before when faeces would litter everywhere. We now live in clean surroundings free from disease outbreaks, and we are doing all we can to maintain good hygiene and sanitation," Alhassan says.
In 2018, Nigeria's President, Muhammadu Buhari, declared a state of emergency in the water, sanitation and hygiene (WASH) sector. He launched a national campaign under the slogan "Clean Nigeria: Use the Toilet". The aim? To end open defecation in the country by 2025.
In order to monitor the progress of the campaign, the Federal Ministry of Water Resources and the National Bureau of Statistics, with support from UNICEF and other partners, conduct the Water Sanitation and Hygiene National Outcome Routine Mapping (WASHNORM) survey annually.
In October 2022, the Nigerian government and UNICEF declared Jigawa open defecation free – making it the first, and so far only, Nigerian state to make it to the target, though 85 Local Government Areas (LGAs) in Nigeria have also attained that status, according to Minister of Water Resources Suleiman Adamu.
The breakthrough in Jigawa came three years after the 2019 WASHNORM report revealed that 47 million Nigerians practised open defecation, and that the country ranked second in the world for open defecation.
That year, a WASH specialist at UNICEF Nigeria, Bioye Ogunjobi, told TheCable that "more than 100,000 children under five years of age die each year due to diarrhoea; of which 90% is directly attributed to unsafe water."
Ibrahim Gwani, head of Tsangayar Gwani Sani, an Islamic school in Hadejia town, Jigawa, says he believes his community is beating back the risk of cholera and other diarrhoeal diseases. He credits the various WASH initiatives that are underway, including the provision of a safe water system and the building of public toilets.
"Several public toilets and a borehole provided in the community have really helped us. Before the toilets were constructed, people defecated in drains and uncompleted buildings, but such behaviour has stopped now.
"The almajiris (pupils) used to defecate around the premises and we usually experienced cholera. But for more than a year now, we hardly record such in the school and the community at large. We have two toilets in this school. Though they are inadequate, we maintain them regularly," he says.
At Bello Bayi Primary School in Hadejia, 11 toilets and a borehole ensure that open defecation is a thing of the past.
Musa Bako, a community leader and assistant head teacher, says the amenities proved vital for the wellbeing of hundreds of residents accommodated in the school after they were displaced by floods last year.
"The toilets helped a lot. I can imagine what the school environment would look like without the toilets and water. They [the displaced people] would have soiled everywhere and that could trigger disease outbreaks," says Bako. "The challenge we have is getting enough detergent to always clean up the toilets. The school manages to raise funds to get those items, but the money is not enough. We look forward to donations from the government, individuals and groups to sustain the sanitation culture in the school."
Sustaining the open-defecation-free campaign in Jigawa
Becoming open defecation free is a major achievement. Next up for Jigawa? Sustaining it.
The National Association of Community Health Practitioners of Nigeria (NACHPN), Jigawa State chapter, is one of the non-governmental organisations propelling the ODF campaign onward.
The state chairman of the association, Babandi Habu, says NACHPN in collaboration with the state chapters of the Environmental Health Officers Association of Nigeria (EHOAN) and the Association of Local Governments Chairmen of Nigeria (ALGON) is campaigning for a sustainable open-defecation-free state in some markets across the state.
"We went to Gujungu market in Taura local government, Shuwarin market in Kiyawa local government, Chai-chai market in Ringim local government, and Sara market in Gwaram local government. We also held a meeting with traditional rulers and religious leaders on the need to encourage their subjects and followers to maintain proper sanitation and good hygiene.
"You don't see people defecating anyhow again and the impact is obvious health-wise."

– Ali Dandidi, public health expert
"The programme was held from 11 January to 14 February as part of our yearly plan of activities which this year focused on open defecation free. After Jigawa State was certified by UNICEF, our attention was drawn to the need to sustain the achievement, and we came up with this programme," Habu says.
A public health expert in Jigawa, Ali Dandidi, notes that outbreaks of diseases have drastically reduced in communities hitherto infamous for the menace.
"You don't see people defecating anyhow again and the impact is obvious health-wise. Most disease outbreaks like cholera and gastroenteritis have been minimised. In the past, the outbreaks were rampant, especially in communities where open defecation was a norm," says Dandidi, a retired permanent secretary at the Jigawa state Ministry of Health.
He advises the government to build more toilets in schools, markets and other public places, saying "there is also a need to continually sensitise the public through radio jingles, social media and other means".