Q&A: Helping teenage mothers access immunisation in Rwanda
The COVID-19 pandemic has reportedly increased the number of teenage mothers across Africa. Inadequate childcare support and stigma can prevent teenage mothers accessing routine immunisation and nutritional support for their infants. Girl Effect Rwanda's Ilaria Buscaglia tells Linda Geddes how the Gavi-supported Akurane Itoto (Growing Up Healthy) campaign is changing this.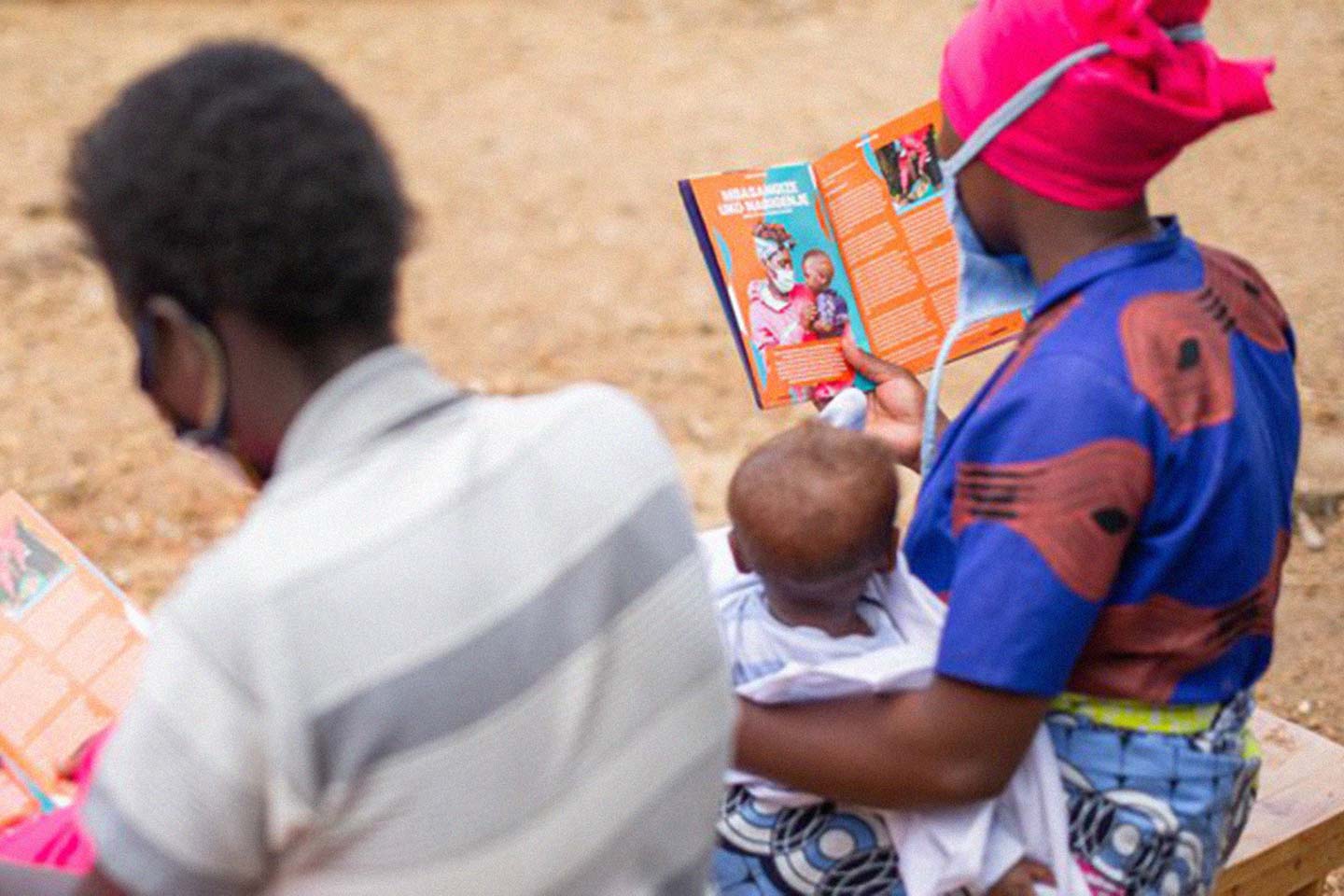 What is the Akurane Itoto campaign?
It was a nationwide health campaign targeting teen and young mothers aged 15-24 with non-judgemental, youth-friendly messages through different channels. Our main objective was to increase the uptake of routine immunisation for the children of teen mothers, and to improve their nutrition and child-feeding practice.
Girl Effect already had a youth brand called Ni Nyampinga, which is designed to connect adolescent girls with information and inspiration through magazines, radio drama, chat shows, digital channels and club networks. However, to achieve these objectives we had to design something very specific to reach out to teen mothers who are a bit outside our usual audience.
We found that teen mothers are different from adolescent girls in general, in the sense that they tend to have phones. This meant they could access an interactive voice response channel, where you dial a number to get different types of information related to nutrition and vaccination.
This included information and success stories for Ni Nyampinga's 'Ni Bo Ejo' ('They are the Future') mini-magazine, and a telephone advice service which girls and young mothers can call to access this content through their phones. In partnership with the Rwanda Men's Resource Centre and the National Youth Council, we also distributed leaflets targeted to young men and the teen mothers' parents, which included messaging around shared childcare responsibilities and preventing teen pregnancies.
Rwanda already has relatively high rates of routine immunisation. Why was this campaign needed?
Uptake of routine immunisations goes beyond 95% in some districts of Rwanda, and is generally around 90%, but there are around seven districts where it is 80-85%. This is still a good uptake, compared with other countries, but the Ministry of Health wanted to sustain these gains, and even go beyond that. So, we needed to understand why there is still this 5-15% that delays vaccination.
How did you investigate this?
Working with an agency and focusing on these seven districts, we interviewed more than 500 people, including teen and young mums aged 15 to 24, the fathers of their children, their families, community health workers and the women's health care providers, to better understand the complexities of the situation.
This showed that it is not really about having a group of people that completely refuse to bring their child for vaccination – we couldn't even find one case of a woman that said 'I don't believe in vaccines', or 'I think it's bad and I'd never take my child'. Rather, for those who were delaying or skipping doses, it was a combination of different factors.
One is the challenge of gender roles with respect to childcare: Often, these vulnerable teen mothers have to do the whole job themselves – the fathers are not supporting them financially, and they also won't support the mum by taking the child to the health centre.
The second issue is poverty. Many of these girls come from the lowest socioeconomic quintile in Rwanda, and once they become a mother they are often rejected by their families. Even if they stay at home with their parents, they are expected to become provider for themselves and their child. They also experience time poverty – we had many examples of girls who said someone called to offer them some work on the day of their child's vaccination appointment, and they would not have been able to eat on that day if they'd turned it down, so they postponed the appointment, and then forgot about it.
The third is around the stigmatisation of sex and pregnancy out of wedlock. A lot of girls said things like 'I was harassed by a nurse or by a doctor', or 'they told me that I should have closed my legs'. There was also stigmatisation at an institutional level, in that everyone is requested to go to their antenatal visit with the child's father, and they didn't necessarily have anyone to bring.
What did you do with this information you had gathered?
These insights influenced the communication channels that we used. Many of these teen mothers create groups – so they sometimes meet as clubs within their communities. We decided to develop a mini-magazine that they could use within one of these clubs, and a facilitation guide that could be used by the club leader to promote discussion about some of the issues raised.
We also found out that teen mothers are different from adolescent girls in general, in the sense that they tend to have phones. This meant that they could access an interactive voice response channel – where you dial a number to get access to different types of information related to nutrition and vaccination.
They also influenced the type of content we provided. One issue we identified during our research was a lack of self-confidence, so we included stories about real teen mums who perhaps opened a business or overcame a lot of challenges, but now their life is okay. We also gave tips on how you can overcome a bad experience at the health centre and we showed them that they have the right to be treated as equally as others. Another issue was around the involvement of the child's father. So, we have stories around how you as a teen mum can reach out to the father of your child and ask for his support, and if he won't help, what are the different types of support you can access. Insights in general showed us the importance of using a "gender transformative approach" in all the messages we give. We were explicit in highlighting the unequal gender norms that are the root cause of all these barriers around stigma and lack of support, and the importance to challenge this unfair status quo.
How successful has the campaign been?
We recorded an 8% increase in the proportion of teen mothers answering questions related to vaccine knowledge correctly, and in their intention to ask their child's father to take the child to hospital for some of their appointments, which is a huge achievement. But it's not really the numbers that tell the success of the campaign, it's a teen mums club showing us the kitchen garden they started, or telling us that they have involved their father, or the father of their child, asking them to maybe do something for the child. Some of the boys and the girls' parents also self-reported real examples of behaviour change, which is what made me think the campaign was successful.
Could any of these insights help improve vaccine uptake in other Sub-Saharan African countries, or elsewhere?
Even if the practical steps for accessing healthcare are slightly different, I think some of the barriers that we identified are common, particularly in other African countries. So, I'm pretty confident that these insights can help inform programming elsewhere.
Based on our experience, we have also created a model of best practice for anyone who wants to build a programme for teen and young mothers to follow, as well as an evidence-based brief based on our research.
Documents
GER Model of Best Practice Formative Program Brief
Ilaria Buscaglia is a senior qualitative analyst at Girl Effect Rwanda, an international non-profit media company creating content to help adolescent girls make choices and changes in their lives.