Typhoid: immunising against antimicrobial resistance
Typhoid fever is increasingly resistant to the main antibiotics used to treat it. Gavi is supporting a new vaccine to help control this deadly disease – and fight antimicrobial resistance.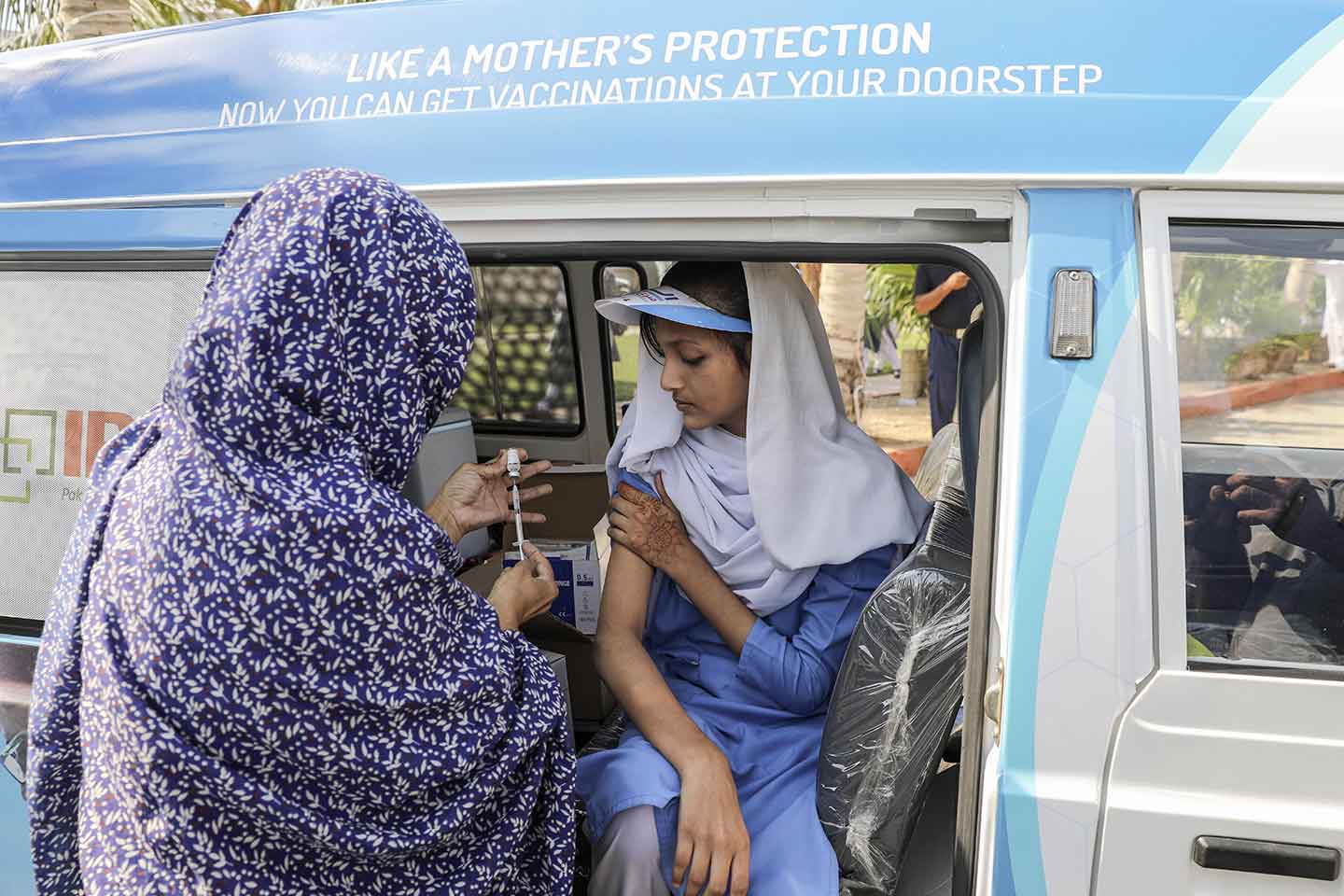 In November 2019, Pakistan took a big step forward to protect future generations when it became the first country to introduce typhoid conjugate vaccine (TCV) into its routine immunisation programme. Spread through contaminated food and water, typhoid is a preventable disease that disproportionately affects young people and under-served communities in Asia and sub-Saharan Africa. It is often associated with poorer urban areas where there is little access to sanitation or clean water.
Worryingly, typhoid is increasingly resistant to the main antibiotics used to treat it. More than two thirds (70%) of deaths from typhoid and close to two thirds (63%) of cases in Pakistan in 2017 were among children under 15 years old. Worldwide, nearly a third of deaths occur in children under five. By protecting all children with this new vaccine, the government will help to ensure they have healthier futures.
This new typhoid vaccine is the first to be approved for use in children as young as six months old. It also likely provides much longer-lasting protection than older typhoid vaccines.
The vaccine was first launched in the southern province of Sindh, where an outbreak of extensively drug-resistant typhoid has been ongoing since late 2016, infecting more than 10,000 people. Samples taken in the region have shown resistance to five of the six antibiotics currently used to treat typhoid fever.
Children are disproportionately affected by typhoid and its associated complications, and we strongly believe that TCV would protect our children against potentially fatal disease of typhoid.
TYPHOID FACTS
Better hygiene and access to antibiotics have largely eliminated typhoid from industrialised countries, but it remains a serious threat in low-income countries. Typhoid affects more than 11 million people annually, causing over 128,000 deaths – mainly in sub-Saharan Africa and South Asia. Almost a third of all cases are among children under five, highlighting the importance of preventing typhoid in children.
Zimbabwe too is concerned about drug-resistant typhoid in the capital, Harare, following an outbreak of the disease, and has used TCV in a campaign to vaccinate children in the city – especially those living in poorer urban areas. Evidence from Harare shows that around one in every five cases of typhoid is resistant to ciprofloxacin, the standard antibiotic used to treat the disease.
When antibiotics were introduced, they hugely reduced the impact of the disease; but growing resistance has led to a significant increase in the number of both cases and deaths. While vaccination is a helpful tool, reducing the burden of typhoid also requires investment in clean water, sanitation and hygiene.
As well as Zimbabwe, Liberia is planning to introduce TCV in 2020 with Gavi support, and several other countries are considering use of the vaccine. For countries where typhoid is endemic and where large numbers of people are infected each year, this vaccine could be a game-changer, protecting this and future generations from disease and death, and helping in the fight against antimicrobial resistance.
Read more about how Gavi has accelerated equitable uptake and coverage of vaccines in Gavi's 2019 Annual Progress Report.