Why addressing burnout among healthcare workers is crucial to advance health-related SDGs
While governments, NGOs and the private sector often commit to putting patients first, the need to recognize healthcare worker burnout is just as vital.
18 September 2023
5 min read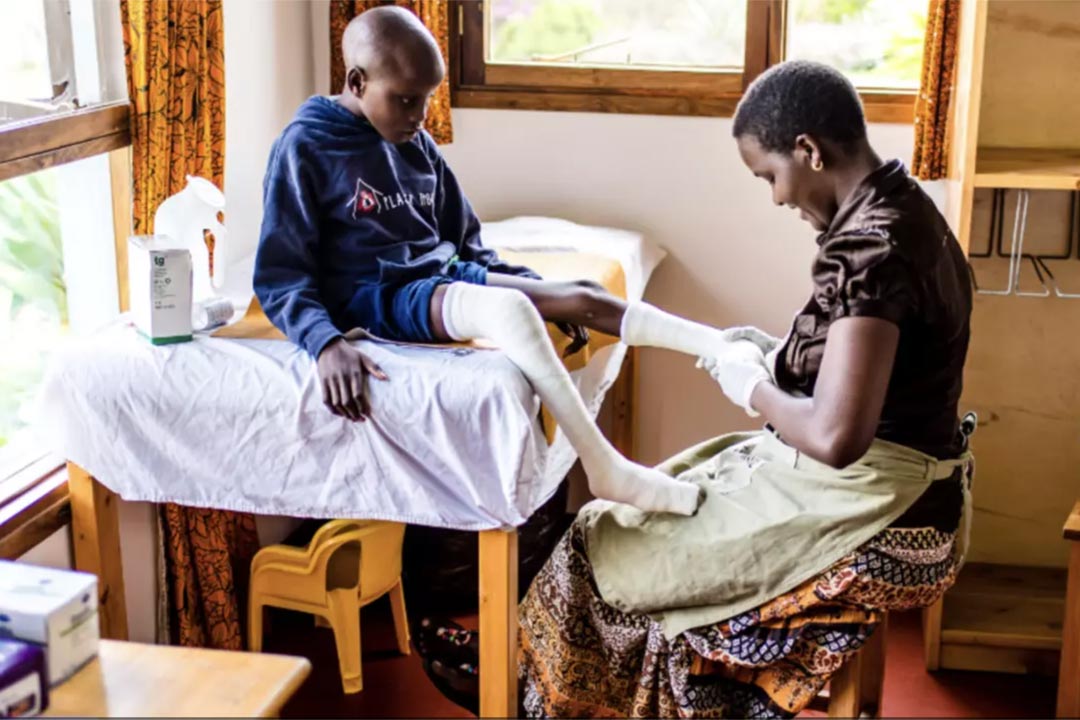 Heartbreaking stories of healthcare worker burnout have been widely covered in the media, but its impact extends beyond North America and Europe.
Frontline health workers worldwide face exhaustion and burnout at alarming levels, and in many places, the systems they hold together are on the brink of collapse.
As we approach the halfway point for meeting SDG targets by 2030, we must address this aspect in relation to the audacious but reachable targets set out in Sustainable Development Goal (SDG) 3: Good Health and Well-being.
We must make rapid and accelerated progress in combating burnout for those who lead the way forward in building a world with health for all. We are not going to succeed in reducing maternal mortality (Target 3.1), ending preventable deaths for children under five (Target 3.2), achieving Universal Health Coverage (Target 3.8), or any of the other targets without a thriving, supported and healthy workforce.
Recent statistics reveal the extent of the startling reality — a study conducted by the Qatar Foundation and the World Innovation Summit for Health (WISH) in collaboration with the World Health Organization found that approximately 50% of healthcare professionals suffer from burnout. When focusing on nurses and physicians, the rate of healthcare worker burnout increases to a worrisome 66% — two out of every three providers.
"The increased pressure experienced during the COVID-19 pandemic has clearly had a detrimental impact on the health and well-being of health and care workers. The pressure isn't new, but COVID-19 has brought into sharp focus the need for better care for those who care for us," said Sultana Afdhal, Chief Executive Officer of WISH, commenting on the study.
In countries with already underfunded clinics and hospitals, COVID-19 has left staff without safe working environments, resulting in patients not having access to the safe and quality medical care we all deserve. Across rural Uganda to the bustling streets of Haiti's capital, Port-au-Prince, medical teams are overwhelmed and forced to make daily choices that impact who can access critical healthcare.
When we adequately invest in our frontline healthcare workers, however, last-mile and life-saving healthcare is within our reach. These investments result in patients getting access to care that can save their lives and move our global community closer to achieving our commitment to health for all.
Investing in current and future healthcare workers
While governments, NGOs and the private sector often commit to putting patients first in their plans and strategic investments, the need to honour, recognize and invest in healthcare workers — both today's and tomorrow's — is just as important.
When we reached out to our frontline partners at African Mission Healthcare to learn about the best ways we can support them at this critical moment, Dr Stella Njenga, OB/GYN at Kenya's AIC KIjabe Hospital, said it's important to "realize that doctors are also humans who bear a heavy physical and emotional burden from interacting with all kinds of patients daily."
"We, at times, just need a listening ear to debrief and, at times, time off to recalibrate and recover from the pressures of this career."
Who could be better positioned to reimagine our healthcare systems than those who serve patients on the frontlines, day after day? At Watsi, our commitment to amplifying the voices and perspectives of local leadership reflects our dedication to listening to and empowering those who understand their communities best. In our effort to provide immediate support and ensure our healthcare heroes continue to thrive, we have been exploring fresh, imaginative solutions to tackle healthcare worker burnout, including embracing creative arts, community building and investments in AI technology.
Listening to our healthcare workers for solutions
Through listening to our healthcare workforce in communities worldwide, several solutions come into focus. If our global community is to meet our SDG3 commitments by 2030, robust, immediate investments are needed, including:
Expanding access to mental health services for patients and providers.
Adequately staffing facilities and fairly compensating health workers.
Harnessing AI and tech innovation to ease administrative burdens and increase time spent with patients, not paperwork.
Building bridges for comprehensive community support systems that increase access to timely preventative care and critical follow-up support for patients to also address social determinants of health, such as housing, employment, food insecurity and the environment.
Amplifying local voices in decision-making and ensuring frontline workers have a seat at the table as we reimagine and rebuild the healthcare systems of the future.
Embracing non-traditional approaches to healing, including art, music and nature-based interventions.
Investing in developing the next generation of healthcare leaders who can, in turn, serve their own communities for years to come.
Through the tireless dedication of our frontline workers and our shared commitment to these transformative principles in support of those who care for us, we can truly reimagine and rebuild healthcare systems that work for everyone, bringing us closer to a healthier, more equitable world.
Together, we must renew our focus and commitment to achieving SDG3 — forging a new path towards a brighter future for all.
---
Written by
Mackinnon Engen, Executive Director, Watsi
Website
This article was originally published by the World Economic Forum on 13 September 2023.
More from World Economic Forum