From availability to arrival: How COVAX doses make it to countries
By the end of 2021, COVAX will have delivered approximately 800 million doses to 144 countries around the world – the largest and most complex vaccination rollout in history. But what exactly does it take for doses to arrive in countries?
14 December 2021
3 min read
COVAX secures its vaccines either through direct purchases from manufacturers (advance purchase agreements) or in the form of donations from higher-income economies. The journey of a vaccine – from initially being made available to landing in a country ready to be used – involves a number of individual steps, which COVAX works with manufacturers and countries to complete as quickly as possible. These are: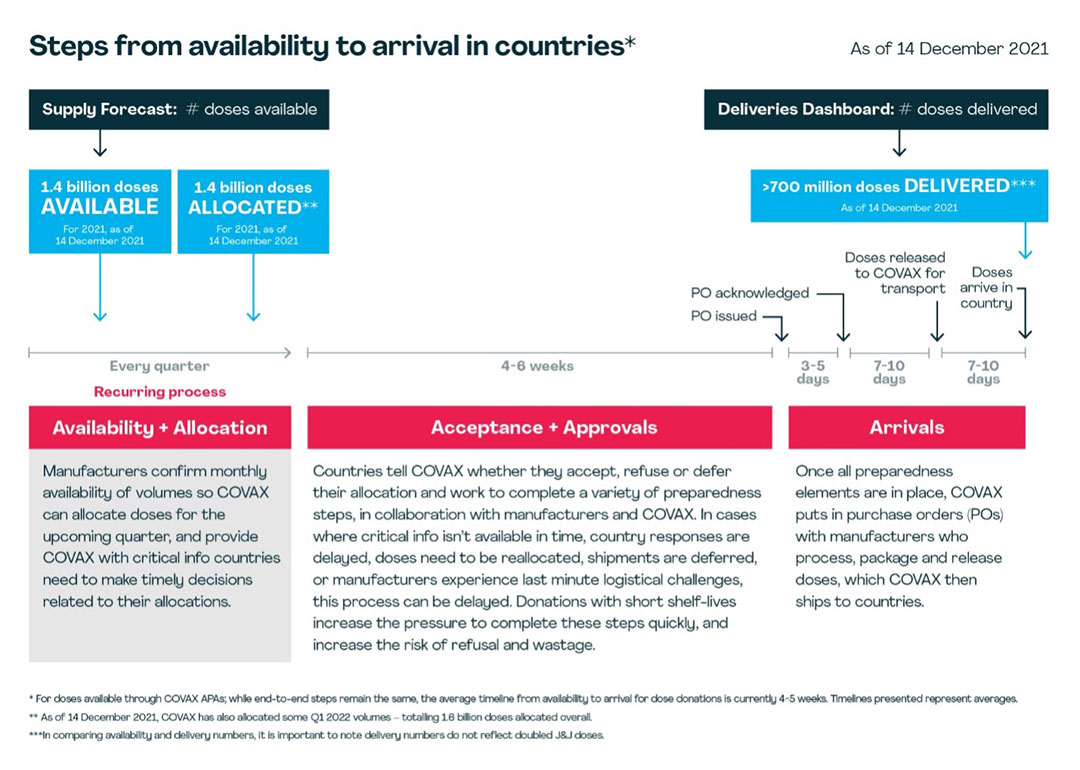 Availability
COVAX's Supply Forecast provides a long-view – based on regular interaction with manufacturers – on when doses are estimated to become available from manufacturers. As a part of these conversations, manufacturers confirm the availability of doses for the upcoming quarter, including the monthly breakdown of volumes.
Allocation
Once availability is confirmed, COVAX is able to allocate doses to countries. Ideally, this is done at least three months in advance to give countries time to plan for successful roll-out. Allocations take into account the latest information from recipient countries on their "absorptive capacity" – their ability to store and roll out large numbers of vaccines to their populations before the vaccines' expiry date – as well as any voluntary monthly supply caps they have asked COVAX to adhere to. Before COVAX can send countries letters with specifics of their allocation, manufacturers must provide more granular details on supply nodes, release timelines and shelf life.
Acceptance
Based on the information in their offer letter, countries decide to accept, refuse or defer their allocation within a set time frame, depending on shelf life of doses. If the allocation is refused or deferred, COVAX then seeks to re-allocate the doses.
Approvals
There are several readiness elements that must be in place before accepted doses can be packaged and shipped. Recipient countries must have signed the manufacturer-specific indemnity and liability agreement, granted national regulatory approval for the vaccine, issued an import permit and, for some manufacturers, complete additional readiness checks. COVAX supports the coordination of this process across all lower-income countries. Most approval processes require active engagement from both the manufacturer and the recipient country.
Arrival
Once these elements are in place, COVAX places procurement orders with manufacturers. Manufacturers may communicate last minute changes in availability based on logistical or scale up challenges, which can also impact timelines.  Manufacturers process these orders, confirm batch release timelines and pack orders for transport. COVAX coordinates the transport of these doses to lower-income countries, and in some instances, self-financing participants as well.
Real-time information on COVAX deliveries to countries is available under the "Deliveries" tab of the UNICEF COVID-19 Vaccines Market Dashboard.
More from Meghana Sharafudeen