Which lower-income countries saw the biggest COVID-19 vaccination coverage gains in 2022?
Throughout 2022 COVAX helped lower-income governments to roll out jabs and launched an initiative to help those furthest behind improve. So which countries made the biggest strides in coverage? The answer may be surprising.
15 February 2023
5 min read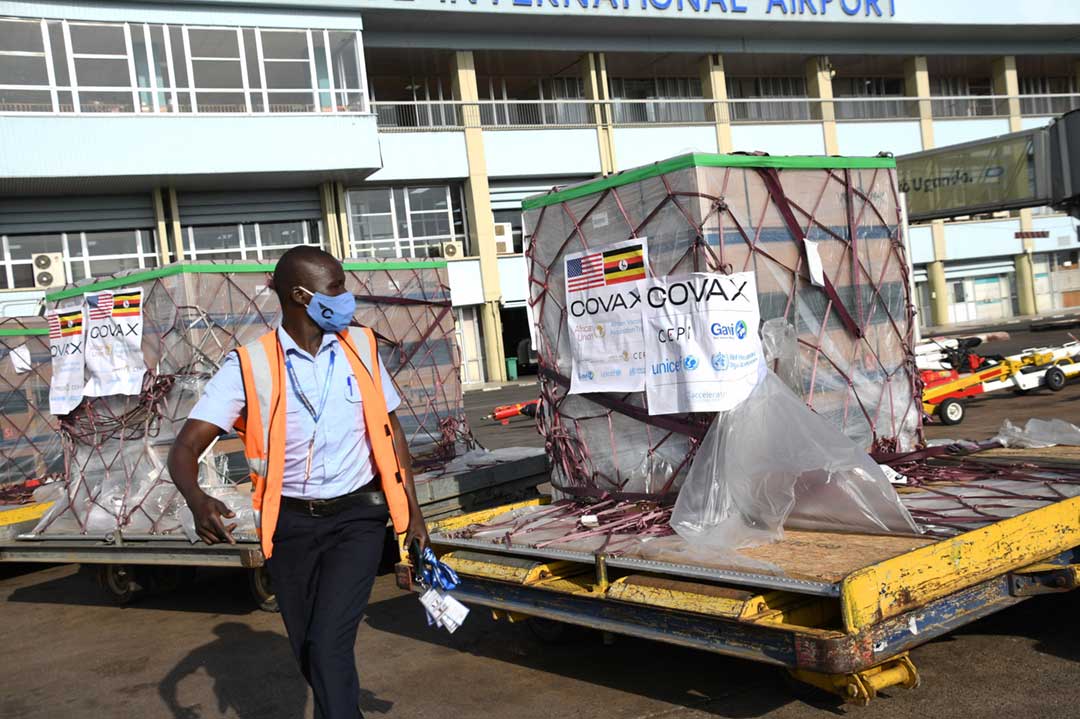 In 2022, countries around the world pushed to increase COVID-19 vaccination coverage rates, but which lower-income countries saw the biggest improvements? All the countries in our top 10 list faced competing priorities that make their progress remarkable – in some cases dealing with conflict and humanitarian crises. Their resilience paints an important picture of the power and impact of political leadership, innovation, and community-led interventions in overcoming even the most difficult challenges.
10. Somalia
Despite political insecurity and weakened systems that make delivering even the most basic services a challenge, in 2022 Somalia launched a series of accelerated campaigns to push towards national COVID-19 vaccination targets. Thanks to political and community engagement at every level, including focused support from COVAX's COVID-19 Vaccine Delivery Partnership, primary series COVID-19 vaccine coverage increased from 5% in January to 40% by the end of 2022.
9. Côte d'Ivoire
Côte d'Ivoire was among the first countries to receive COVAX doses in early 2021, and Patrick Achi, current Prime Minister, led the way by becoming the first person in the country to receive a jab. That trend of high-level political commitment continued. In the face of a historic emergency, Côte d'Ivoire prioritised immunisation at every level – making sure routine programmes stayed on track alongside COVID-19 vaccination efforts. Championing integrated campaigns that were able to reach people with multiple lifesaving vaccines in one go, the country set an example that stability and recovery are achievable goals: in 2022, Côte d'Ivoire increased coverage rates with vital routine jabs against measles, diphtheria, tetanus and pertussis while also increasing COVID-19 vaccination coverage by 36 percentage points over the course of the year.
8. Sierra Leone
To take two-dose coverage from 4% to 43% in just one year, Sierra Leone capitalised on social mobilisation and community-led action to address vaccine hesitancy and debunk disinformation, and drew on previous experience handling outbreaks of polio, measles and Ebola. In an interview for Gavi's VaccinesWork platform, the head of the country's Expanded Programme on Immunisation, Dr Tom Sesay, emphasised that "collaborative leadership is key to responding to a pandemic" – with Sierra Leone's successes helped by commitment at the highest levels from President Bio, the Cabinet and parliamentarians.
7. Mozambique
In Mozambique, a country also grappling with the impacts of interrelated crises such as conflict and climate change, the keys to COVID-19 vaccination success were social mobilisation and community engagement to create awareness and demand for vaccines. These efforts were combined with extended training of healthcare workers and several targeted vaccine campaigns and, in a common pattern emerging across all countries, political commitment at the highest levels – with President Nyusi continuously advocating for the importance of vaccination. By mid-2022, Mozambique had vaccinated nearly all of its adult population, taking two-dose COVID-19 vaccine coverage from 19% in January to nearly 60% by the end of the year.
Have you read?
6. Zambia
Zambia, like many countries around the world, not only had health systems that were unprepared for the scale of the pandemic, but also had the uphill task of fighting vaccine hesitancy and misinformation. To encourage uptake, President Hichilema received the first vaccine shipments publicly and continued to call for vaccination, with parliamentarians required to set an example and get vaccinated. Strategic use of media campaigns to publicise vaccination campaigns, combined with support from community leaders, quickly changed the view of the population encouraging masses to go out and get vaccinated. In 2022, Zambia increased two-dose coverage from 4% to 46%.
5. Bangladesh
The incredible increase in Bangladesh's primary coverage from 33% to 77% through 2022 can be attributed to a number of factors including the use of real-time data to make informed decisions rapidly, and rapid sharing of this data at the highest political levels and key stakeholders to inform strategic interventions. The country prioritised strong coordination between inter-ministerial and various state departments, and vaccines were rolled out with close direct oversight by the office of Prime Minister Hasina, a long-standing immunization champion.
4. Nepal
Nepal's primary coverage made a dramatic leap from 37% in January 2022 to over 80% by end of 2022. Among several state-led initiatives to ensure no one is left behind, the government also required people to get the vaccine to access public services – helping drive uptake.
3. Tanzania
Following a shift in national policy on the pandemic, and a push from activists, Tanzania joined COVAX in June 2021 and began national roll-out. Pushing to make up for this late start, the country went all in on high-level political advocacy to fight vaccine disinformation and encourage uptake. Current president Samia Suluhu Hassan televised the receipt of her first vaccine. Health care workers and community volunteers across the country went the extra mile to ensure people received these lifesaving jabs, particularly the most vulnerable – including refugees. These efforts helped take coverage from 2% at the beginning of 2022 to 50% by the end the year.
2. Nicaragua
In late 2021, Nicaragua's coverage raised concern, as they had yet to reach 20% primary coverage alongside seven other territories in the Americas that lagged behind. However, by the end 2022, nearly 90% of Nicaragua's population was fully vaccinated – a remarkable and steady increase from 40% in January – thanks to a dedicated push, spearheaded by intense community engagement.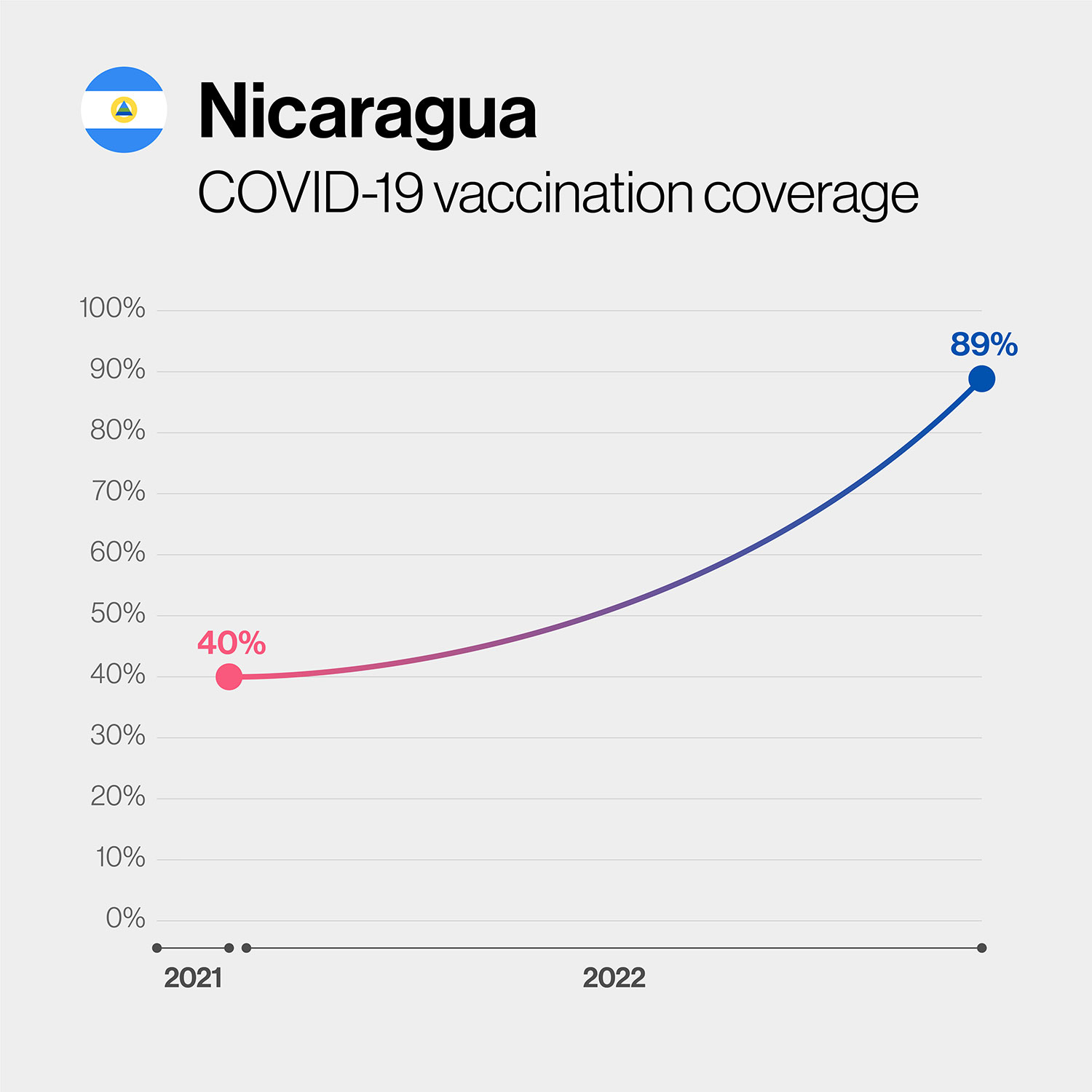 1. Liberia
Number one on our list is Liberia, which took coverage from 20% to 74%% in 2022. When roll-out first began with COVAX doses in 2021, efforts ran up against myths and disinformation circulating through communities. However, with a series of mass vaccination campaigns, the Ministry of Health took the lead in engaging partners – including religious, community, and civil society leaders – to ensure the importance of vaccination was communicated at every level.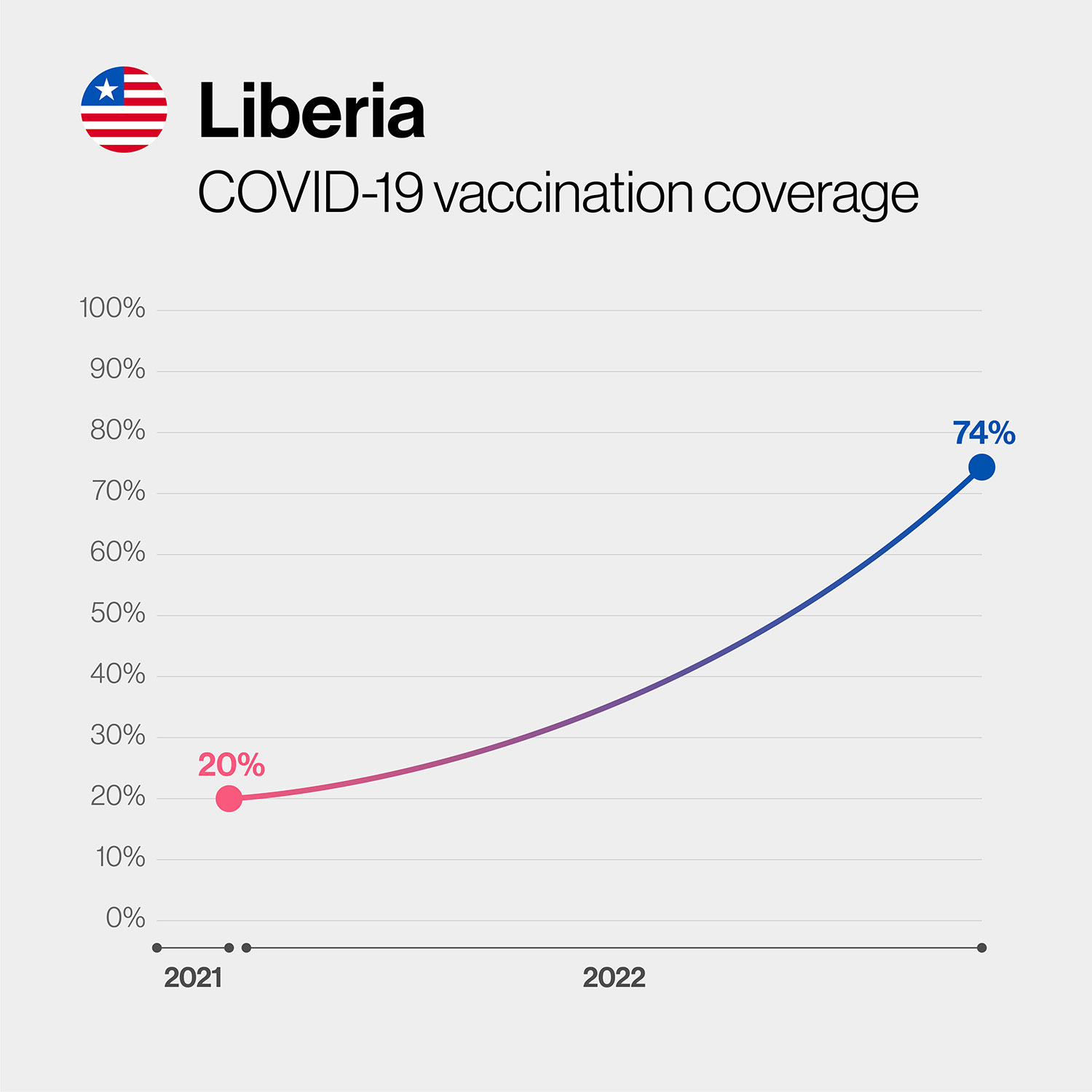 More from Meghana Sharafudeen