In Bangladesh, COVID-19 vaccines were a ticket back to independence for underprivileged 'third gender' people
Legally recognised but socially and economically marginalised, trans Bangladeshis encountered COVID-19 as an acute existential threat.
10 October 2023
5 min read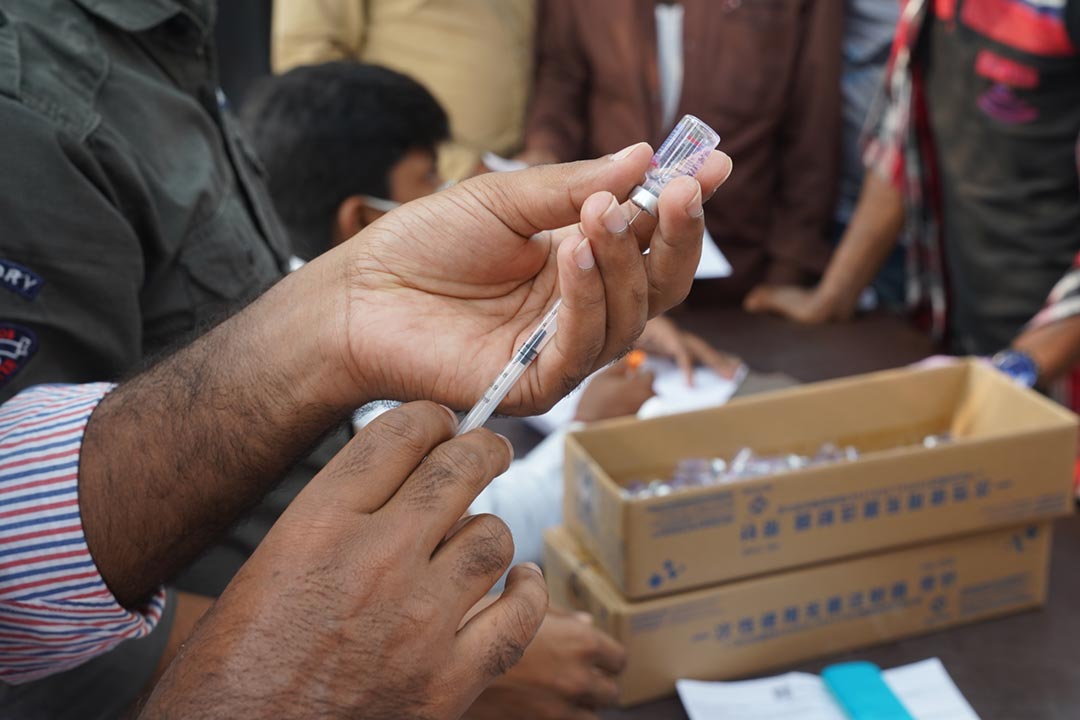 Like many other underprivileged people in Bangladesh, Mitul, a transgender woman, struggled a lot during the COVID-19 pandemic. She was mortally afraid of the deadly disease, and faced a hunger crisis when her opportunities to earn a living were constricted by the nationwide lockdown.
"We had passed a horrible situation during the COVID-19 pandemic, when we were seeing regularly that many people in our country were dying every day from the coronavirus infection," Mitul recalls. "At the same time, we also struggled due to lack of food, as our income source was closed."
Mitul, a a resident of Hemayetpur village in Pabna district, received her third dose or booster dose of the vaccine from the vaccination centre set up in Pabna Police Line Hospital, having registered through the government's online vaccine registration system, known as 'SUROKKHA,' using her National Identity Card (NID).
"The third gender people were registered for the vaccination. We inoculated them as per the government's directive of inoculating all people with the jab against the coronavirus."

– Dilara Zaman, vaccinator at the COVID-19 Vaccination Centre, Dhaka Dental College
But accessing the COVID-19 jab has typically been harder for trans women than for their cisgender counterparts. Mitul, who is considered a leading voice in the approximately 120-strong transgender community in the district, and who is also the President of Third Gender Development Organisation, explained that many of her fellow trans women have no NID.  For others, access is hampered when their appearance is found to differ from the gender mentioned on their cards.
Stigma also complicated access. "General people, especially many women, feel discomfort to take vaccine along with us. Many people stared at us with odd look. At the same time, when we go to take treatment in hospitals for general treatment, we also face problems as the health care staff do not feel comfortable in giving services," she said.
If access was difficult, getting vaccinated brought profound relief. After getting the full complement of COVID-19 vaccines, Mitul said her fear for life started to fade. She found herself able to return to normal life with rest of the nation as the government withdrew the temporary lockdown.
From acute vulnerability to neo-normal
The "rest of the nation," or the proportion of the population Mitul calls "general people", refers to the people who belong to the two genders that encompass Bangladesh's majority: cis males and cis females. "Third gender" people in Bangladesh – those often termed "hijras" locally – comprise a gender spectrum that encompasses intersex people, trans individuals and eunuchs.
In 2014, Bangladesh's government recognised hijras as a formal third gender in a bid to ensure their rights – creating recognised space for them in all formal government documentary systems, including passports and NID cards. In the Election Commission's latest voter list for instance, which was published in March 2023, trans voters were listed as belonging to the third gender.
But formal recognition hasn't immediately brought social integration or security. Transgender men and women are still regularly deprived of their rights and are often treated with cruel discrimination by society at large. Many are isolated from their families of birth.
As a consequence, it's common for transgender people to choose to live in community groups, headed by community leaders referred to as 'Guru Ma.' Many hijra people live on the socio-economic margins. Begging is the major source of income for the vast majority. Very few trans individuals find employment in other professions.
That left the hijra community at heightened risk during the global COVID-19 crisis. "During the pandemic, we also survived through getting different assistances including food from NGOs and individuals and some from government departments," Mitul recalled.  
Abida Sultana Mitu, Founder President of the Bangladesh Hizra Kallyan Foundation, estimated that there are around a million third gender people in Bangladesh, organised under around 75 "Guru Ma" or community leaders. Ten thousand hijras live in the capital city.
Vaccination was a ticket back to normal for many of them – or at least, to Bangladesh's post-pandemic 'neo-normal'. "All of our people received the corona vaccine that helped us to get back normal life after the horrible pandemic," said Anwari Hijra, a resident of Mirpur area of Dhaka and a member of a community numbering about 50 members.
Another trans woman called Maya, a resident of Duaripara, also in the capital city, said many of her community were infected with the coronavirus. At least one died.
Campaign inclusion, social exclusion
The vaccine might have come as a relief, but even in the capital, accessing safety via immunisation could come at a cost to dignity. Dilara Zaman, a vaccinator working at the COVID-19 Vaccination Centre at the Dhaka Dental College told VaccinesWork that they administered the coronavirus vaccines to third gender people in a separate room, out of concern for "general people" who articulated discomfort with their presence.
"The third gender people were registered for the vaccination. We inoculated them as per the government's directive of inoculating all people with the jab against the coronavirus," she said simply.
SM Abdullah-Al-Murad, Program Manager (EPI) of Directorate General of Health Services (DGHS), said the government made sure to arrange access to vaccination for everyone, irrespective of gender or social class.
"Initially, the third gender people got the coronavirus vaccines through registration under special arrangement for different underprivileged, even [those] without NID, through a line-listing system," he explained. "They were also brought under the vaccination through an on-the-spot registration system. Later, we gave them vaccines under several special vaccination campaign," he said.
Because many third gender people in Bangladesh continue to access care under their birth IDs, including the gender markers they were assigned at birth, there is no reliable data on the proportion of hijra people who received the COVID-19 vaccine. Trans group leaders interviewed for this story claimed that everyone they were aware of in their community had been vaccinated.
Bangladesh records a high COVID-19 vaccination coverage rate, with more than 83% of the total population – and more than 100% of the target population, against aims set by the government – immunised with two doses or more.
More from Mohammad Al Amin