In Burkina Faso, 'revolutionary' tech is keeping vaccines fresh and diseases at bay
In Ouagadougou's Bogodogo health district, Parsyl technology has revolutionised the conditions under which vaccines are transported and stored.
22 September 2023
8 min read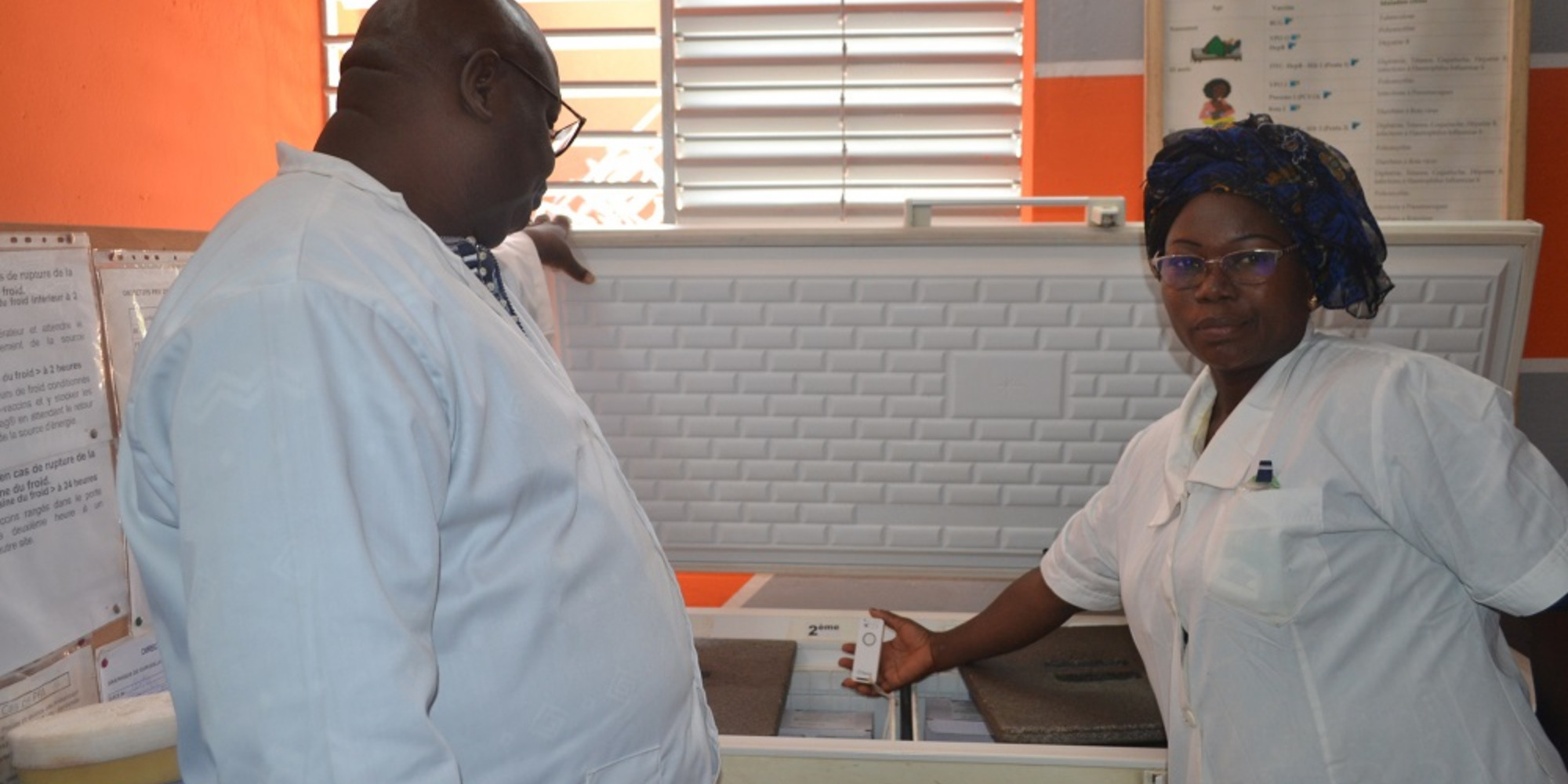 Follow the vaccine supply chain from A to Z
It's 10:23 at the Sector 51 Urban Medical Center (CMU) in Ouagadougou, Burkina Faso. Clarisse Bonkoungou enters the vaccine storage room.
Before preparing routine vaccines for administration to a hundred or so children accompanied by their mothers, she meticulously checks that the vaccines have been stored at the correct temperature.
She takes out her mobile phone and opens the Parsyl application. Approaching the Parsyl-branded fridge, she scans a QR code on the side. The application displays: 3.7 degrees.
"Thanks to this technology, 17 types of vaccine are stored efficiently in our health centre, and it's these reliable vaccines that are administered to children."

– Jonas Kiema, CMU's care coordinator
The temperature is just right. The vaccines have been stored in the required conditions and can be safely administered to children.
Sector 51's CMU has been using Parsyl technology since 2022. How does it work? Parsyl is a vaccine storage and transportation system that includes a wireless data logger installed inside the refrigerator to monitor temperature, humidity and light, all of which affect the efficacy of vaccines.
Its compact size and long service life (three years) make it ideal for gaining visibility of sensitive products, from origin to destination, both during transportation and storage.
"Thanks to this technology, 17 types of vaccine are stored efficiently in our health centre, and it's these reliable vaccines that are administered to children."
The Parsyl Passport, meanwhile, is positioned on the outside of the refrigerator and automates data transfer from Parsyl Trek devices throughout the facility. When a Trek device is in range, data is transparently transferred to the Parsyl platform. The Passport can be placed horizontally on a desk, fixed to the wall using the slots on the back or taped into place.
The Parsyl mobile application automatically detects the Passport and connects to Trek devices associated with the same account. It shows which sensors have issued alerts and for how long the device has been exposed to undesirable environmental conditions. Data from Parsyl devices is automatically uploaded to the Parsyl data platform, where it is aggregated and analysed to identify trends and provide insights.
"Our temperatures are maintained between two and eight degrees. The right temperature guarantees quality vaccines. When the temperatures are not correct, the Parsyl device issues an alert, which is also relayed to the Direction de la Prévention par la Vaccination (DPV – Directorate for Prevention by Vaccination), flagging up the problems with a refrigerator in a specific health centre. We therefore receive an alert when the refrigerator is not working at the correct temperature," explains Daouda Ouattara, who is in charge of vaccination for the Bogodogo health district.
He adds: "Previously, we had monitors where we had to open up the device to get the data. With the Parsyl device, we have the correct temperatures and, unlike other devices, it allows us to transmit information to the DPV at regular intervals, in order to determine whether or not the vaccines can be used."
"Our solution allows us to track the vaccine supply chain from A to Z, from storage to transportation between the various links in the supply chain," explains Souleymane Sawadogo, Global Health Manager at Parsyl.
"At central level, when imported vaccines are received at the airport and are delivered to the central depot, sensors are used in the cold rooms and in all the central depots. Similarly, during the transportation of vaccines from the central level to regional levels, drivers and employees use these sensors in their trucks to ensure optimal tracking. Regional depots are also equipped with these sensors in their freezers and cold rooms. When vaccines are transferred from the regional level to the 72 districts, these sensors are also used to track the vaccines," he explains.
"Freezers and refrigerators in districts, health centres and vaccination sites are all equipped with these sensors. The sensors are even used in coolers for transporting vaccines when we are implementing advanced strategies. This ensures complete visibility from storage to transportation at every stage of the supply chain."
A vaccination revolution in Burkina Faso
According to Clarisse Bonkoungou, head of the EPI, this technology has revolutionised the transportation, storage and quality of vaccines. "Previously, when we opened the fridge to check the temperature, air would get inside and warm up the vaccines. This could alter their temperature. This technology is very welcome," she confides. "This technology has saved many children."
Prior to using it at CMU, "we explained to mothers and mothers-to-be that we now have a device for checking the reliability of vaccines. If a vaccine isn't of good quality, we won't administer it. This has resulted in a record number of children – 200 to 300 – being vaccinated every day. Mothers know that when they come to our health centre, the vaccines are available and reliable," says the EPI manager.
Have you read?
Since October 2022, this technology has been used at Sector 51's CMU to guarantee the efficient storage and transport of all routine vaccines. "Since its implementation, we have been completely satisfied with the technology, as it allows us to verify the effectiveness of vaccines. Seventeen types of vaccine are efficiently stored in our health centre, and these reliable vaccines are then administered to the children," confirms Jonas Kiema, CMU's care coordinator for sector 51.
Isabelle Bonkoungou, an itinerant health agent at the EPI office of the CMU in sector 51, is responsible for assisting the manager with ordering vaccines, advanced vaccination strategies and vaccine registration. In her opinion, this technology has considerably improved the conditions for transporting vaccines from the training centres to vaccination areas. "Previously, in the absence of this technology, the conditions under which vaccines were transported were not always good. But today, when we place the devices in the vaccine carriers, they allow us to precisely monitor the temperature and take care of the children," she confirms.
"Our temperatures are maintained between two and eight degrees. The right temperature guarantees quality vaccines."

– Daouda Ouattara, in charge of vaccination for the Bogodogo health district.
The technology has also changed people's perception of vaccination campaigns and fixed or advanced vaccination strategies. "Many curious parents ask us what these tools in our vaccine carriers are for. We explain the benefits to them, and they are then the ones who encourage other parents to come and have their children vaccinated as soon as we arrive. People are very supportive of vaccination because we have eradicated many diseases. They understand the benefits of vaccination," says Isabelle Bonkoungou.
This is the case for Nafissatou Diallo. With her son, Angel, in her arms, she is delighted that he is benefiting from good vaccinations at the CMU. "Ever since I've been bringing my child to this health centre for his vaccinations for the last eight years, he has always been in good health," she says happily.
The Parsyl solution is designed to be used everywhere, reaching even the most remote and isolated areas. According to Souleymane Sawadogo, this is what sets Parsyl apart. "Our solution is based on a mobile application for Android phones. There's no need for everyone to have the latest Android phone, as our device is extremely intuitive. It is equipped with lights that indicate whether there is a problem or not. For example, if you place the device in a refrigerator in an area where there is no access to electricity or network connection, the indicator lights are enough to signal that there is a problem, enabling appropriate decisions to be made to ensure optimal vaccine preservation.
"Thanks to Bluetooth technology, our device doesn't need a cellular connection, which is a considerable advantage.
"However, as soon as your phone detects a cellular connection (whether it's one day, ten days or 20 days later), the data is automatically downloaded. In health centres, for example, supervisors often visit health zones on a monthly basis. All they have to do is visit each health centre, connect via Bluetooth and check the conditions. Once they return, all data is updated and no data is lost."
All data stored in the device is available for more than three years, guaranteeing complete visibility over the entire period. "Our aim is to offer an optimal, easy-to-use solution, right down to the last kilometre. That's at the heart of our vision."
A remarkable effort by Burkina Faso
Just like at the CMU in sector 51, the use of Parsyl technology is also having a positive effect in the Bogodogo health district and throughout Burkina, says Boukaré Ouédraogo, specialist in health logistics at the DPV. "We are sure that as soon as the vaccines leave the central level, they will arrive in the regions, districts and health facilities in good condition and well preserved within the recommended temperature range."
He adds: "Since 2019, more than 10 million doses of vaccine have been monitored by the Parsyl device each year."
To guarantee the effectiveness of Parsyl vaccines, Ouédraogo points out that three health workers have been trained in the use of the technology in each of the country's health districts. "After this training, the country asked for Gavi's support, and they responded favourably," he enthuses.
According to Ouédraogo, Gavi's support has enabled the Parsyl device to be procured and installed in 200 of Burkina Faso's 2,242 healthcare establishments. "There are still many healthcare establishments that do not yet benefit from this technology. We would like to appeal to our partners, and to Gavi in particular, to extend this technology nationwide. The feedback from the field on the Parsyl system has been positive," says Boukaré Ouédraogo.
For Souleymane Sawadogo, the efforts made in Burkina Faso to deploy the Parsyl solution are nothing short of remarkable. "We should really congratulate Burkina, and I'm not just saying that because I'm Burkinabe," he laughs. "With a large part of the country classified as a zone of insecurity, Burkina Faso has made every effort to implement this solution throughout the country. But what's interesting is that the health workers in these districts asked if the devices could be sent to them so they could instal them themselves, as they didn't want to be excluded. Despite the difficulties encountered in the field, they did everything they could to implement this solution."
"For me, this is a source of pride."
---
This article was translated from the original French. To view the original click here.
More from Abdel Aziz Nabaloum