Community health workers are critical in delivering COVID-19 vaccines
Delivering COVID-19 vaccines in low- and middle-income countries is only the first step in being able to vaccinate the world and bring this pandemic to an end. It's essential to get vaccines from tarmacs into the arms of people living in last mile communities. Community Health Workers are well positioned to do exactly that.
23 September 2021
5 min read
Since March 2021, Liberia has received nearly half a million doses of COVID-19 vaccines through the COVAX mechanism. The initial shipment had an expiration date of July 10, creating a race against the clock to administer the vaccines before they expired.
The Liberia Ministry of Health teamed up with partners like Last Mile Health to administer the vaccines across 14 counties, focusing on rural and remote communities - the last mile in achieving vaccine equity. Through this joint effort, more than 86,000 people, including 12,000 community and frontline health workers, were able to receive their first dose of the vaccine. Community health workers (CHWs) have played an important role in dispelling misinformation and counselling in order to increase vaccine uptake in remote communities.
With many countries in Africa still maintaining high transmission and test positivity rates, which are being further agitated by COVID-19 variants, it will be essential to leverage community health systems to deliver and administer additional doses of the vaccine.
After her first dose of the vaccine, one member of the community shared that counselling from a health worker helped impact her decision: "I had concerns about fever and side effects from the vaccine… After all the counselling, it made me brave enough to take the vaccine."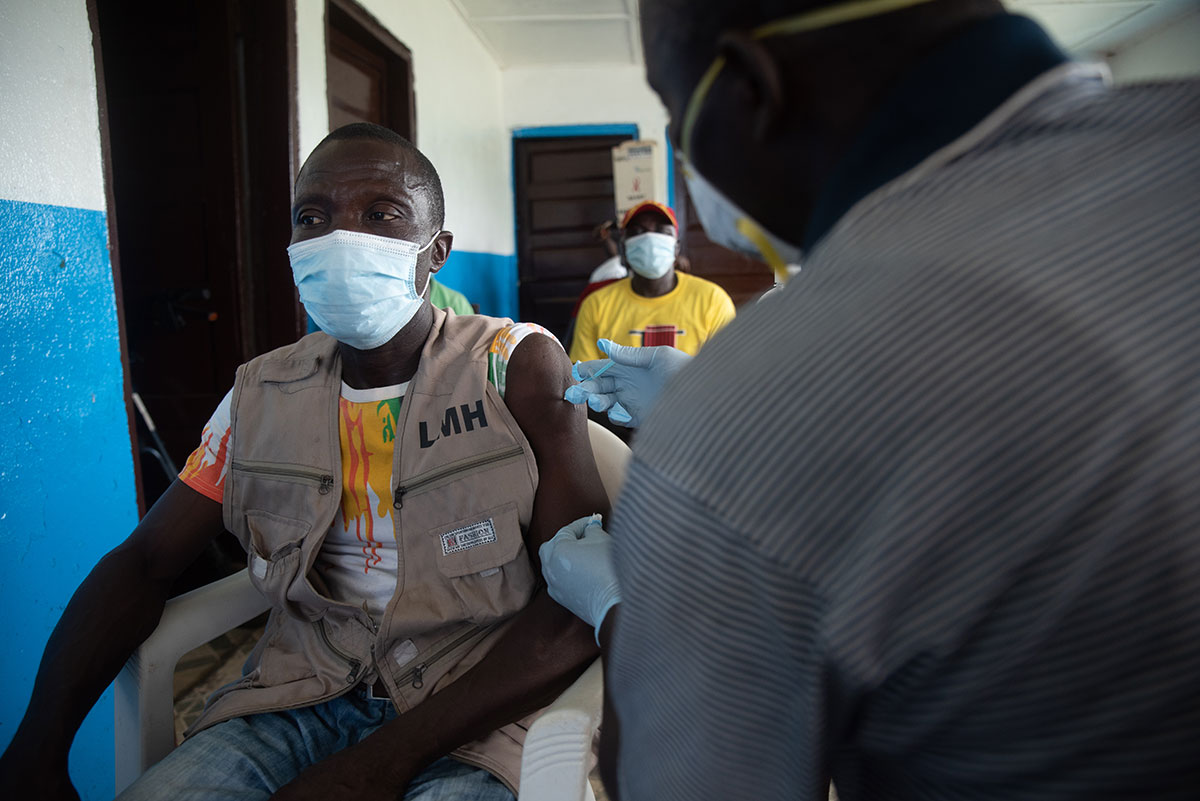 However, despite some small successes, less than 2% of the Liberian population has been fully vaccinated against COVID-19, which serves as a stark reminder that there is still much more work to be done to achieve global vaccine equity.
CHWs serve a critical role in rural and remote communities by providing essential primary healthcare services for those who do not have access to health facilities. By serving as regular liaisons between the community and health systems, CHWs are able to build trust, deliver basic primary healthcare, and monitor disease outbreaks. They are uniquely positioned to drive demand for health services, communicate risk and generate awareness and understanding at the community level.
The COVID-19 pandemic has revealed gaping holes in health systems and exacerbated inequities, disproportionately affecting vulnerable populations. This is not new. During polio eradication campaigns, high national levels of immunisation coverage were achieved while certain clustered communities remained virtually untouched and unvaccinated. Essentially, where community programming was lacking or nonexistent, Oral Polio Vaccine coverage remained low. This direct relationship demonstrates the recognisable impact of community involvement and programming in meeting service delivery gaps.
National cadres of CHWs can expand access to life-saving primary health services in rural and remote communities and offset the effects of weaker and less resilient health systems. A trained and reliable community health workforce helps improve immunisation rates, disease treatment particularly for children under five, disease surveillance, and data collection.
As critical nodes of the health system, CHWs can play a variety of roles in vaccine roll-out, including identifying vulnerable populations outside of the reach of health facilities and connecting them to immunisation centres, generating demand for vaccines to overcome vaccine hesitancy and tracking vaccine delivery in communities, monitoring for and reporting adverse events following immunisations and identifying individuals who have missed scheduled immunisations. As key connectors between health systems and communities, CHWs can strengthen targeted vaccination efforts, quality and quantity of data and integrate national test and trace data systems.
With many countries in Africa still maintaining high transmission and test positivity rates, which are being further agitated by COVID-19 variants, it will be essential to leverage community health systems to deliver and administer additional doses of the vaccine.
CHW programs provide a solution to help make primary health care systems more equitable, however lack of leadership, supply chain issues and unreliable remuneration can limit the effectiveness of CHW programmes. A mere 14% of CHWs in Africa are salaried, meaning that most work for little or no compensation. They also often go unsupported with inconsistent levels of supervision, oversight and training to remain accredited. Despite the critical roles that CHWs often play in pandemic response, it is not uncommon for them to be a low priority in receiving personal protective equipment and other lifesaving supplies. In order for them to play the role that we know they can, they must be fully supported to mitigate these systematic gaps in emergency response.
A vaccine will not deliver itself. In order to truly make this the last pandemic, decisive action must be taken now to continue to support CHW programs to help fill gaps in COVID-19 vaccination roll-out. Health policy makers and investors should support and prioritise the fortification of community platforms in disease eradication programs that leverage engagement at the subnational level, promote local ownership and mobilise CHWs. By providing dedicated funding for CHW programmes and integrating these workers into national vaccine deployment plans, CHWs will be more supported to deliver the COVID-19 vaccine from tarmacs into arms in last mile communities.
Every day that these 'last mile' communities aren't reached with a life-saving vaccine allows for more virulent, deadly, and contagious variants to mutate and spread around the world. Investments in equitable vaccine delivery will ensure everyone, everywhere can be vaccinated and control the pandemic.
Targeted investments will help continue to protect health workers and prevent the spread of the virus while helping bolster the systems in place that will eventually deliver a COVID-19 vaccine to save and protect vulnerable lives. Now is the time to make commitments in community health systems to support developing countries and avert a greater future crisis.