Despite the pandemic, Chad is improving routine vaccination coverage
The latest figures show the enormous toll the pandemic has had on routine immunisation, but one key outlier was Chad. Not only has the Sahel country's immunisation programme weathered the storm, vaccine coverage has increased by 8 percentage points since 2019. How did it do it?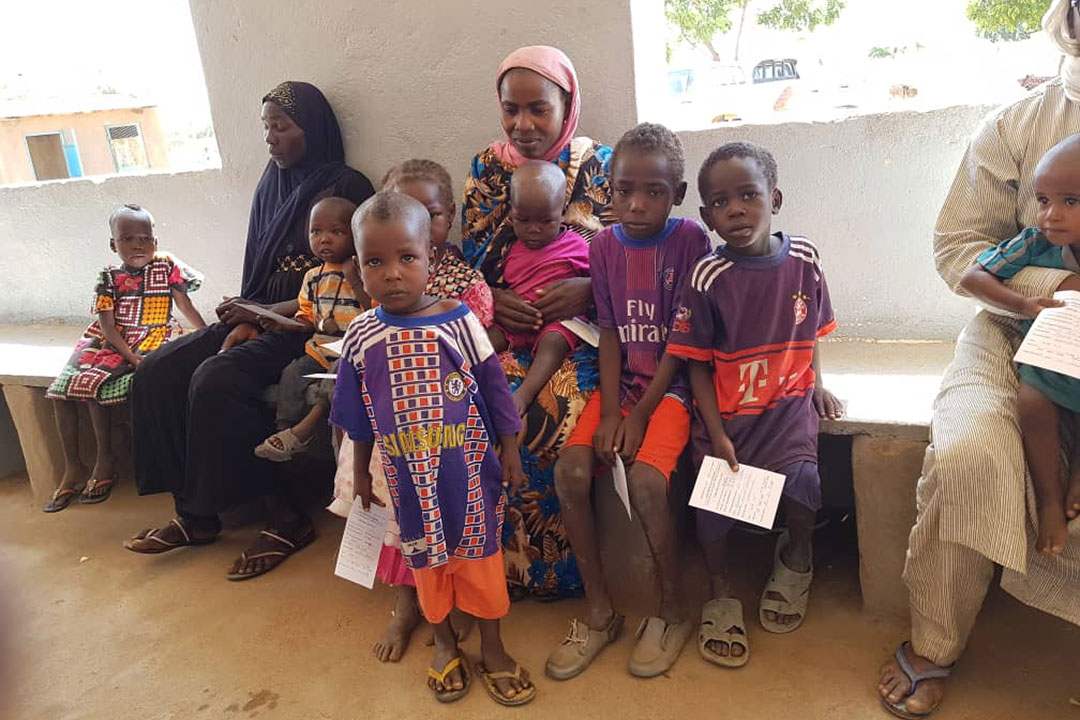 Routine immunisation of children against serious preventable diseases has experienced the biggest drop in thirty years. This is what emerges from the official WHO/UNICEF estimates of national vaccination coverage (WUENIC) published in mid-July.
However, in this gloomy picture there are silver linings. In Africa, Chad is one such bright spot. Unlike most countries, since 2019 routine vaccination has actually improved in this Sahel country. The percentage of children who received three doses of vaccines against diphtheria, tetanus and pertussis (DTP3) – a basic marker of vaccination coverage – increased in Chad from 50% in 2019 to 58% in 2021.
"What we also see in fragile and conflict-affected countries are overstretched and overworked health workers. I think the injection of 235 healthcare workers at the start of the pandemic really helped to ensure that this workforce is there to deliver the strategy and continue to engage in routine vaccination."
"Chad had great successes during the pandemic: we saw an improvement in routine vaccination the previous year too. It really sparked our interest, and it helped us to understand that we were on the right track. The differentiated approach that we adopted in 2000 combined with strong political commitment and coordinated Alliance engagement and partnership with government out to the subnational levels was beginning to bear fruit. So, somewhere, we expected it," says Amy LaTrielle, Director of fragile and conflict-affected countries at Gavi, the Vaccine Alliance.
"However, the sharp increase in Chad's coverage data is inspiring, especially in contrast with the regional decline in routine immunisation exacerbated by issues such as conflict and natural disasters such as drought and flooding leading to malnutrition and forced migration.."
Availability of vaccines
What explains this success? There are several factors, according to Ferdinand Abassa, Programme Manager at Gavi. One important step was the country's investment in cold chain equipment.
"One of Chad's big problems was that cold chain equipment coverage was extremely low. The equipment they did have was also ageing, which meant it broke down and was no longer even suitable in most cases. We had equipment that ran on oil, which could cause fires. When you don't have good cold chain coverage or a cold chain that works properly, it means vaccines aren't available, so you can't vaccinate."
"Since 1997, 1,581 high quality cold chain solar-powered vaccine storage and transport units (including 1,155 from Gavi in 2021) have been installed, increasing the CCE equipment rate of health facilities to 92% in 2022. Installation sites have been carefully chosen to maximise impact and facilitate access to vaccination. In many areas, vaccines had to be transported from other health posts where sessions were organised" added Thierry Vincent, Senior Country Manager at Gavi.
In addition, vaccines were frequently out of stock. Not only did Chad have to invest to obtain them, but the entire supply and distribution chain had to be improved. To help rectify the situation, Gavi and the government worked with UNICEF and the consulting firm Acasus.
This firm's goal is to strengthen management practices, the use of data and decision-making in the governments with which the firm works.
Florian Guiod, project manager at Acasus, explains what the situation was like at the start of his mission at the start of 2020: "The situation was very bad. We had little information: the last vaccination coverage survey dated back to 2017, and it showed that Chad had one of the lowest levels of vaccination coverage in the region. Complete coverage was around 22%, one child in five was getting the full complement of vaccines. Infant mortality was around 100 per 1000, so 10%, which is substantial. We had a lot of problems with the availability of vaccines, almost constant shortages, an inability for the government to finance the purchase of vaccines."
Have you read?
But here too, Chad has made enormous efforts, despite a difficult economic situation, according to Ferdinand Abassa. "Chad has invested a lot in the purchase of vaccines. Before 2019, there were major funding problems. There was a forum on vaccination under the patronage of the President of the Republic in 2018, which was also one of the key moments that we can consider as one of the reasons why we have the performance that we have today. The President committed to allocate 3 billion CFA francs per year for the purchase of vaccines and the operation of the vaccination program. This is a commitment that the country has kept so far."
According to Thierry Vincent "Chad joined the UNICEF's Vaccine Independence Initiative in 2017, which has helped to sustain the supply of vaccines in 2021 despite delays in payments within the year".
The country had to reactivate vaccine deliveries, to make them recurrent and reliable, and to rebuild the distribution chain, according to Florian Guiod. "We equipped all the logisticians with our app, so each time they deposited vaccines, whether in a depot or in a district, they collected information on the vaccines available. So we ensured, for example, that the districts all have 10 weeks' worth of stocks, which last two months plus two weeks of security until the next distribution. And we saw that disruptions in the districts decreased by more than half in the space of 2 to 3 deliveries," he explains.
More, mobile, health personnel, better supervised for a better offer of services
Another major issue that had to be resolved was the question of human resources: more vaccines needed more people to administer them. "We supported the recruitment by MOH of 235 health workers (nurses and midwives) who were assigned as a priority to areas that we call orphan areas: these are difficult areas where State personnel do not want to go, or they stay for a short time before returning to the capital", explains Ferdinand Abassa.
Amy LaTrielle adds: "What we also see in fragile and conflict-affected countries are overstretched and overworked health workers. I think the injection of 235 healthcare workers at the start of the pandemic really helped to ensure that this workforce is there to deliver the strategy and continue to engage in routine vaccination."
"A smartphone application aimed at improving service provision was developed and used to give feedback to districts throughout 2021. Regular monitoring meetings were conducted at district and provincial levels. With the support of WHO, health staff were trained in 40 districts and district health teams in 28 districts, especially on reaching zero-dose children. Without forgetting the tailored training for government decision-makers attended by a majority of women and developed by Acasus." adds Thierry Vincent.
Chad, like a number of countries in the region, is a huge and sparsely populated country. It is difficult to undertake intensive vaccination activities without providing health personnel with the means to travel, while populations are often very far from health centres. This meant a significant investment in dozens of vehicles. "The health districts received 32 vehicles and 250 motorbikes which were sent to health centres. This made it possible to go to hard-to-reach areas, remote areas., so it made it possible to reach more children, many of whom were zero-dose children," says Ferdinand Abassa.
Demand generation
Raising demand for generation among the population took an alliance of organisations working hand in hand with the government.
The Ministry of Health, with support from UNICEF, developed an urban strategy for immunisation for large cities. Thanks to the support of The Bill and Melinda Gates Foundation, around 5,000 village chiefs and community health volunteers were trained in the Lake region and integrated communication plans were developed in 7 provinces. Supports for the teaching of mothers were produced for community health volunteers.
Speak up Africa proposed an engagement plan with influencers, mayors of large cities and on social media. Civil Society Organizations were approached to contribute to the zero-dose agenda. While these efforts need to be intensified and more resources are available in this regard, Chad has made steps in the right direction, with a gender angle that will help improve coverage through the improvement of service provision.
Tenacity, innovation and synergy, supported by a better use of resources
So what lessons can be learned from Chad's success?
For Florian Guiod, there are two crucial elements. "The first is the establishment of an accountability system, which forces governments (or provincial governments in more decentralised countries such as the DRC) to commit to vaccination by disbursing funds, monitoring performance on a regular basis and putting in place institutional structures.
"The second is the establishment of a performance monitoring system, which makes it easier to get real time data on the true vaccination situation in the country. This makes it possible to respond quickly when we see a drop in performance. This also helps to create healthy competition between different entities, so between the different provinces for example: this is what we see in Chad. This is also what we see in the DRC. In fact, the provinces will have a desire, because they know that they are being watched by the President of the Republic and by the Minister of Health, to be first, and will make efforts in this direction."
The political will to prioritise vaccination, and to work hand in hand with several partners, is also hugely important.
"Chad is also a good example of how synergy was created through technical assistance from different partners: WHO, UNICEF, Speak up Africa, Solina and Acasus, in synergy with the combined funding from the Bill and Melinda Gates Foundation," says Thierry Vincent. "A robust collaboration and communication networks in support of MOH services both at central and subnational levels has unleashed the hidden potential and remotivated many supervisors and health workers to deliver for the population and children."
"This would not have been possible without more resources reaching the service level. Despite challenges, Gavi – working with the Ministry of Health – increased funding flows through a revamped project management unit, fast-tracking them by tailoring procedures and using mobile money systems as much as possible, while keeping a robust level of accountability. Progress would not have been possible without better financial management."
"There has been an effective and creative use of funding," says Amy LaTrielle. "We were also able to count on the commitment of partners, from the Alliance and beyond, who played a major role in supporting the Minister as well as the Ministry of Health. Finally, there was direct engagement at the health district level, which is part of Gavi's 5.0 strategy, which wants engagement to focus more on the subnational level.
"Critical to this success is the fact that all partners showed courage and innovation."
More from Assa Samaké-Roman