Despite the pandemic, Kenya rolls out measles-rubella vaccinations
Beginning today, Kenya's Ministry of Health is beginning a major new measles-rubella vaccination campaign to defend against outbreaks.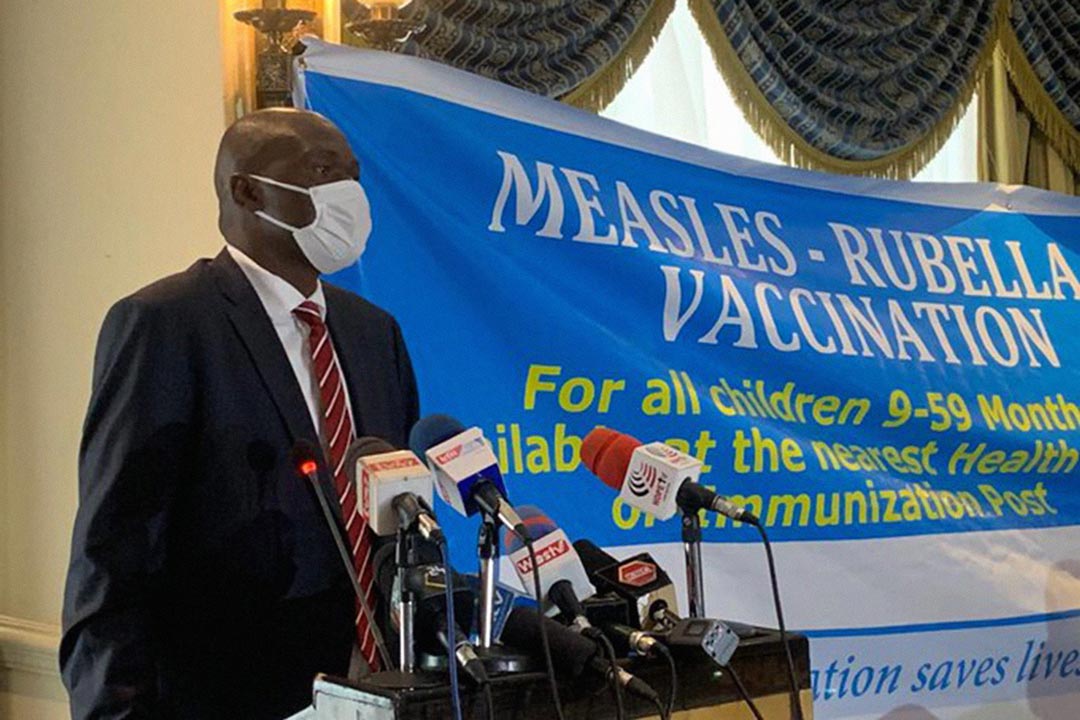 The COVID-19 pandemic hasn't weakened the threat of other deadly diseases, and measles is no exception. In Kenya, 22 counties across the country have been assessed as being at high risk of measles outbreaks.
To control measles outbreaks in the country, the Ministry of Health is rolling out a measles-rubella vaccination campaign in these 22 high risk counties, beginning today and running until 5th July. The campaign has been extended to accommodate social distancing guidelines and ensure health workers are protected, with the provision of personal protective equipment (PPE).
The measles-rubella vaccination campaign seeks to reach approximately 3.5 million children between 9 and 59 months old, with a cost of Ksh 800 million (US$ 7,430,000). The campaign will involve more than 16,000 health-workers, who will offer the vaccines free of charge through 5,061 vaccination posts that will be set up in public places including markets, schools, churches, mosques and other social places as well as through mobile vaccination teams.
The unprecedented increase in the number of unvaccinated children, the increase of susceptible children to more than 2.1 million and the ongoing COVID-19 pandemic has exacerbated the measles problem

Dr Mercy Mwangangi, Chief Administrative Secretary of the Ministry of Health.
Speaking during a measles-rubella catch-up vaccination stakeholders media breakfast meeting in Nairobi, Dr Rudi Eggers, the WHO representative to Kenya, said that Kenya has continued to experience measles outbreaks since the last nationwide measles-rubella vaccination campaign in 2016.
Have you read?
According to 2019 immunisation data from UNICEF and the WHO, measles vaccination in Kenya has been on the decline since 2016 while infections continue to rise. WHO reports in 2016 showed that 97% of Kenyan children had received their first dose of measles vaccine by the age of one year old. However, this dropped to 90 per cent in 2017.
"The government, as the custodian of health services, including immunisation, remains committed to meeting its disease elimination targets," says Dr. Mwangangi. "While pursuing these, it also seeks to ensure the safety of the population. I appeal to all parents and caregivers with children aged 9 months to 59 months to take them for immunisation."
Measles and rubella are highly infectious and serious diseases caused by viruses, for which human beings are the only reservoir. Rubella is a viral illness that causes a mild fever and a skin rash and is spread through contact with fluid from the nose and throat. It can be prevented with a rubella vaccine. The vaccine is first administered when a child is aged 12 months to 15 months, and then again between age 4 and 6 years.
This campaign will be followed by a multi-antigen catch-up campaign, including HPV vaccine, the roll-out of which has been hit hard by school closures across the country.