Digitisation brings relief to community health workers in Kenya
With support from Gavi, Kisumu county is on its way to digitising its community health systems.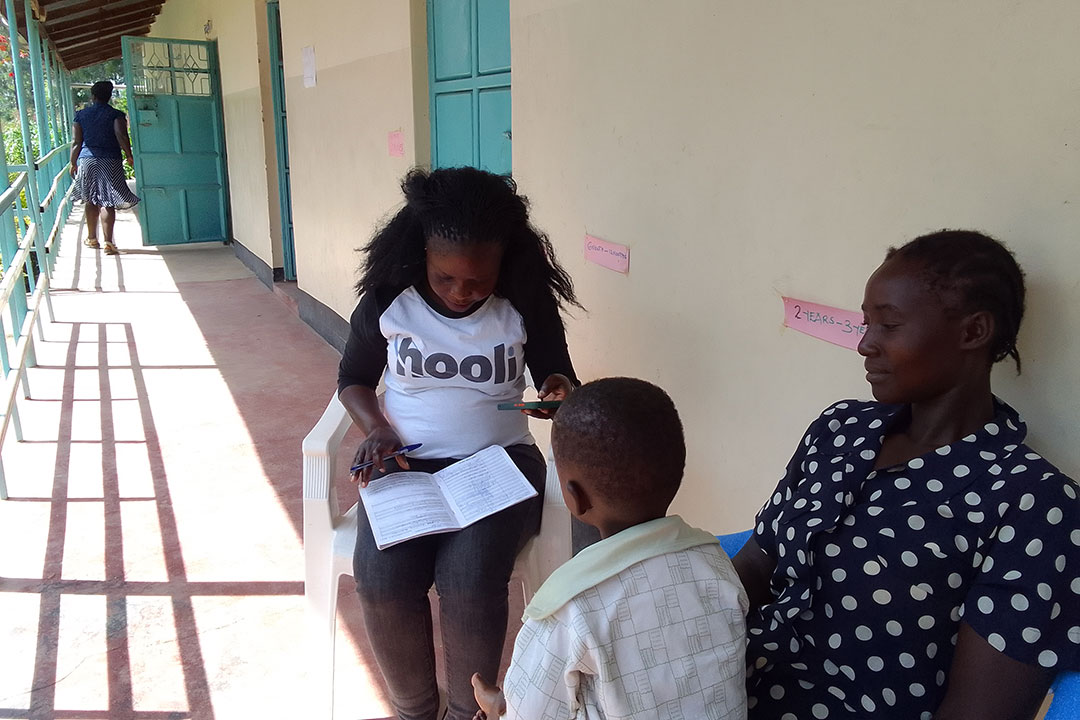 For Beatrice Ngeso, daily household visits are not only a part of her routine, they are driven by passion. The urge to see healthier children in her community is motivation enough for her to wake up ready for daily assignments.
A Community Health Volunteer (CHV) for more than five years, she says that new technology has made her work both easier and exciting.
Before they were allocated the electronic gadgets, she had to move around with huge, cumbersome record books. At times, the books would be misplaced or during a rainy day, all the records would end up soaked.
"With my phone, I have an installed application, which came with the phone, with records of every child and their clinical visits to ensure they do not skip any. There are also daily reminders of who needs to go," says Ngeso.
When visiting homes, she checks every child's immunisation book and, in case of a default, she refers them to the nearest clinic immediately. She will tick off those who go for immunisation and follow up with the family to ensure that they know the next date. She can also monitor expectant mothers, ensuring that they attend all the clinical visits and ensuring children are born in health facilities.
"Despite the public education, we still often encounter cases of immunisation defaulters, thus the need to visit the families," she adds.
Ngeso tries to visit at least five households daily to ensure that she reaches her target of 80 households a month.
Before they were allocated the electronic gadgets, she had to move around with huge, cumbersome record books. At times, the books would be misplaced or during a rainy day, all the records would end up soaked.
"The smartphones are a major source of relief for us. All I need to do is to ensure it is fully charged to sustain me for an entire day," says a happy Ngeso.
Her colleague, Anne Atieno, says that unlike the notebooks which required her to have more than one copy, the phone acts as a one-stop shop.
"The application gives reminders on next clinic visits, when to return for review and can also be used to send bulk messages on health education to my clients," says Atieno.
In addition to immunisation records, the application also allows the user to make accurate assessments, diagnosis and treatment of common childhood illnesses such as diarrhoea, malaria, malnutrition and pneumonia.
It also allows for the provision of reliable and real-time data for timely health interventions, especially during the pandemic.
"With the electronic gadget, we no longer rely on the manual filing of the Ministry of Health register, which was always cumbersome," adds Atieno.
The provision of the smartphones is an initiative run by the Kisumu County Government in partnership with the organisation Living Goods, with support from Gavi, the Vaccine Alliance, aimed at improving primary health care and paving the way for Universal Health Coverage.
With the application, the health department has since transformed the system from analogue to partially-digital, embracing the use of an end-to-end digital system in tracking the community health system.
The programme kicked off in January with the training of the community health workers on how to use the new system.
Each CHV in the two pilot sub-counties, namely Muhoroni and Nyakach, were handed the devices early this year.
"Digitising community health services actualises the dream of a robust health care delivery model designed to generate the best possible outcome," says Living Goods representative Victor Ochola.
"This big step is one that will ensure reduced cost and burden of access of health services, thus reducing mortality and morbidity."
On 26 March, Muhoroni became the first sub-county in Kenya to have a fully digitised community health system running the Ministry of Health Electronic Community Health Information System (eCHIS) application.
The initial training programme saw more than 400 CHVs awarded health kits and smartphones and, in the months following, Kisumu County has empowered an additional 2,998 CHVs across its seven sub-counties to ensure a maximum rollout.
More from Angeline Anyango