First Ladies in Nigeria help boost routine immunisation
To encourage Nigerian women to embrace routine immunisation, State First Ladies have been appointing health influencers.
The wives of the governors of various states in Nigeria have taken it upon themselves to combat the misconceptions around routine immunisation by raising their voices and creating initiatives to improve uptake. It is estimated that only 23% of children under five receive the full recommended complement of routine vaccines.
Betty Anyanwu-Akeredolu, the wife of the Ondo State governor, expresses displeasure that only half of Nigerian women receive more than four antenatal care visits and even fewer give their children routine vaccines.
"Routine immunisation is a big blessing to children. It allows them to grow without challenges, because it gives them protection against childhood diseases. It dropped during the COVID-19 period, but with the vaccines and First Ladies carrying on where they left off, routine immunisation is getting back to where it was."
"We must keep pushing until we get to the point where all children are immunised," she says.
To help boost vaccine coverage, Akeredolu has appointed a group of enlightened community health influencers, known as SOLAYO Vanguards, to work in local communities to provide evidence-based information to mothers and pregnant women. These foot soldiers, mandated to help the state to attain high routine immunisation levels, are selected from a pool of traditional midwives. 
The Vanguards, who partner with hospitals, persuade mothers to make their children available for routine immunisation and give advice to women after delivery. They meet communities at a state ceremony where pregnant women are also given gifts called SOLAYO kits.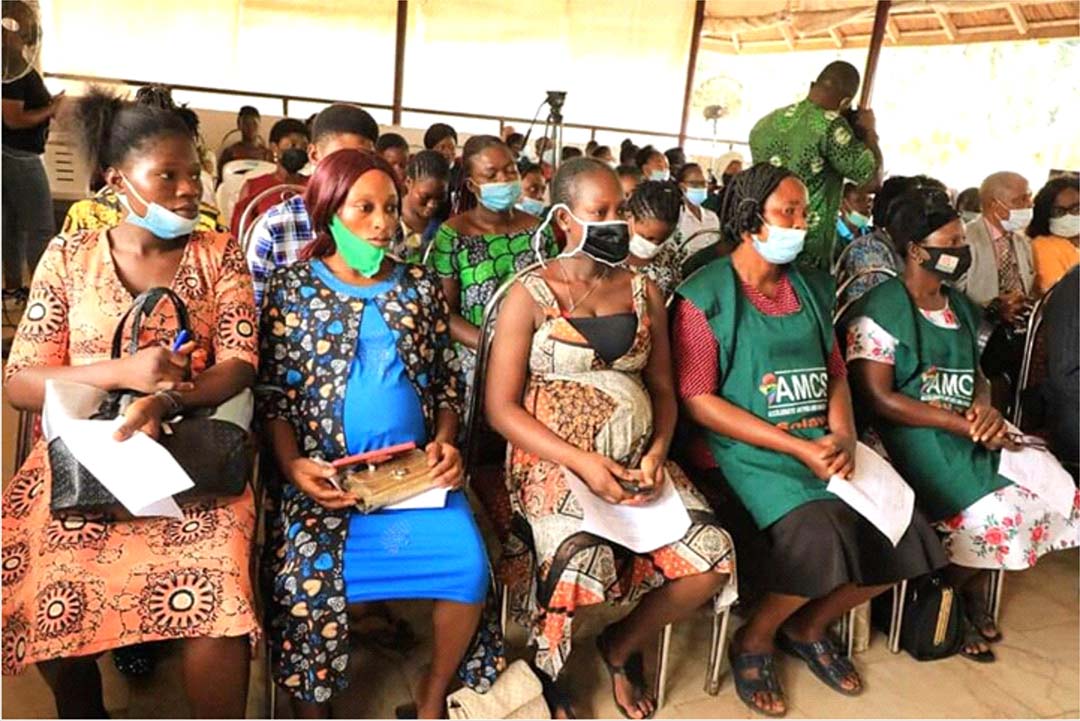 Dr Amina Sani Bello, the wife of the Niger State governor, has also been getting involved in routine immunisation exercises.
During one such exercise, she exclaims, "I urge you all to continue to conduct high impact programmes for the benefits of women and children. I counsel all stakeholders to mobilise all eligible persons to go for vaccination and be protected."
Monica Ugwanyi, the wife of the governor of Enugu State, sees routine immunisation as a passport for children to achieve their destiny as future leaders. "It's a good thing if children undergo routine immunisation," she says.
The wife of the governor of Adamawa State, Lami Ahmadu Umaru Fintiri, has established a project called Chips and SEMCHIC to, amongst other functions, strengthen routine immunisation. Speaking on the right of children to routine immunisation, she says they deserve "protection against violence, exploitation, neglect, child abuse, proper growth nourishment, and health".
These gestures from the wives of governors are making a difference. Ife Chukwura, a resident of Enugu in Enugu State, decided to take her baby for routine immunisation after Ugwanyi's encouragement.
"I love Mrs Ugwanyi. Her initiative goes a long way in ensuring the proper growth of children through routine immunisation. That's why I brought my child for the exercise," she says.
Fatima Abubakar from Yola in Adamawa State says Fintiri's programme was so effective many women told her they would embrace it. "If these First Ladies are doing things to help us, there's no reason why we should be hesitant about immunising our children," she says. "I'll take my child for it."
Slowed down by the outbreak of COVID-19 in February 2020, many of the First Ladies were hampered in carrying out their duties but were able to resume activities with the coming of the COVID-19 vaccines.
A SOLAYO vanguard in Ondo State, Maria Olatunde, says that she is happy to help the state achieve its routine immunisation goals.
She adds, "Routine immunisation is a big blessing to children. It allows them to grow without challenges, because it gives them protection against childhood diseases. It dropped during the COVID-19 period, but with the vaccines and First Ladies carrying on where they left off, routine immunisation is getting back to where it was."
More from Adetokunbo Abiola