Gavi at UNGA 78: From ambition to action
In an increasingly volatile, uncertain, complex and ambiguous world, this year's UN General Assembly is a moment to move from ambition to action for world leaders and delegates, and address existential threats to human health and wellbeing.
14 September 2023
6 min read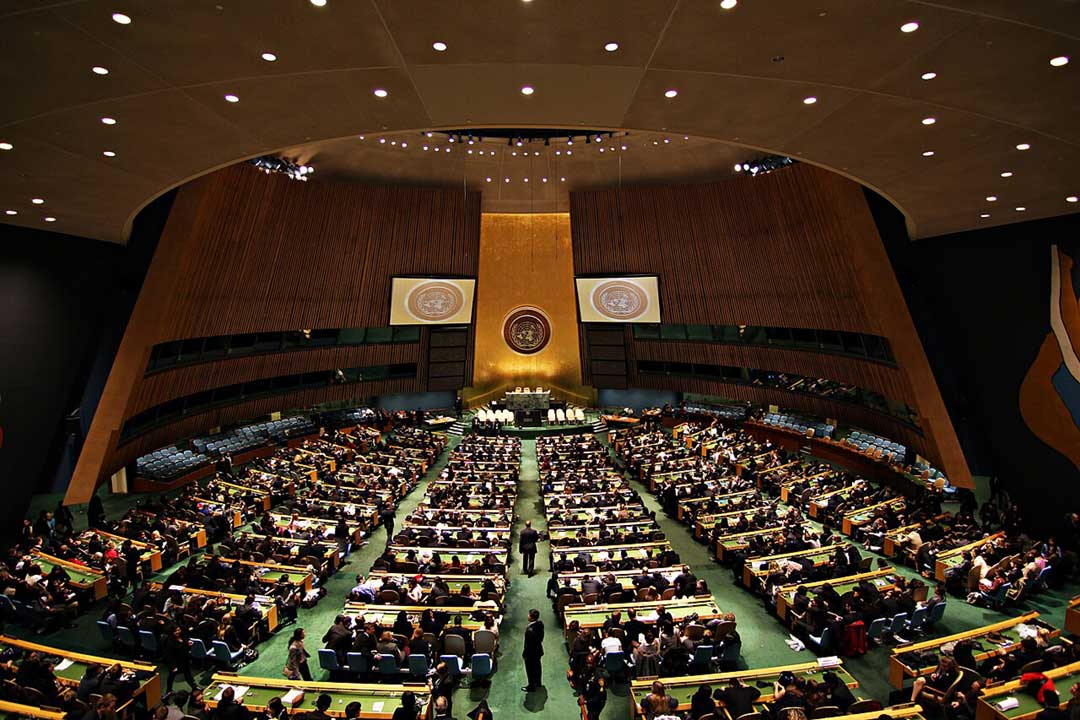 Supercharging the SDGs
The 78th session of the United Nations General Assembly (UNGA 78) marks a sobering milestone in the journey towards achieving the 2030 Agenda and the Sustainable Development Goals (SDGs). World leaders agreed to the goals in 2015 and set a 2030 deadline to achieve them. This year, at the half-way point, it looks likely that none of the goals and just 12% of the targets will be met.
Now with the second UN HLM on UHC taking place next week, world leaders and delegates will have an opportunity to adopt a concise and action-oriented political declaration that will accelerate immunisation and other high-impact health interventions.
The adoption of the goals was among the greatest moments of multilateralism, and this backsliding should serve as a wake-up call. In the case of immunisation, urgent action is needed to fulfil the SDG3 targets and reach all children with life-saving vaccines. While the 57 lower-income countries supported by Gavi showed encouraging signs of recovery from the COVID-19 pandemic in 2022, slower progress was noted in the 26 lowest-income countries.
In addition, figures from 2022 show that while there are fewer children than in 2021 not to have received a single vaccine, at 14.3 million the number remains stubbornly high and serves as a reminder that we need to continue to build political will if we are to transform the lives of those who are being left furthest behind.
The High-Level Meetings (HLMs) on Universal Health Coverage (UHC), Pandemic Prevention Preparedness and Response (PPPR), and the Fight against Tuberculosis provide a unique opportunity for Member States to adopt reinvigorated political commitments and high-impact solutions on key health issues.
Download Gavi's high-level UNGA messages
English French Spanish Portuguese Arabic
Immunisation: a bedrock for universal health coverage
The first UN HLM on UHC in 2019 ended with the adoption of a political declaration that represented a significant milestone for global health as it set out a high-level framework for the development and implementation of national plans to implement UHC by 2030.
Now with the second UN HLM on UHC taking place next week, world leaders and delegates will have an opportunity to adopt a concise and action-oriented political declaration that will accelerate immunisation and other high-impact health interventions.
Currently, routine immunisation services connect 90% of the world's children and their households with health systems, providing up to five touchpoints in the first year. In this sense, they are a critical platform to build resilient primary health care systems that can reach the most vulnerable communities.
There are three ways member states can ensure no one is left behind in accessing life-saving vaccines and primary health care services. First, by increasing their investments in routine immunisation and prioritising reaching zero-dose children through initiatives like 'Big Catch Up'. Second, by moving from commitment to action and prioritising fair compensation, safe working conditions, and gender-sensitive policies for health workers, including community health workers. Third, by integrating UHC and health security for early detection and effective response towards health threats and outbreaks.
Pandemic prevention, preparedness and response
The UN HLM on Pandemic Prevention, Preparedness and Response (PPPR) is a one-time and historic opportunity for leaders to adopt a whole-of-government, whole-of-society, global approach to addressing pandemic threats. By taking lessons from the acute phase of the pandemic, the moment is imminent to shape a more responsive and resilient system.
However, this will require building on immunisation investments and prioritising supply chains, data systems and community engagement that enable early detection of outbreaks (before they become pandemics) and serve as the entry point for rapidly scaled-up responses.
It also means throwing our full support behind diversified and expanded regional manufacturing capacity to increase vaccine supply security during pandemics and expand access to routine immunisation and other life-saving vaccines, at sustainable, affordable prices.
Of course, to accomplish this, we must ensure meaningful inclusion and participation of least developed countries, civil society and communities in PPPR initiatives and their governance. There should also be a prominent role for specialised agencies such as Gavi, building on technical expertise and lessons from the response to the COVID-19 pandemic to achieve health equity.
The climate change and immunisation nexus
Finally, and importantly, the climate crisis makes it imperative to address and anticipate new health risks, as well as to build more resilient, low carbon and sustainable health systems.
The Climate Ambition Summit on 20 September will be a galvanising moment to prioritise and invest in the people whose health is being harmed first and worst by climate change, especially those living in low-income and disadvantaged countries and communities.
Specifically, member states should incorporate public health measures in National Adaptation Plans (NAPs) to ensure that climate and health policies are tailored to the local environmental and epidemiological context. It's also imperative that they strengthen surveillance and vulnerability assessments of climate-sensitive diseases (including malaria, diarrhoea, yellow fever, cholera, meningitis A, dengue, chikungunya and others) and build associated immunisation programmes. They should also commit to building climate resilient, low-carbon, sustainable health systems, including through the greening of supply chains and procurement.
From ambition to action
The political declarations on health over the next few days represent an opportunity to move from ambition to action, dealing with global crises, from weakened health systems to climate change to economic hardship. Any delay could negatively impact billions of people around the world, with substantial damages to livelihoods, an exacerbation of poverty and more disease.
Setting aside diverging views and aligning behind shared goals is a key step to deliver results for the people who are being left behind.
---
Follow the conversation:
Mark your calendar and join Gavi and our partners at the following #UNGA78 events:
Monday, 18 September
WEF Sustainable Development Impact Meetings 2023: Building the 21st century Infrastructure for Global Surveillance Systems
Clinton Global Initiative Spotlight Session – Supply and Demand: How to Transform Health Supply Chains
Responsive Primary Health Care – A Pathway to Accelerating the SDGs
Tuesday, 19 September
Regional Vaccine Manufacturing Collaborative
Aligning Global Health Financing and Political Accountability on the Path to UHC
Building Climate-Resilient Health Systems to Achieve Universal Health Coverage
Wednesday, 20 September
UN High Level Meeting on Pandemic Prevention, Preparedness and Response
Unlocking Universal Health Coverage 2030: The Power of Health Financing
High-level Roundtable: TB Vaccine Accelerator Council
Devex@UNGA78 – Unlocking the Power of Prevention: Delivering global health impact for all through partnership
Thursday, 21 September
UN High Level meeting on Universal Health Coverage
G7 Hiroshima vision for global health covering medical countermeasures
Shared Vision and Principles for Accelerating Financing for Country-Driven Climate and Health Priorities
Friday, 22 September
Building a common safer future: Update on initiatives for the timely and equitable access to medical countermeasures against pandemic threats
UN Group of Friends to Eliminate Hepatitis – 2nd Annual Meeting
Follow @Gavi on X/Twitter for #UNGA78 news and updates, including live event coverage.
---
Website
This article was originally published on Pascal's LinkedIn on 13 September 2023.
More from Pascal Barollier