How Cameroon is making the Africa Cup of Nations COVID-safe
While there were concerns over the threat posed by COVID-19 at Africa's premiere football tournament, host nation Cameroon is working hard to limit the spread.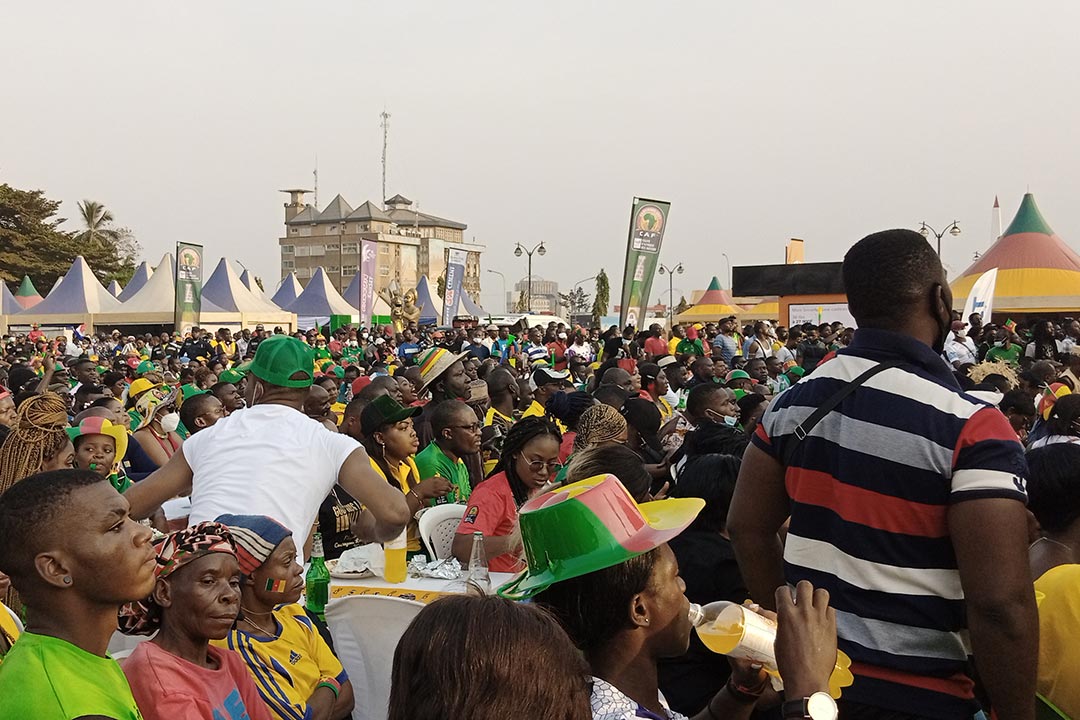 For many people hesitant to get vaccinated against COVID-19, convincing them to take these lifesavers can be a mammoth challenge. For others it can be as simple as ensuring access to a football match.
Twenty-eight-year-old Claude Ekani hadn't had his COVID-19 jab before the kick-off of the Africa Cup of Nations (AFCON), Africa's biggest football tournament, hosted in his home country of Cameroon. He felt compelled to after realising he would not be allowed access to the stadium to watch his beloved team – the Indomitable Lions of Cameroon – play the opening game. This is because COVID-19 vaccination is one of the requirements for fans wishing to enter the stadiums to watch their teams play.
"The decision by the government to encourage people desiring to go to stadia to vaccinate and do tests was a good one. This has increased vaccine coverage."
"Initially, I didn't want to take the vaccine because I didn't see the need, but was tested and vaccinated in time to go to the stadium for the opening match between Cameroon and Burkina Faso. It's a good initiative to oblige fans to be fully vaccinated or tested because they can easily get infected or infect others. This helps limit the spread and impact of the virus. Prevention is better. The process [testing and vaccination around the stadium] is done quickly," Ekani says.
The 33rd biennial Africa Cup of Nations (AFCON) football tournament started in Cameroon on 9 January and will run through 6 February. The African football fiesta consists of 24 national teams represented by players from leagues across the world.
Given that the competition would attract thousands of players, officials and fans from across the world, in the build-up to the competition there was animated debate over the threat posed by the COVID-19 pandemic.
To allay fears, the Government of Cameroon, the Confederation of African Football (CAF) and the Cameroon Football Federation (FECAFOOT), came up with a health response plan to minimise the spread of COVID-19 throughout the tournament. Fans will only be able to access stadiums if they are fully vaccinated and present a negative PCR test taken less than 72 hours beforehand, or a negative antigen rapid test taken less than 24 hours before a match.
"The competent health authorities will take all necessary measures to facilitate vaccination and the carrying out of COVID-19 tests at all competition sites," they decreed in a joint press statement. "In addition, for the sake of objectivity and neutrality and with a view to guaranteeing confidence-building measures on both sides, CAF will call on an internationally recognised independent laboratory to test the players of the qualified national teams and their management."
The organisers of the tournament see it as "an important lever for integration, peace and of unity among Africans".
With the measures taken and a coherent system put in place, the intention was always to avoid putting an extra burden on both Cameroon's population and visiting participants and spectators.
In their statement, they said, "We can even make this event an effective tool for raising awareness about behaviours to adopt to fight against COVID-19 viruses in general. The AFCON can and must promote the rigorous adherence of participants and supporters to all the barrier measures known and developed to date to fight against the said viruses: washing and disinfection of hands, physical distancing, correct wearing of the mask and vaccination."
Cameroon was first scheduled to host the month-long tournament in 2021, but it was postponed to 2022 due to the pandemic.
In the build-up to the tournament, on 20 December 2021 the Cameroon Ministry of Public Health launched a major campaign to intensify vaccination against COVID-19.
At the time, Manaouda Malachie, Cameroon's Public Health Minister, said, "There is sufficient availability of both vaccine doses and COVID-19 screening tests; approximately 2 million doses of vaccines and 2.5 million PCR and RDT tests. During this period, vaccination will be offered at all accredited health facilities, public places including markets, chiefdoms, churches/mosques, government offices and businesses."
He added, "These vaccination posts will also be supported by free and massive COVID-19 testing teams. In addition, to facilitate access to vaccinations and testing, permanent vaccination and testing stations have been set up at all stadium ticket sales points. I call on the population to adhere to this special vaccination campaign against COVID-19, especially the sports community and those in the accommodation and leisure sector, to avoid a resurgence of COVID-19 cases after the competition."
Health experts are confident the health protocols put in place could help the country improve vaccination reach.
"The decision by the government to encourage people desiring to go to stadia to vaccinate and do tests was a good one. This has increased vaccine coverage," says Wilfred Mbacham, Cameroonian virologist and founding president of Fobang Institute for Innovations in Science and Technology.
Various delegations of the 24 participating nations have welcomed the health protocols put in place to break the chain of COVID-19 infections during this period.
"I appreciate the COVID-19 protocols here. Although very strict, it is good," says Baboucarr Camara, director of Communications and Marketing of the Gambian Football Federation.
The Gambian team, which is participating for the first time in the Africa Cup of Nation, is in Cameroon with a 154-member delegation. Fifty of them are officials and players, with the rest being fans.
"Our delegation doesn't joke with the health protocols," Camara says. "We always wear masks. Forty-eight hours before every match, we do COVID-19 tests. This is good, because it helps control the spread of the virus. We make sure that each member of our team doesn't share a room with another. The Cameroonian authorities have not taken anything for granted."
Follow on Twitter: @AkuaNalova