How can fragile countries, like Afghanistan, respond to COVID-19?
As countries rich and poor struggle with challenges in the face of the COVID-19 pandemic, Afghanistan is taking proactive steps to overcome its own.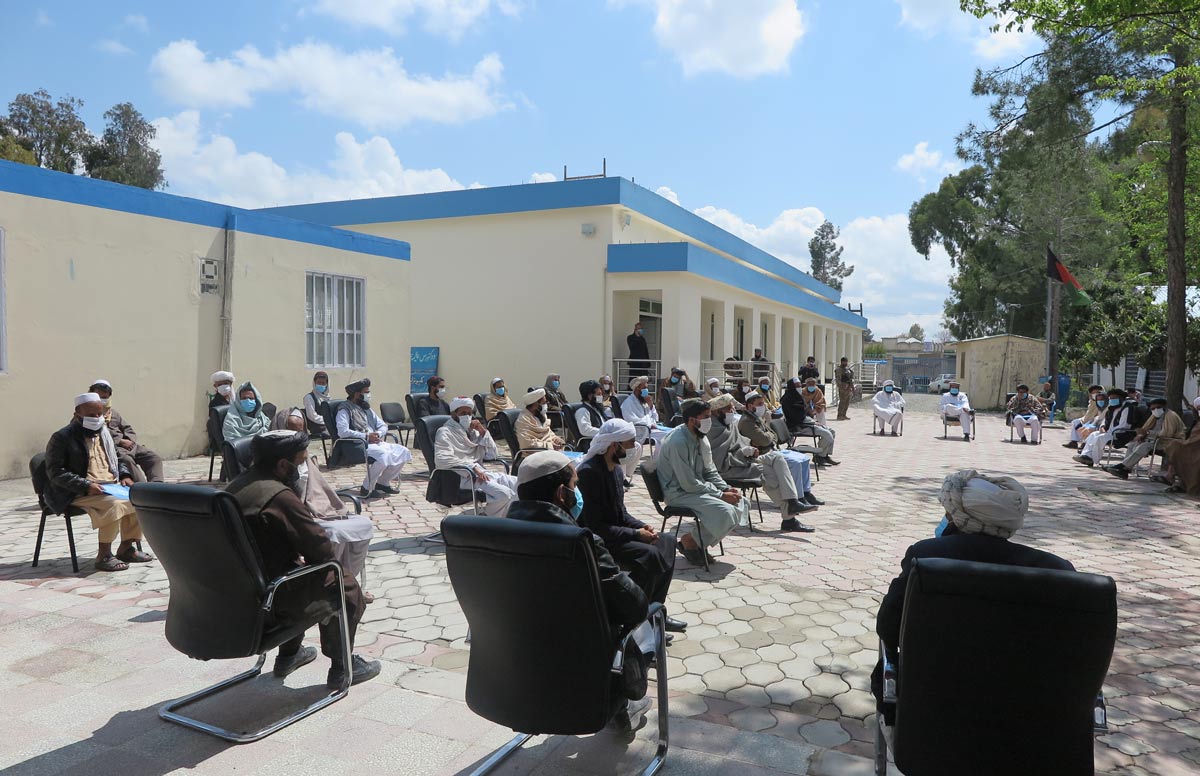 Afghanistan is among a sub-set of 'fragile countries' that face the heaviest consequences resulting from COVID-19. Its complex landscape, natural disasters, displaced population and ongoing conflicts have made it difficult to maintain a robust health system that reaches everyone.
This is now being severely stretched as COVID-19 cases rise and the Afghan Ministry of Public Health (MoPH) attempts to mitigate the outbreak through a nationwide lockdown, physical distancing and infection prevention and control (IPC) measures.
MoPH data (13 May 2020) shows that 5,226 people across all 34 provinces in Afghanistan are now confirmed to have COVID-19. Some 652 people have recovered and 130 have died, including 11 health care workers. However, with testing so far limited due to a global shortage of viral test kits, the real figures are likely much higher.
Deliveries of thousands more testing kits from the Republic of Korea are expected over the coming weeks, partly funded by Gavi through its emergency reallocation of funds.
An Afghan Red Crescent Society (ARCS) health care worker performing temperature screening along the Kandahar-Urozgan highway. Credit: IFRC/2020.
Emergency response plan
Afghanistan was quick to apply for immediate additional support offered by Gavi, which is helping lower-income countries quickly respond to the pandemic. So far, US$ 2.1 million has been approved for UNICEF and the World Health Organization (WHO) to deliver diagnostic capacity, infection prevention and control, along with hygiene, disinfection and laboratory supplies. It will also fund the shortfall in testing kits and personal protective equipment (PPE) that have been globally lacking and suffered delays entering the country due to supply chain issues.
The broader response of the Afghan MoPH has been to make use of the existing immunisation infrastructure. As a health intervention that reaches 82% of the Afghan population and acts as a bridge to further primary health care, immunisation service delivery forms an integral part of the emergency response plan.
The immunisation infrastructure and personnel had the highest resource capacity to help the country respond to the outbreak, according to Dr Ghulam Dastagger Nazary, National Expanded Programme on Immunisation (NEPI) manager and spokesperson for the COVID-19 response in Afghanistan.
The response plan identified four key aspects of immunisation service delivery that are already being used to help tackle the virus:
Religious leaders – for disseminating messaging around vaccination and measures to prevent the spread of COVID-19.
Community Based Outreach Vaccinators – to raise awareness about the disease and reinforce prevention measures in hard-to-reach areas.
Volunteers – a network of around 60,000 people trained in vaccine-preventable disease surveillance, who will also orchestrate COVID-19 surveillance, contact tracing, diagnostics and quarantine duties.
National health team – mobilised to develop and carry out the Emergency Response Plan.
This plan also includes the outreach of the Afghan Red Crescent Society (ARCS) – an affiliate of the International Federation of Red Cross and Red Crescent Societies (IFRC) – that has been mobilised to engage in prevention, containment and mitigation efforts, including COVID-19 case management. This also involves putting to use its 138 health facilities comprising clinics and mobile health teams, and mobilising around 3,400 community volunteers in communities across the country, including disputed districts, according to an IFRC report.
Restricted movement
Official lockdowns to slow the spread of the virus have been only partially observed in many parts of the country. There is concern that large numbers of migrant workers, recently returning from Iran and Pakistan where the disease has been rife, will have spread the virus undetected.
Travel restrictions at the border and between regions are also impacting supply chains and the ability to replenish vaccine stores and deliver cold chain equipment and other essential medical supplies. The Afghan MoPH and UNICEF are working to address this situation and ensure preparatory work continues to minimise disruption, according to Dr. Fazil Ahmad, Immunization Specialist, UNICEF Afghanistan.
Yet the gravest threat to most Afghan people, an indirect consequence of measures to mitigate COVID-19, is extreme poverty. Since the majority of people in the country rely on informal work, there is no financial back-up to replace their lost income during periods of lockdown. The World Food Programme (WFP) has warned that the number of acutely hungry people worldwide could nearly double from 135 million to 265 million as a result of COVID-19.
Routine immunisation
While most health centres remain open, many families are unable to reach them due to the restrictions, which have also limited the provision of outreach and mobile health sessions. Additionally, frontline health workers are also lacking essential PPE, putting them and their patients at greater risk of COVID-19 infection and further limiting health care delivery.
This has led to a decline in routine immunisation coverage, putting the country at risk of other disease outbreaks that could prove even deadlier than COVID-19. There is also a real risk that progress towards eradicating polio from the country, and globally, will stall.
Exacerbating these issues is the security situation, particularly in disputed areas of the country. Rural districts have become more of a target, preventing outreach sessions in those areas. The small glimmer of light here is that access to areas not being targeted has remained possible, and there have even been reports of vaccinators and health workers being more readily welcomed.
Routine management activities have also been maintained in certain provinces despite the disruption caused by COVID-19. These include monthly supervision and provincial review meetings between national, provincial, local NGOs and partner attendees, supported by a programme launched between NEPI and Acasus, a private sector partner working in Afghanistan on immunisation.
Partnership, trust and community outreach
Outreach and health care provision in Afghanistan, particularly in disputed areas, relies on the close collaboration between the Afghan MoPH, religious leaders, volunteers, and non-governmental organisations (NGOs). Their respective roles are critical to health care delivery, along with raising and maintaining community engagement about its importance.
They are also vital to establishing trust among the Afghan people, countering potentially dangerous rumours and false information. In a survey on community perceptions towards COVID-19 conducted in April, 89% of respondents were found to trust health workers the most as a source of information about the virus.
The increase in health messaging resulting from COVID-19 could also lead to heightened awareness about the importance of ensuring children are vaccinated against other infectious diseases, according to Dr Nazary .
Post-COVID
The full impact of COVID-19 on Afghanistan remains to be seen, but how well the country copes depends on a large extent to the ongoing support of its partners and the broader global community.
Encouragingly, there has been a strong response from the global community for the development and equitable deployment of diagnostics, treatments and vaccines against coronavirus. The Access to COVID-19 Tools (ACT) Accelerator is a global collaboration of global health organisations to accelerate the development, production and equitable access to new COVID-19 technologies.
Gavi, alongside its Alliance partners, is working with all of its supported countries to help them cope with the pandemic and maintain ongoing immunisation programmes. The notable progress in health service delivery made over the past decade in Afghanistan is helping to tackle the immediate crisis. It may yet prove possible to resume that progress in spite of the setbacks caused in the wake of COVID-19.
COVID-19 dashboard
The latest figures related to the COVID-19 situation in Gavi-supported countries and globally.
More from Alister Bignell