How do the symptoms of Omicron differ from previous COVID-19 variants?
Reports that the Omicron variant may be associated with milder symptoms increase the need for vigilance and infection control.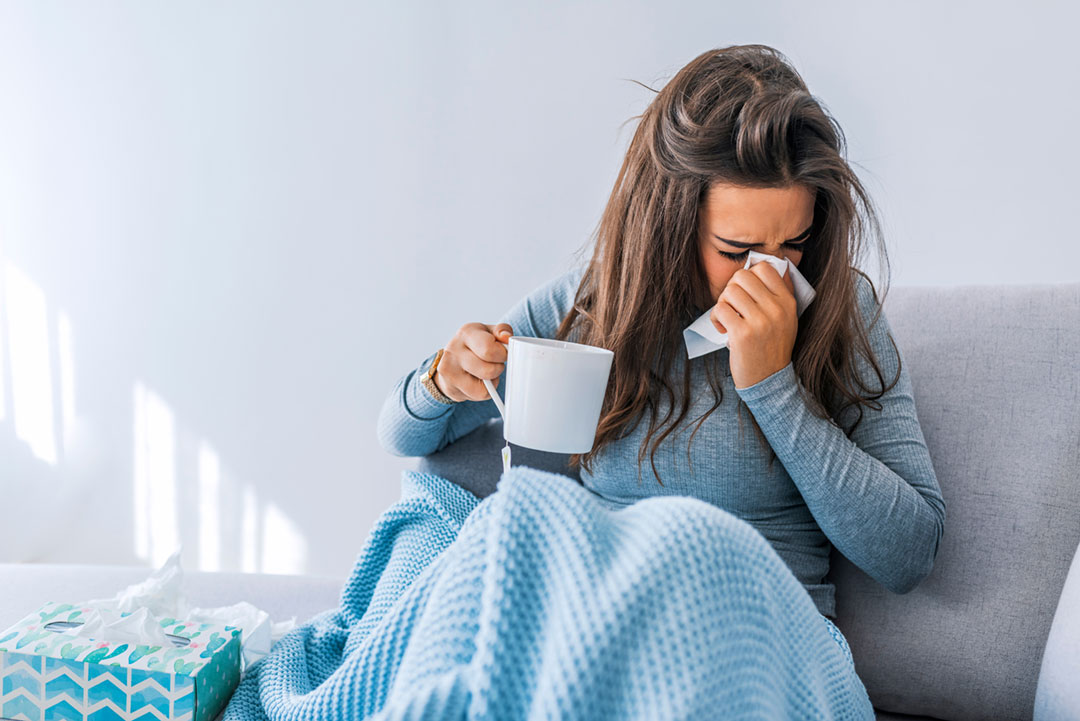 Headache, runny nose, scratchy throat? Such symptoms are the mainstay of many common winter illnesses, but early reports from South Africa that these – and/or a dry cough, body aches and night sweats – have been observed in some of those infected with the new Omicron variant, have prompted speculation that SARS-CoV-2 might be evolving to cause milder illness.
"We are seeing patients present with dry cough, fever, night sweats and a lot of body pains. Vaccinated people tend to do much better."
Meanwhile, in the UK, where Omicron cases are currently doubling every two days, Prof Tim Spector, the researcher behind the ZOE COVID Symptom Study app – which collects daily data on people's symptoms, infection and vaccination status – has claimed that Londoners who have common cold-like symptoms are currently more likely to have COVID-19 than a cold. Omicron has now overtaken Delta as the dominant SARS-CoV-2 variant in London.
Reassuring as such reports may sound, they are based on very little data, as in most cases it takes several weeks after infection for severe symptoms to develop. It is also possible that symptoms differ depending on a person's vaccination status, and/or whether they have recovered from a previous COVID-19 infection.
Situation updates
In its latest situation report, published on 14 December, the WHO said: "The data on the clinical severity of Omicron remains limited. More information on case severity associated with Omicron is expected in the coming weeks due to the time lag between an increase in the incidence of cases and an increase in the incidence of severe cases, and deaths."
Even if Omicron does turn out to trigger milder illness in the majority of those it infects, if it is significantly more transmissible this could still result in health services being overwhelmed, as some people will become seriously unwell and require hospitalisation.
Early symptoms
Media reports that Omicron is associated with milder illness stem from comments made by several South African doctors in late November: At a briefing organised by South Africa's Department of Health on 29 November, Unben Pillay, a family doctor practising on the outskirts of Johannesburg, said that while it was still early days, "We are seeing patients present with dry cough, fever, night sweats and a lot of body pains. Vaccinated people tend to do much better."
Another Pretoria-based family doctor, Angelique Coetzee said many her patients had presented with unusual symptoms, especially severe tiredness, and none had reported loss of taste or smell.
These early reports have since been supplemented with preliminary data from Omicron outbreaks in several other countries.
Documented outbreaks
For instance, the Norwegian Institute of Public Health has investigated an Omicron outbreak that occurred during a Christmas party in Oslo on 26 November. Of the 111 participants its officials interviewed, 80 (73%) were subsequently diagnosed with SARS-CoV-2, and 17 had been confirmed as infected with the Omicron variant, as of 8 December – although genomic analysis of samples was ongoing, and it was assumed that Omicron would be implicated in most cases.
Here, 70% of infected individuals reported cough, lethargy, headache, and sore throat, and more than half reported fever. Most of the participants were aged between 30 and 50 years and had received their second vaccine dose between May and November 2021, so it is unclear how older, or unvaccinated individuals would fare. None of these individuals had been hospitalised, as of 9 December.
The US Centers for Disease Control and Prevention has also reported on the characteristics of 43 Omicron cases that it has investigated so far, finding that the most commonly reported symptoms were cough, fatigue, and a blocked or runny nose. Fifty-eight percent of these cases were in individuals aged 18 to 39 years, and 79% were in people who had received two doses of a COVID-19 vaccine. One vaccinated patient was hospitalised for two days, and no deaths had yet been reported – although the time between symptom onset and death for COVID-19 ranges from two to eight weeks.
Hospitalised patients
How symptoms will play out for unvaccinated individuals is still unclear. Data from the ZOE COVID Symptom Study has previously suggested that COVID-19 symptoms tended to be similar between vaccinated and unvaccinated individuals, although those who had been vaccinated usually reported fewer symptoms over a shorter period of time, suggesting that they were experiencing milder illness and recovering more quickly. However, this was before the emergence of Omicron.
Meanwhile, in South Africa, hospital admissions for COVID-19 have steadily increased across all states since late November, with early reports suggesting that unvaccinated individuals accounted for the majority of such admissions. Whether Omicron is really associated with milder symptoms remains to be seen. But given the sharp rise in cases around the globe, we should soon find out: hospitalisations tend to track several weeks behind infections, and COVID-related deaths several weeks behind that.
Until we know more, experts advise caution. Omicron appears to be highly transmissible, so masks, physical distancing, good hand hygiene and ventilation are more important than ever. But ensuring as many people as possible have access to COVID-19 vaccines remains our best shot at preventing the spread of Omicron, as well as any other SARS-CoV-2 variants that may follow it.