Omicron: What we know so far
Since being designated a variant of concern on 26 November, the Omicron variant has rapidly spread across the globe. The consequences of this are still unclear, but scientific data is now starting to emerge.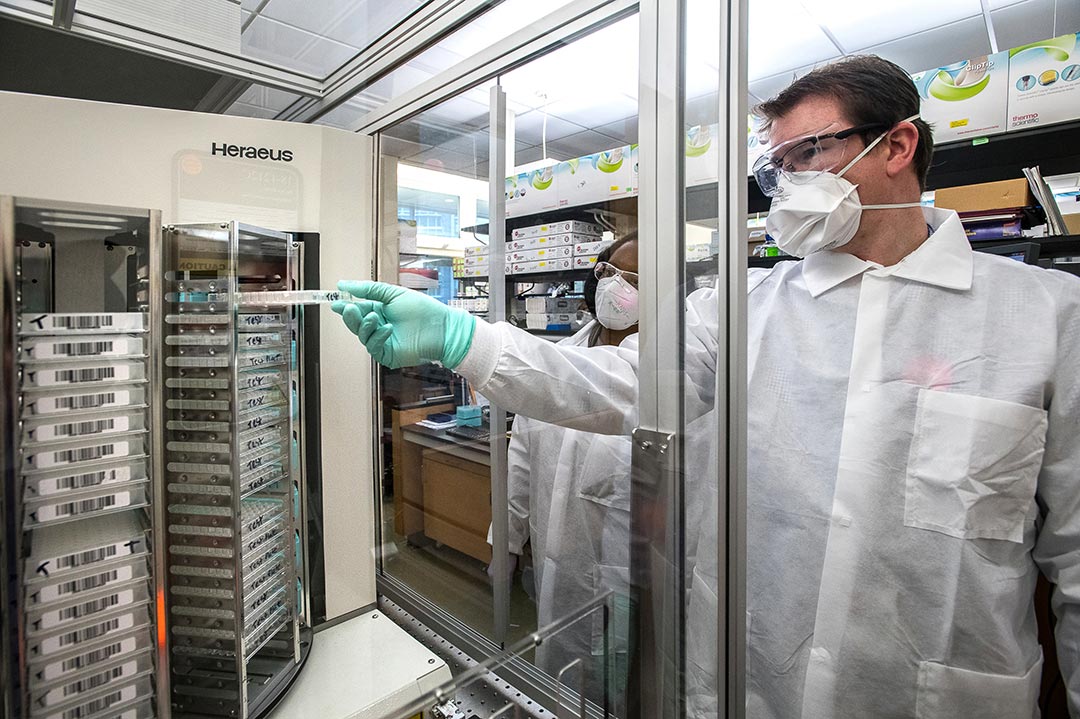 Where has the Omicron variant been detected?
According to WHO figures published on 7 December, Omicron cases have been reported in 57 countries across all WHO regions so far. However the true extent of its spread could be higher due to delayed reporting and limited surveillance in some countries. Although this new variant appears to be increasing exponentially in some countries, Delta remains the dominant variant, responsible for 99.8% of cases worldwide.
Various anecdotal reports from South Africa have suggested that Omicron may cause only mild illness, yet such reports should be treated with caution, as they are based on a relatively small number of cases, for now.
Why are people so worried about it?
Compared with previous variants of concern, Omicron has a large number of mutations. More than 30 of these are in the spike protein which SARS-CoV-2 uses to gain entry to our cells, allowing it to reproduce and spread. Although we don't yet know the function of many of these mutations, some of them have been seen in other variant of concerns, such as Beta and Gamma, and appear to make it easier for such variants to latch onto cells and infect them, enhance viral replication and avoid some of the neutralising antibodies generated through vaccination or previous infection. Even so, it is highly likely that some residual immunity will remain. Our immune cells learn to recognise many parts of the spike protein and the virus can't change all of them. If it did it would no longer be able to infect us.
Also concerning is how rapidly Omicron appears to have spread within South Africa and in other countries where it has more recently become established, such as Scotland.
Is there any evidence that vaccines are less effective?
Studies are very much ongoing, but some of the first data is starting to emerge from labs in South Africa, Germany and Sweden. They measured the capacity of antibodies from vaccinated individuals to block the infection of cells grown in a dish. In some of the experiments, viruses from people infected with Omicron were used whereas in others they relied on harmless viruses engineered to carry Omicron's mutations.
Have you read?
These reports, which have not yet been scrutinised by other scientists (peer-reviewed), suggested that the protection conferred by existing COVID-19 vaccines was reduced but not totally wiped out - although the precise degree varied between studies.
Data released by Pfizer/BioNTech also suggested that protection, as measured by the level of neutralising antibodies in the blood offered by two doses of its vaccine, was reduced against Omicron compared to the original Wuhan strain. However, when they tested blood drawn from vaccinees one month after receiving their third "booster" dose, the level of neutralisation was comparable to that seen against the original strain after two doses.
Although these studies provide an indication of how existing vaccines may fare against Omicron, they don't tell the full story. They are only measuring one component of the immune response (neutralising antibodies). Other immune components, such as T cells, are also triggered by vaccination and are likely to help prevent people from becoming seriously ill if they are infected with the Omicron variant, but these responses are much harder to measure.
Preliminary findings from South African researchers has suggested that breakthrough infections can occur, even in people who have received three doses of vaccine (including the Pfizer vaccine). They described seven triple-vaccinated German visitors who became infected with the Omicron variant while visiting Cape Town in late November. All developed mild to moderate symptoms.
What about evidence that it is more transmissible?
Certainly, there has been an extremely rapid increase in COVID-19 cases in South Africa coinciding with Omicron's detection. Some 62,021 new cases were reported in the country between 29 November and 5 December – a 111% increase compared to the previous week. Explosive weekly increases have also been observed in nearby Eswatini (1990%); Zimbabwe (1361%); Mozambique (1207%), Namibia (681%) and Lesotho (219%), the WHO said. Many of these countries have relatively low COVID-19 vaccination rates, so possibly the virus would spread less quickly in more highly vaccinated populations. It is also plausible that enhanced testing means more cases are being detected than before.
However, some countries with high vaccination rates are also experiencing a sudden surge in cases. In Scotland, where 72.7% of the population is fully vaccinated, the Omicron variant is predicted to overtake Delta as the dominant variant within days. "Omicron right now is rising exponentially. Indeed, what we are seeing in the data just now is perhaps the fastest exponential growth that we have seen in this pandemic so far," Scottish First Minister Nicola Sturgeon told a press briefing on 10 December.
Does it cause more severe disease?
Various anecdotal reports from South Africa have suggested that Omicron may cause only mild illness, yet such reports should be treated with caution, as they are based on a relatively small number of cases. Even once more data becomes available, differences in the average age of the population, their vaccination status, their prevalence of underlying medical conditions and which variants they've previously been exposed to may all make it difficult to predict how another country's population may fare. For instance, in South Africa's Gauteng Province, which has experienced the greatest surge in Omicron cases, an estimated 70% of the population has antibodies due to previous waves of infection.
"Even if the severity is equal or potentially even lower than for Delta variant, it is expected that hospitalisations will increase if more people become infected and that there will be a time lag between an increase in the incidence of cases and an increase in the incidence of deaths," the WHO report said.