Dr Shazia Zeb: the hospital head saving lives in Pakistan
Dr Shazia Zeb has been facing down wave after wave of the pandemic at the helm of a Rawalpindi hospital. The losses have been painful, and the hours have been long and stressful, but as she tells Maya Prabhu, she's convinced that hard work never killed anybody.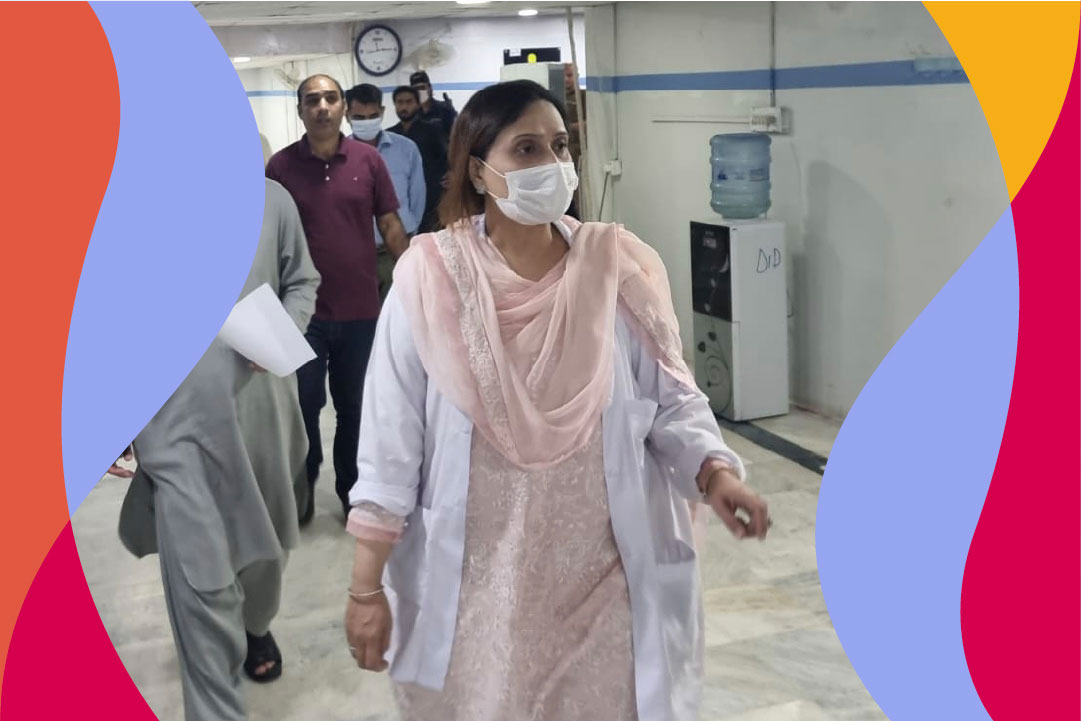 Follow along: #InternationalWomensDay
Pakistan had been on high alert for over a month when the first confirmed COVID-19 patient was admitted to Benazir Bhutto Hospital, one of four public hospitals affiliated with Rawalpindi Medical University (RMU), Pakistan. It was 26 March 2020, and the patient was a student, recently returned from China.
"The scenario was – everyone was in anxiety," recalls Dr Shazia Zeb, who at the time worked as part of the University Vice Chancellor's team, with administrative oversight of all four sister institutions. "We had to chalk out a plan… We started: how to manage? How to cater to the whole community?"
By then, news reports from northern Italy were showing the world what hospital overwhelm and a community in epidemiological meltdown could look like. But Rawalpindi's experience, Dr Zeb knew, would be different. Here, the recently instituted lockdown would rapidly tip large, vulnerable sections of the population into dire financial need, accelerating what was bound to become a multi-dimensional health crisis.
When Dr Zeb's mother-in-law's oxygen levels started to dip, she was admitted to a private facility. Two days later, she had passed away. "You know, there is stigma – who took this virus home?"
On the other hand, the Pakistani health system was no stranger to sudden, large-scale disease outbreaks. That gave Dr Zeb's team at RMU something to build on. "There was a very confusional state. But anyhow, we have experience of dengue epidemics," says Dr Zeb. COVID-19 would move differently, but "it's an infectious disease – so we used that model". They set up a separate outpatient department to handle diagnosis: every fever, every headache, every patient with vomiting would be treated as a potential COVID-19 case. A tweaked dengue protocol offered guidance on how to triage patients in need of critical care, and blueprinted the creation of separate COVID-19 emergency blocks for each of the four hospitals.
Meanwhile, a 24-hour telemedicine service began to take calls from community members who were sick and worried, or struggling with mental health issues, or out of money and out of food. At the university, medical students were placed in charge of "donation activities". At home, Dr Zeb marshalled funds from family members to put together emergency food packages for people who called the medical hotline in need. 
The number of cases began to spike. Around Dr Zeb, people responded in starkly divergent ways. The market suddenly emptied of PPE – the work of ruthless profiteers. "One thing learned," Dr Zeb says, her tone regretful rather than outraged, "is that when life and death problems occur, nobody should do business." At the same time, a groundswell of generosity bridged gaps: a kit donation centre at the university received masks and hazmat suits (on which Dr Zeb personally performed spot tests for quality before distribution.) "One of our colleagues even donated a ventilator," she recalls. "People were so motivated, and it was the community involvement that helped, really, to cover the loopholes in the health system."
Fear began to tell on the hospital's capacity to deliver care. Doctors, especially younger, junior doctors, filed into her office armed with reasons they should be excused from COVID-19 duty. Dr Zeb's response was to head out onto the ward: "Participative leadership was the need of the time – to motivate the team," she says matter-of-factly.
At the patients' bedsides, she encountered the frontliners picking up the slack. "I did rounds, and I saw so many good things in people," she says. "Doctors, so motivated. Our nurses, so motivated." She recalls one nurse quietly picking up sanitary duties that weren't her own, batting away Dr Zeb's concerns, saying, "It's fine, ma'am. I can do it."
But the instinct for self-preservation that brought the nervous junior doctors into her office was echoed at home. Certain members of Dr Zeb's family urged her to leave her post. Like many other hospital workers, Dr Zeb returned each evening – first disinfecting herself from top to toe, changing out her clothes and things – to a house that was home to an extended family, including elderly parents-in-law and her own three kids. "My husband helped me a lot. He was behind me: 'No, you carry on your job'," she recalls.
Rawalpindi's second surge came in the summer and hit hard. Soon, all elective surgeries across the hospital system were cancelled – neither the staff nor the oxygen they would require could be spared. "We took the whole human resource to our infectious disease and COVID wards," she recalls. Still, overwhelm threatened. "Sometimes, we were so anxious – what to do next?" Occasionally, the ramp-up plans looked set to fail. "But, Alhamdulillah, Allah helped us and we got through it."
Not unscathed. In July, Dr Zeb's entire family tested positive. When Dr Zeb's mother-in-law's oxygen levels started to dip, she was admitted to a private facility. Two days later, she had passed away. "You know, there is stigma – who took this virus home? You came from hospital, you met with patients – maybe you carried this. It was a difficult time for me," she says. "But we have to manage."
Managing meant getting back to work. By December of that year, Dr Zeb had been named the new medical superintendent of one of the four sister facilities, the massive red-brick Holy Family Hospital. COVID continued to surge and crash over the city in distinct waves. The next summer, a particularly brutal COVID-19 wave collided with a major dengue outbreak. Overwhelm threatened again. Dr Zeb retooled a private block at Holy Family as a dengue ward; RMU's Urology Hospital, five minutes away, was converted into a 200-bed field hospital for spill-over COVID-19 patients – which Dr Zeb also helped to administer. Many died.
"I feel nobody can die due to hard work," she says. "And neurons – use your neurons! There are billions of neurons. We use only a small quantity. And make teams everywhere – you can't do things alone. We can serve humanity in this way."
Dr Zeb has the figures ready: to date, four sister hospitals have admitted some 20,300 COVID-19 patients, of which Holy Family has cared for more than 5,000. Mortality rates have varied surge by surge, dipping significantly as vaccination coverage increased, but across the two years of the pandemic, 5-6% of the hospital network's inpatients have died.
On the other end of a Zoom connection, I begin to experience a kind of second-hand exhaustion. I ask her when it was that her own energy finally bottomed out. She laughs. "My elder sister always says to me – she's a total housewife – she says, 'Whenever I visit someone's home I become tired for two days. How do you do it?' I tell her – 'I'm like a person who has been beaten so much that beatings begin to feel relaxing.'"
A dark little joke – but it's clear Dr Zeb is abnormally, even uncannily, buoyant. On days off, she works at an orphanage; more recently, she's begun designing clothes for a cousin's boutique. Looking at bright colours, she says, is good for her mental health. When I ask her questions that peel at vulnerable edges – how she handles the strain of loss after loss after loss, for instance, she acknowledges the premise of my question: true, it has been stressful, it has been, in fact, "crucial" – a word which seems to her to capture the conjunction of priority and difficulty, a formulation which recalls medical triage. But soon she pivots, rights herself like a boxing dummy, like she can't help herself, and offers me what she's learned: take-aways, notes-to-self on the nature of good leadership, actionable epiphanies.
For instance: when her mother-in-law was dying of COVID-19, alone in a private hospital whose policy was to admit no visitors, video-calling her loved ones as long as she was able, Dr Zeb wondered, could we do this better? If, for instance, a single family member was provided full PPE and admitted to the ward to attend to their sick loved one – could it aid patient recovery? Indeed, she says, the sick ate better when fed by their family members. "From everything you can learn!" she exclaims.
She tries to locate the source of her boundless motivation: "I feel nobody can die due to hard work," she says. "And neurons – use your neurons! There are billions of neurons. We use only a small quantity. And make teams everywhere – you can't do things alone. We can serve humanity in this way."
That's we're here for, she concludes: to do for others. In the end, she knows, Allah will ask her what she's been up to. She seems grateful to have plenty to say.