Keeping the Cold Chain Cold: The Importance of Maintenance
This is the third in a three-part series highlighting key lessons learned since the launch, four years ago, of the Cold Chain Equipment Optimization Platform (CCEOP), established by Gavi, the Vaccine Alliance, to ensure optimal cold chain equipment is available in low and middle-income countries for vaccines. A prospective study, led by JSI, has identified notable successes and opportunities for improvement in the structure of the CCEOP.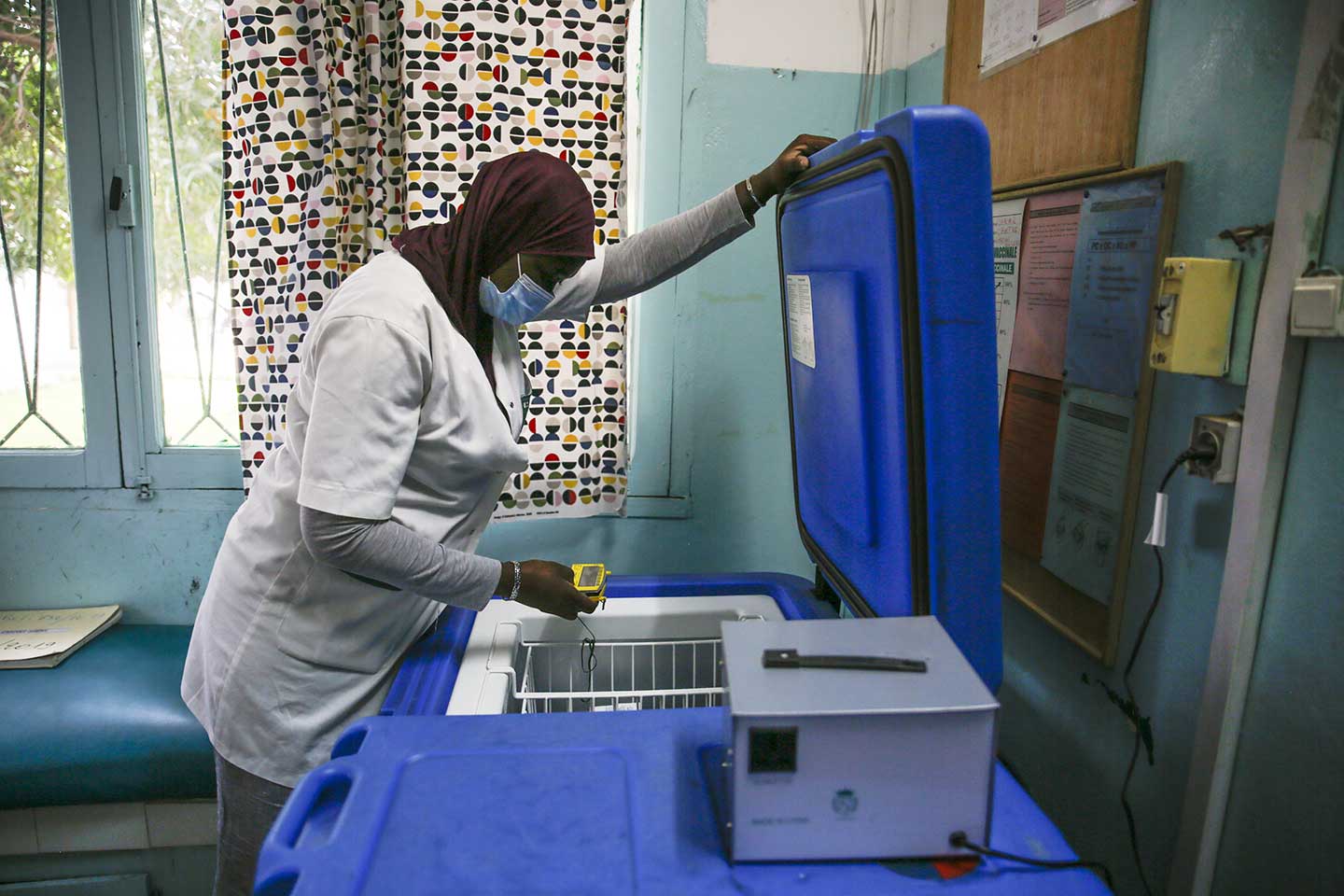 Every piece of equipment needs maintenance. That is just a fact of life. It may be routine maintenance, such as changing the oil in your car to prevent problems from occurring later on, or it may be the larger actions to repair or replace damaged parts. Sometimes you may even have to replace your car's entire engine. Both types of maintenance, preventive and curative, are important to keep your car running as best as it can.
Similarly, cold chain equipment (CCE) used to keep vaccines at an optimum temperature range of 2-8°C, needs regular preventive maintenance. This is absolutely necessary to keep the equipment functioning optimally, to maintain the vaccines quality and effectiveness against a disease, and to save lives.
Maintenance plans need to be realistic and backed-up with a budget and available funds.
For immunisation programmes around the world, ensuring CCE is continuously working properly has been an ongoing challenge, because often equipment was installed decades ago. And it's easy to understand the challenge. The scope is huge – each programme has thousands of pieces of equipment installed across the country, many in very hard-to-reach areas. The electrical grid that runs much of this equipment can be unreliable, which can put a strain on the CCE. Spare parts for the equipment are often not available locally, which complicates a quick response to a maintenance issue. And there are never enough technicians when and where they are needed, or inadequate financial resources to deploy them.
Gavi, the Vaccine Alliance, began to address the maintenance issue in the design of the Cold Chain Equipment Optimization Platform (CCEOP). As part of the application process for CCEOP support, countries must include a maintenance plan that details the on-going preventive maintenance for CCE, such as keeping it clean, not overloading the equipment and defrosting when needed. The plans should also provide the details of what to do when a piece of equipment breaks down – who is responsible to fix it; expected quantity of spare parts needed and where they should be stored; estimated costs of corrective maintenance; and who authorises decommissioning of equipment that can't be repaired, among many other details.
The service bundle provider (SBP) approach was also designed to improve the regular maintenance of cold chain equipment, with the SBPs responding to issues arising during the warranty period. These service bundle providers also trained Ministry of Health equipment technicians to provide on-going maintenance after the equipment warranty expires.
Results from a three-country evaluation led by JSI show that initial results for the performance of the CCE is promising. CCE breakdowns ranged around 15-20% at baseline [May 2018] and consistently decreased at midline [November 2019] after the new equipment had been installed. This is to be expected as this new range of equipment, obtained or installed through CCEOP, was performing much better and more reliably than older models. It remains to be seen how much maintenance will be required over the years for this equipment, but even so, CCE procured through CCEOP only represents a portion of the equipment pool in many countries. Older models that are ten or more years old are still being used, some with no problems and some that should be retired, and will still require maintenance outside of the SBP network.
Have you read?
It is still too early to see how much the maintenance systems in these countries have improved. Preliminary findings indicate that this process has been slow. However, it is important to recognise that an ineffective maintenance system will limit the country's ability to absorb the new equipment received through CCEOP. The maintenance system must be available for all equipment, not just those recently procured. Older equipment will naturally need more care and attention to maintain the optimum temperature range. Even though this evaluation looks specifically at CCE procured through CCEOP, the broader scope considers the health system that supports the roll-out of this important equipment. And with that lens, some gaps continue to persist in country maintenance systems.
For example, maintenance plans need to be realistic and backed-up with a budget and available funds. Even if a cold chain technician can create the most accurate budget for maintenance of all equipment, if the funds are not available when the technician needs to buy fuel for the vehicle to go out to a health facility to fix a piece of equipment, the problem will persist. On the other hand, if the needed spare part is stored at the national level, the district level technician will have to wait until it can be delivered. These are the "nuts and bolts" of a maintenance system that still need to be addressed and are broader than the CCEOP mandate.
As Gavi is revising its Immunization Supply Chain Strategy and refining the CCEOP, maintenance is rightfully getting more of the attention it deserves from the global perspective. At the country level as well, immunisation programme managers, logisticians and cold chain technicians should continue to advocate for the funds and attention necessary to establish strong and reliable maintenance systems to protect the investment in equipment and in children's lives.
In partnership with: